Publication date: July 31, 2023
Reading time: 6 minutes
Learning how to leverage your Etsy competition is without question worth doing. Now, by "leverage," we mean "use to your maximum advantage." Studying Etsy shops in your niche can help in a myriad of ways. Topping that list: figuring out what top sellers do right will help you grow your own sales.
Other reasons? Feeling inspired by their success. (And conversely: feeling reassured when sales are slow by seeing it's true even for them.) Discovering why other shops in your niche struggle, you can avoid common pitfalls.
Competitor research needn't mean compromising your own business's branding and core values. So, instead of viewing competition as a bad thing, leverage it as a learning experience. And to help you do just that, eRank has a suite of four tools. They are Top Sellers, Competitor Sales, Competitor Listings, and Competitor Tags. Today, we'll talk about how to use these to keep an eye on Etsy shops you'll benefit by watching.
This feature ranks Etsy's Top 100 shops by their total volume of sales and shows how your shop ranks in comparison. Use this to learn from successful sellers in your category by analyzing their recent listings and tags. Track how well new shops in your niche perform, and to monitor your own shop's growth. Members with any of eRank's paid plans get the most out of this feature. But free-account members can still view the top five sellers on Etsy, the top five shops with the most sales yesterday, and each shop's stats.
Let's move on to how to use this tool. Let's say you'd like to track a shop in your niche that opened the same year you did. First, identify the category that best describes your niche. Paid-plan members can use the drop-down menus on the blue bar to search by category and also by country and year opened. Are you on eRank's free plan? Choose from the "Find By Category" menu on the left side panel.
Click the name of a shop you wish to follow.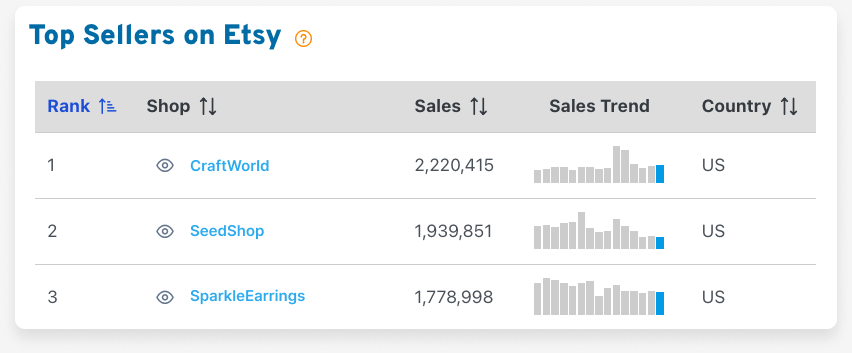 Then, click "Track This Shop" (Shown below — it's the button with the eye icon).

Doing so will add the shop to your Competitor Sales list. We'll discuss this feature next.
With this tool, you can view your competitors' daily, weekly, and total number of sales. Use it to gain insight into how your shop performs. Since it's easy to see how their sales compare with yours, you can check out Competitor Sales whenever your sales drop. You'll be able to see if the decline is widespread in your niche. If it's not, then perhaps your shop, listings or products need work.
Note: use of eRank's Competitor Sales feature to view competitor data is limited to paid-plan members. But those of you on the free plan can use this feature to track your own shop's sales and performance.
Another key benefit
Interested in a popular trend in particular? Use this tool to track a group of top shops which specialize in that trend. You'll be able to see at a glance how that trend is faring. With 15 months of data, you'll be able to see if it's seasonal, a holiday-related item, or a current fad.
Want to compare your shop's sales volume to the sales of a shop you just started tracking? The line graph at the top of the page displays the past 30 days of sales for any shops you are monitoring. You can choose which shops to view. The color key is in a column in the table that is just below the graph.

If you scroll down to the data table, you'll be able to look at sales data for those shops and your own shop. In addition to sale volume data, you can view and compare each shop's age and number of active listings. Keep in mind that many shops with high sales volumes have been active on Etsy for years. During that time, they have amassed many active listings. With time and patience, you can get to where they are one day, too!

On the left side of the data table, you'll see a "Flags" column and a "Notes" column. Use these to color-code the flags and to add notes about specific shops. Then you can organize your tracked shops by whatever additional niche-specific metrics work best for you.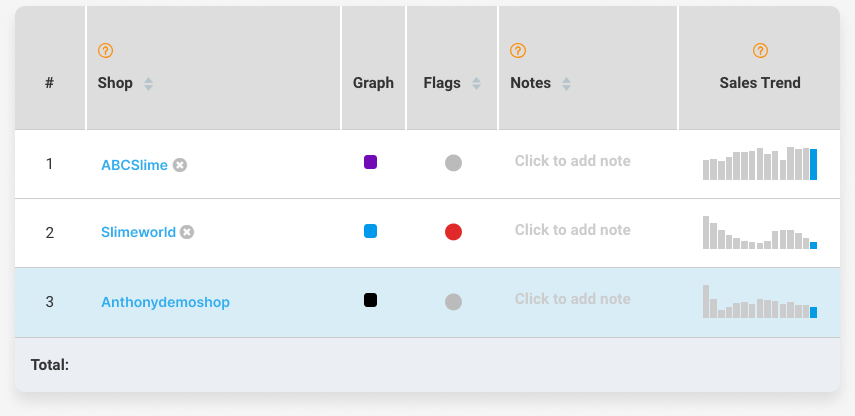 Use this tool when you want to do a deep dive into a competitor's listings. It's ideal for evaluating thumbnails, pricing, titles, tags, and more.
Note: access to both Competitor Listings and to Competitor Tags, described next, is limited to paid-plan members. On eRank's Free plan? You can always upgrade to Basic and then downgrade after 30 days. You can do this yourself at any time; you have complete control! To upgrade, just go to eRank's "Settings" page. You'll have access to your paid-plan features until the end of your billing period. To downgrade, just go back to the "Settings" page and cancel your account. Your membership will automatically move back to eRank's Free plan. (Read more about plans here.)
To begin, enter the name of any active Etsy shop in the green search bar. Or, to select a shop from your list of tracked competitors, choose it from the drop-down menu. That will generate a report of the 500 listings they've updated most recently. You'll see tags, prices, processing times, etc.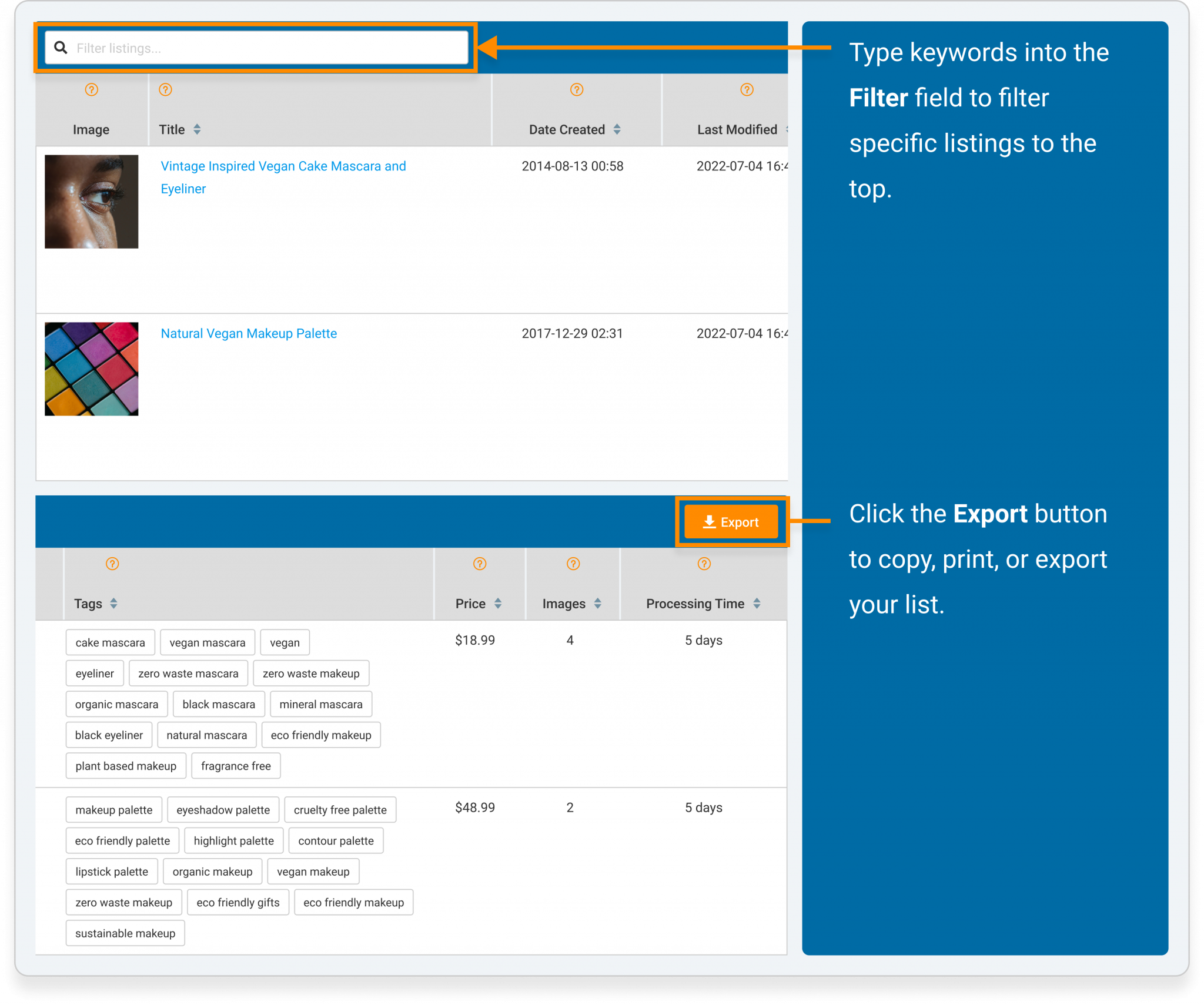 This is perfect for learning more about what your listings are competing against in Etsy search. Which keywords are they using in their titles and tags of their most popular listings? How are they staging their product photos? What is their average turnaround time? If you want your items to rank well for the same searches, this is where you learn how.
Get a list of every tag any Etsy shop has used in its 100 most recently updated listings. You'll get stats on every tag. See average monthly searches, clicks, click-through rate, and Etsy competition. Each tag has its own bar chart showing 15 months of search trend history. All this helps you determine the quality of this shop's tags. Does it have a good spread of competitive levels? Are any of its tags over- or underutilized?
You'll also see both Etsy and Google search data for each tag. Which ones are pulling in the most traffic? If any are relevant to your listings, they may be worth trying out. Just click the stars beside each one to add them to a Keyword List. That way, you can get back to them later and meanwhile, Keyword Lists will keep their data updated for you.


Let's get leveraging!
These are powerful tools for leveraging your Etsy competition. You'll learn what works to get products like yours in front of your target customers. And that in turn will increase your sales and grow your shop!
RESOURCES
Creating a Visually Appealing Etsy Shop – eRank Blog