One of eRank's most popular keyword features for Etsy SEO is its Spotted On Etsy listings report, and the related Monitor tool.
Here is a walk-through of how to set up the Monitor, along with some examples of how to use these reports to improve your shop's SEO with tools to identify, observe, and assess the performance of specific keywords. I also covered this topic in a video, here: The best strategies to monitor Etsy keywords
What Are They?
Spotted on Etsy is a tool that takes the keywords you've supplied, along with over fifty thousand other keywords being monitored by other eRank members, and then once per day it takes a "snapshot" of its findings. That is, it watches for those keywords to be entered by shoppers into Etsy's search bar, and then reports to you whether it found any of your listings on the first 2-3 pages (i.e., among the top 100 listings, not counting ads) of Etsy's search results during the previous 24 hours.
Note that Etsy determines where items rank based on several factors, for instance your SEO in your titles and tags, alongside things like your shop score. Then, when a shopper searches, Etsy combines those factors with "personalized" data related specifically to that customer — where they live and what kind of things they've searched for in the past. (This personalization is why what you see or what your friend sees when they search Etsy for where your item appears will not be exactly the same as the rank that Spotted on Etsy reports.)
While Spotted on Etsy's data is drawn directly from Etsy's API, eRank data is stripped of Etsy's shopper personalization. Therefore, consider Spotted on Etsy results as an average or typical page position for that day as viewed by a shopper not logged in.
Monitor works in an adjacent space along with Spotted on Etsy. As a tool, it monitors for up to 14 days whether your listings appear on the first pages of Etsy for a given search term. Basic eRank members can use Monitor to track one search term at a time; PRO members can track up to 20 search terms at once.
The Monitor suite of reports take the daily Spotted on Etsy results and display them as a line graph covering the past 14 days. It also has its own cool bells and whistles, which I'll detail below.
Where Are They on eRank?
An overview of your daily Spotted on Etsy results are on your dashboard. Clicking the orange "See All Spotted Listings" button takes you to the full-page report. You can also access both the Spotted on Etsy report and the Monitor from the Main Menu > Shop.
How To's and Tips
The Spotted on Etsy report shows the search terms that you are found for, their page position, rank and the timestamp — the time they were last found.
In your screen's top left just under the blue banner, you will see Spotted on Etsy's suite of reports. Selecting Your Keywords (circled above) displays the results for the keywords that you have entered into the Monitor tool. Click on Other Keywords to see keywords other eRank users are monitoring that your items are also showing up for.
Click the Monitor button to see the data in a 14 day graph with the individual time stamps of all of your listings that are showing up.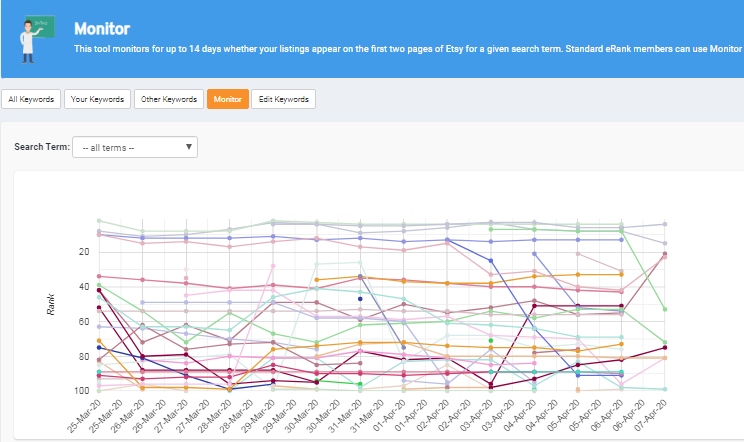 If you hover over any point on the graph, you'll see a pop-up thumbnail image of what listing is showing, and at what rank for which keywords.
Over on the right you'll see a roster of the listings being graphed.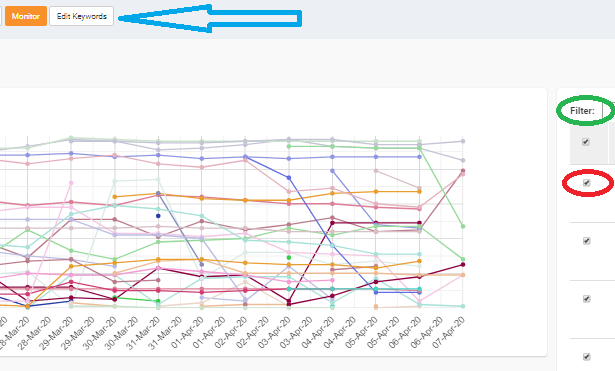 Click the checkmark by the listing (circled in red above) to remove that from the graph to make it easier to see certain trends. If, as in the sample graphed above, you have lots of listings ranking, use the filter box (here shown circled in green) to type in any part of the title to see a graph of only listings with those terms.
Use the search term drop-down menu that is above the graph to view a graph of just listings with those keywords.
Click the Edit Keywords button above the graph (see blue arrow above) to add or remove keywords that you're monitoring – remember, how many keywords you have depends on the level of eRank subscription you've got.
To set up Spotted on Etsy all you do is enter your first keyword in Monitor, and this tells eRank that you're wanting to start. From that point on once a day eRank will do the search for you. Note that the graph only collects data from the date you enter your first keyword. So initially the graph will be sparse. If it's only been five days since you entered in your first keyword, you will only have five days' worth of data on the graph, not 14.
What Can You Actually Use This For?
Here are three ways I use these tools. First: to find potential new keywords. As I mentioned above, eRank doesn't just search for the keywords that you've entered in Monitor. It has a database with over fifty thousand keywords entered by other eRank members. Thus, when I select the Other Keywords report in Monitor, I may see I am ranking well for keywords that I had never thought of using. Next, I pop over to the Keyword Explorer to see if these keywords are perhaps worth pursuing. Maybe I could focus my listing a little more on that keyword, or I might even create a couple more listings based on those keywords to see if I could rank on Page One.
Another way I use these tools is to keep an eye on my most important "superstar" keywords. Go into your Etsy shop stats and have a look at those keywords that are bringing the most people in from search: these are your most important keywords. If you pop them into Monitor (click the Edit Keywords button) so it's tracking them every single day, then if you're noticing a trend downwards in the number of views you're getting on Etsy, you can pop over to eRank and have a look to see how your superstar keywords are doing.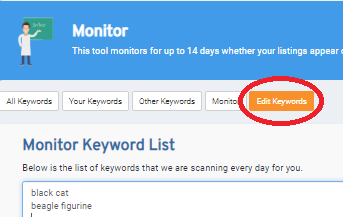 For instance, if I check my Monitor graph and I see that my keywords are flat, that they're ranking where they've always ranked and not climbing at all, then I want to check whether there's just fewer people searching overall for this term right now. Maybe the term is going out of favor, or it might be that my listings just don't pop anymore with all the competition on that specific front page of search results. It could be time for a reshoot to get a better photograph.
Or if I see on the graph that I'm doing less well than formerly with a keyword, then this might be the time to focus on this item. I might make some similar items targeting that same keyword to enhance my authority for it. I may try promoting it on social media. Or make it a featured item in my Etsy shop for a period of time; or add a link to it in the descriptions of related listings. Just to give it a chance to get a few more eyeballs on it. Once it gets a few more sales it might go up in the rankings again.
A third way I use these tools is when I'm launching a new range, or even opening a new shop. I will already have an idea of the keywords that I want to rank for with this set of listings that I've created.

Now, what happens when you post any new listing on Etsy is that it gets a bit of a boost in search: it goes up a little higher than it otherwise would, because it's a new listing and Etsy is trying to learn about it. We've seen that a new listing might rank well for a search term and then over the course of time, it'll fall away slightly. By using the Spotted on Etsy report, using the Monitor graphs, I can see when this listing begins to drop down in search, and know this could be a good time to post the next of this series of new listings, so that this next listing gets its turn to chart high up in search.

Note that if I were to launch them all on one day, then only one listing would have the best chance of getting on page one. But if I spread out the launch like this over many days, I can always have one on the front page. Also, I can compare how did each do when I launched it: did it rank a little bit higher than the last? A little bit lower? Did it stay on page one for that little bit longer and drop away over a longer period of time? You should recognize that the amount of time it takes for a keyword to drop away in search will depend on how searched-for or trendy that keyword is. For less competitive keywords, you get a longer period of time with your item in the Sun.

Nevertheless, if you are strategic the result of this method can be that your listing ranks at number one — or at least somewhere on the first page — for a longer period of time than it would have otherwise. Using this strategy can mean that even with a small shop and a competitive search term, you can rank surprisingly well. Over a few days or weeks, you can see how you do for that search term. If you're not making it to page one, maybe it is just not a good match for your items. And if you don't do well with it – well, even then you benefit, because it's actionable data that you've gained.