Quick Summary
This feature offers a notes area next to each competitor's shop name that you're tracking, enabling you to customize, organize, and filter your Competition reports.
Benefits
Can't remember what a competitor's shop is selling? With the Settings option, eRank helps you keep track by offering you a space beside each shop's name to add your own phrase in the Notes field, to remind you what they sell and why you are following them. It also can be used in the Sales tab to order shops into groups if you follow different types of shops, e.g., "Supplies" or "Digital," in whatever way is most useful to you.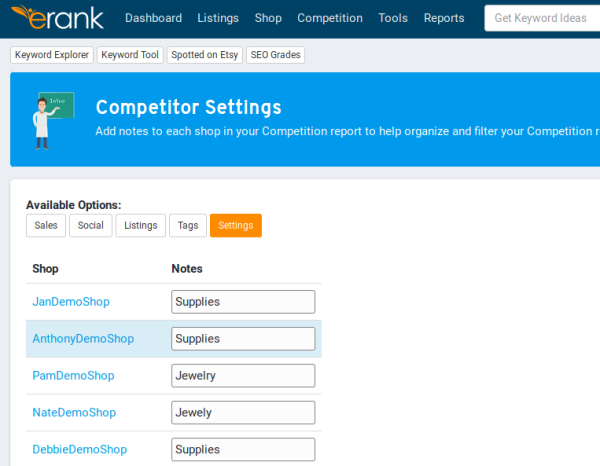 How to Use
On the main menu choose Competition > Sales, then click the Settings tab. Once here, you'll see all of the competitors' shops you are tracking, with empty text boxes next to each of them. Click in the text box, where you'll have up to 20 characters to add your own custom classification, like "jewelry only" or "beadwork" or "stones only" — whatever helps you remember what they offer that competes with your shop.
You can enter a classification for one or more shops at the same time. Once you've entered their classification, press the Enter key on your keyboard, or scroll to the bottom of the page and click the Save button. The screen will change to an eRank confirmation that the Competitor notes have been updated. Click the Continue button to be returned to the Competitor Settings page.
In the future you can edit existing Notes by returning to the Settings tab, clicking in the text box, clearing its contents, and typing in a new classification name. You'll also be able to use the Sales tab to sort the Notes column. eRank will group your classifications together, helping you easily check all the different ones you have used.
Who Can Use This?
This feature is available to eRank PRO members.