Quick Summary
Highlights opportunities to improve your Etsy shop, with statistics on keyword trends, your listings, sales, feedback, and your competitors.
Benefits
Provides an overview of your Etsy shop that identifies areas to work on and provides quick access to the tools and reports you'll need, directly from the Dashboard. On the right sidebar, you'll find eRank's latest blog post, several Etsy-related features and reports, and upcoming events.
How to Use
After logging in, the first screen you see is your Dashboard. In the top right corner of the screen you'll see the orange "Refresh Data" button, your shop icon, and Settings. Tip: Make it a habit to hit that orange Refresh Data button every day when you first log in to eRank. The Refresh Data button prompts eRank to scan your shop, find your changes, and update your data in eRank.
Note that if you have two or more Etsy shops, you can connect them all to eRank at no additional charge. Hovering over the "Shop Icon" button (shown circled in red below) will display a drop-down menu. It shows which shop you are currently viewing, and lets you switch between your shops.
Hover over "Settings" for a menu to access and customize your eRank account settings; to change your password or email; and to log out. And just under the Settings button, please note the green "Help" button. You'll see this Help button on every page in eRank; clicking it will open a comprehensive Help file for that specific page.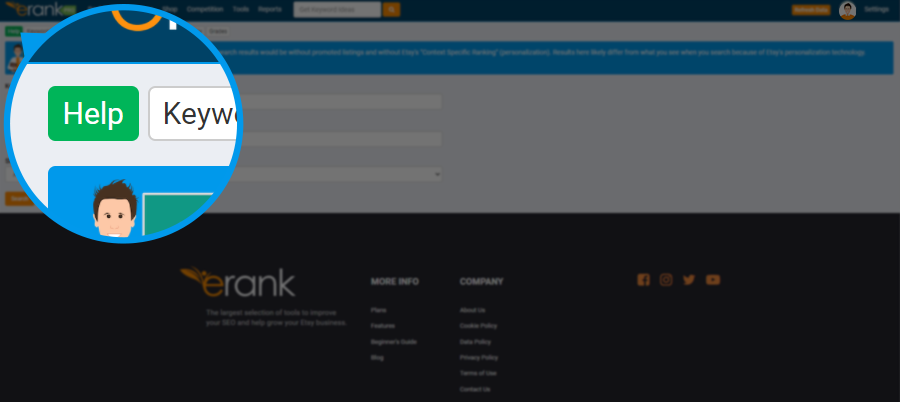 In a row just under the blue Dashboard banner are your total number of sales, your feedback score, and your shop's current sales rank. Below those, the dashboard is divided into several sections.
Your Listings
This section provides a high-level statistical overview of your listings, and also flags possible spelling errors; missing tags and images; and incomplete or missing attributes. Buttons are color-coded: green for good; caution yellow for "may need improvement"; red indicates "definitely investigate".
Next, you will see the number of terms Monitor is tracking. If you are a paid member, you will see the count of competitors you're tracking; and the listing changes you are tracking. Click the buttons to move to those reports.
Sales Comparison (paid members only)
The number of sales that each of your shops (and your competitors) had yesterday. Click on Sales Comparison to be taken to the Competitor Sales report where you can see real-time sales updates. (The Competitor Sales report can also be accessed from the Main Menu under Competition > Your Competition > Sales.)
Spotted on Etsy
Every 24 hours we perform random searches on Etsy for over 50,000 search terms. If we find keywords you are monitoring in the top 100 listings, we'll report it here, showing your listing's rank and page placement.
Right Side Bar:
eRank's Blog
At the top, you will see the latest eRank blog post topic, and a link to it. Our blog features topics of current interest to Etsy sellers, and also eRank tool demos and how-to's.
Most Sales Yesterday
Top five Etsy shops in sales made yesterday. Click the orange "See More" button to be taken to the full Top Sellers report — it's chock full of related features.
Trend Buzz (paid members only)
What's trending on Etsy overall and across 18 categories, as well as on Amazon, eBay, Google Shopping, and Pinterest, updated monthly with the top 100 search terms for each platform, along with 15-month trend graphs of historical data.
Search Etsy Announcements
Powered by Google's Custom Search technology, this is fast and handy for finding help articles in the Seller Handbook, as well as official Etsy announcements, press releases, and more. When Etsy is experiencing a known technical issue, that too will appear in this space.
Upcoming Events
The next five noteworthy events approaching fast! Click the orange "View Calendar" button to see eRank's Calendar tool, designed for planning your marketing and timing product launches.
Etsy Reach
The percentage of internet users who visited Etsy over the past eight weeks.
Who Can Use This?
Dashboard is available to all eRank members. Some features are reserved for paid-plan members only.