Summary
Delivery Status allows you to view the status of any of your Etsy shipments within the date range you specify.
Benefits
Use this report to view, at a glance, which shipments have been delivered and which shipments are still in transit or pre-transit. 
Click any shipment's status to view its complete tracking information on the carrier's website. 
This tool is especially useful for those who process a high volume of orders on Etsy and would like to keep tabs on their tracking.
How to Use
In the Main Menu, select Shop and then Delivery Status.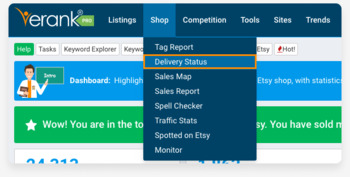 Use the dropdown menu above the report to enter your date range of choice.

Use the report to view the following information:
Date: the date the order was shipped
Status: the current status of the shipment. Click the button to view its tracking information. If its status is Pre-transit or In transit, you will be taken to Etsy to view this information. If its status is Delivered, you will be taken to the carrier's website
City: the shipment's destination city
State: the shipment's destination state

Country: the shipment's destination country
Value: the monetary value of the shipment. Please note that this figure does not reflect sale prices, nor does it include tax
Carrier: the shipment's carrier
Class: the shipment's delivery service (example: USPS First Class Mail)

Sort your shipments using the small gray arrows at the top of each column. This function is especially useful if you run a high-volume shop and are searching for a specific order. 
Who Can Use This?
This feature is available to eRank Basic members, Pro members, and Expert members.