Quick Summary
A catalog of your active listings on Etsy, displaying thumbnails, titles, listing IDs, quantities available, prices and more, where you make revisions, copy, print, and download your data in a variety of formats.
Benefits
Useful overview with the thumbnail, title, listing ID, SKU, quantity, item price, and total value of each listing in your active inventory. Especially handy when you're on the go, at a show, selling locally or on other platforms, or need to download or export data.
How to Use
Find this report under Listings > Inventory in the main menu, or by clicking the Inventory tab in the Available Reports area when you are on any of the Listings report pages. You can check available quantities, prices, and make quick changes by clicking either the orange Listing Audit button nested beneath each listing's title, or use the blue Edit on Etsy button to make alterations there. When done, just click the back arrow on your browser to return to the Inventory report, and click the Refresh Data button to update your changes on eRank.
To work with a group of listings, use the Filter box to find any data set that share a price, quantity, or a common word or phrase in their titles.
Hovering over the orange "?" tooltip icons just above each column heading will display additional information. You can sort by title, listing ID, SKU, quantity, price, or inventory value by either clicking that column heading's name, or by clicking the grey double-headed arrows to the left of each column's name. Sorting can be displayed in two ways: numerically, high to low (or vice versa); or alphabetically, A-Z or Z-A. Click once or twice to change the sorting order for that column. Want to return to the original sort? Click the grey double-headed arrow next to the Listing Title column until it shows a purple "up" arrow. Note that the same purple arrow identifies the column by which the data set is currently sorted.
Use the data-export buttons (opposite the Filter text box, top right, just above the price and value fields) to copy, print, or export your data set as a CSV, Excel, or PDF. When you are done with this group, clear the Filter field to restore the full list view.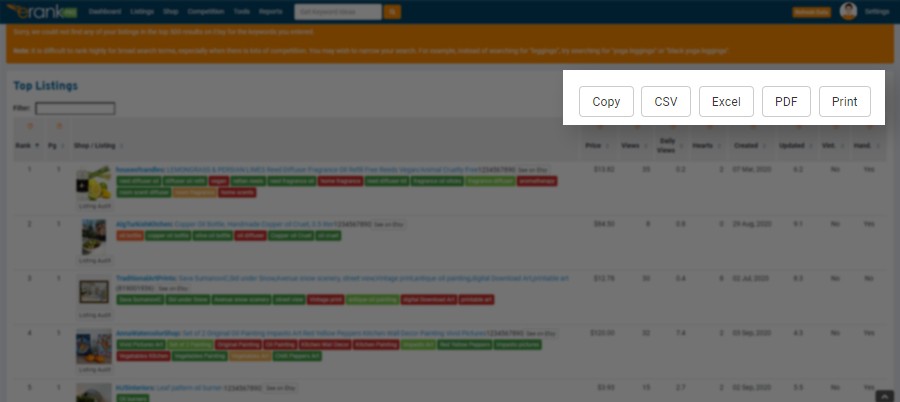 Who Can Use This?
The Inventory report is available to all eRank members, although some features shown on-page are PRO only.