Summary
Keyword Lists allows you to save and group keywords alongside their latest search data. Create up to 50 lists with up to 50 keywords each. Color-code, sort, add, and save notes.
Benefits
Use this feature to save search terms you find in your keyword research and group them together in easily accessible lists.
Compare search data and make notes (color-code if desired). Use the Listing Builder to compose a title and tags on a virtual clipboard and copy to your Etsy listing.
How to use
Accessing Keyword Lists
In the Main Menu, select Tools and then Keyword Lists. You can also access this tool by clicking the Keyword Lists shortcut button above the blue bar.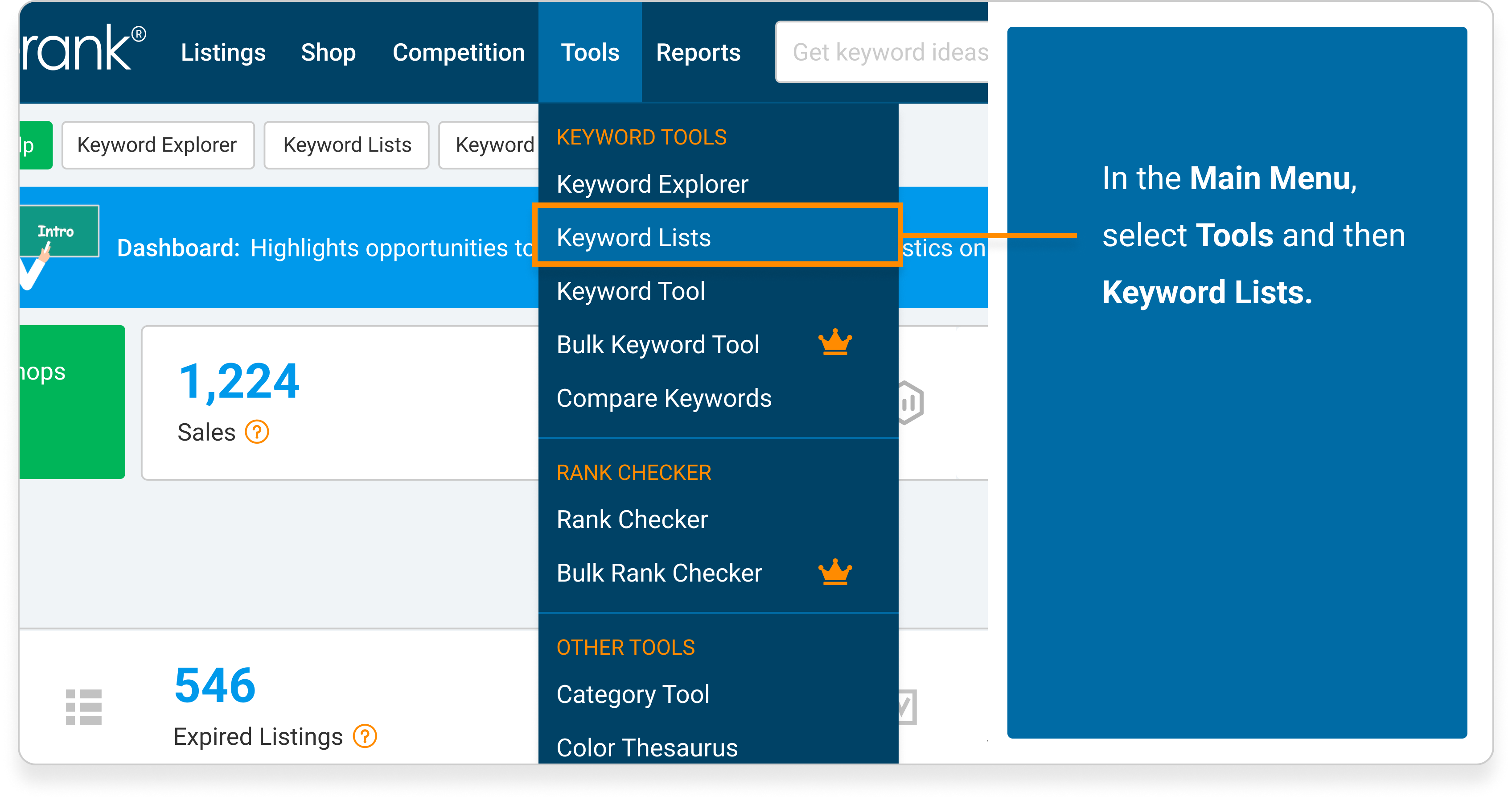 Creating Keyword Lists
Click the gray star next to any tags that appear in the Keyword Explorer, Keyword Tool, Listing Audit or any other pages on eRank that contain keywords and tags. The star will turn gold and save that term to your active keyword list.

Managing Keyword Lists
Use the blue button floating in the bottom left of Keyword Explorer, Keyword Tool, and Listing Audit to manage your keyword lists. This button indicates which list will receive the keywords. You can expand this button into a popup window to perform other tasks.

Editing Keyword Lists
Click the orange Edit Lists button in the popup to go to the Keyword Lists feature. Here, you can view all of your keyword lists along with Search Engine Optimization (SEO) data related to each term.

Click the gray circles under the Flags column to color-code your lists. This is a great way to group lists by season, holiday, priority, etc.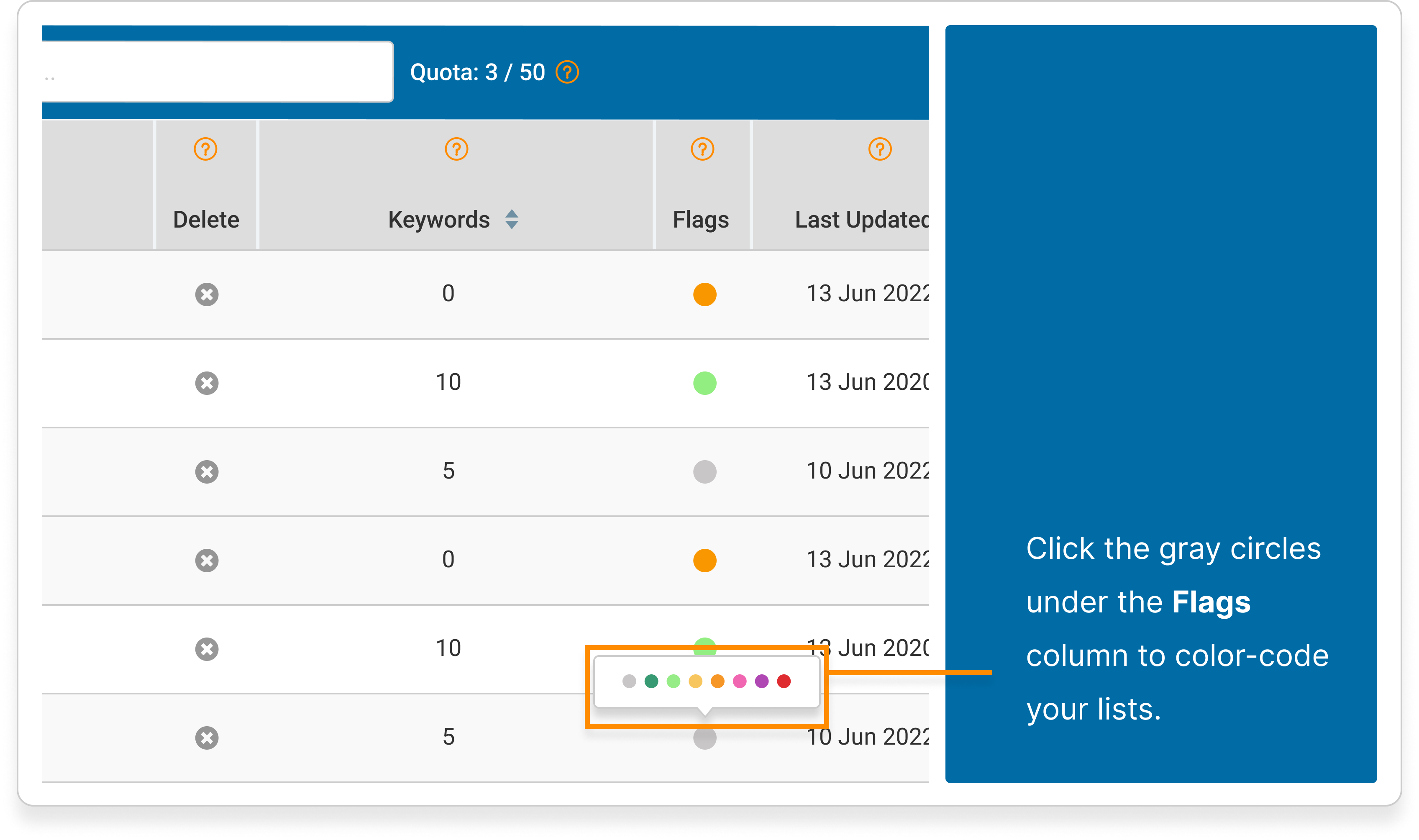 Click the pencil to change the title of a list.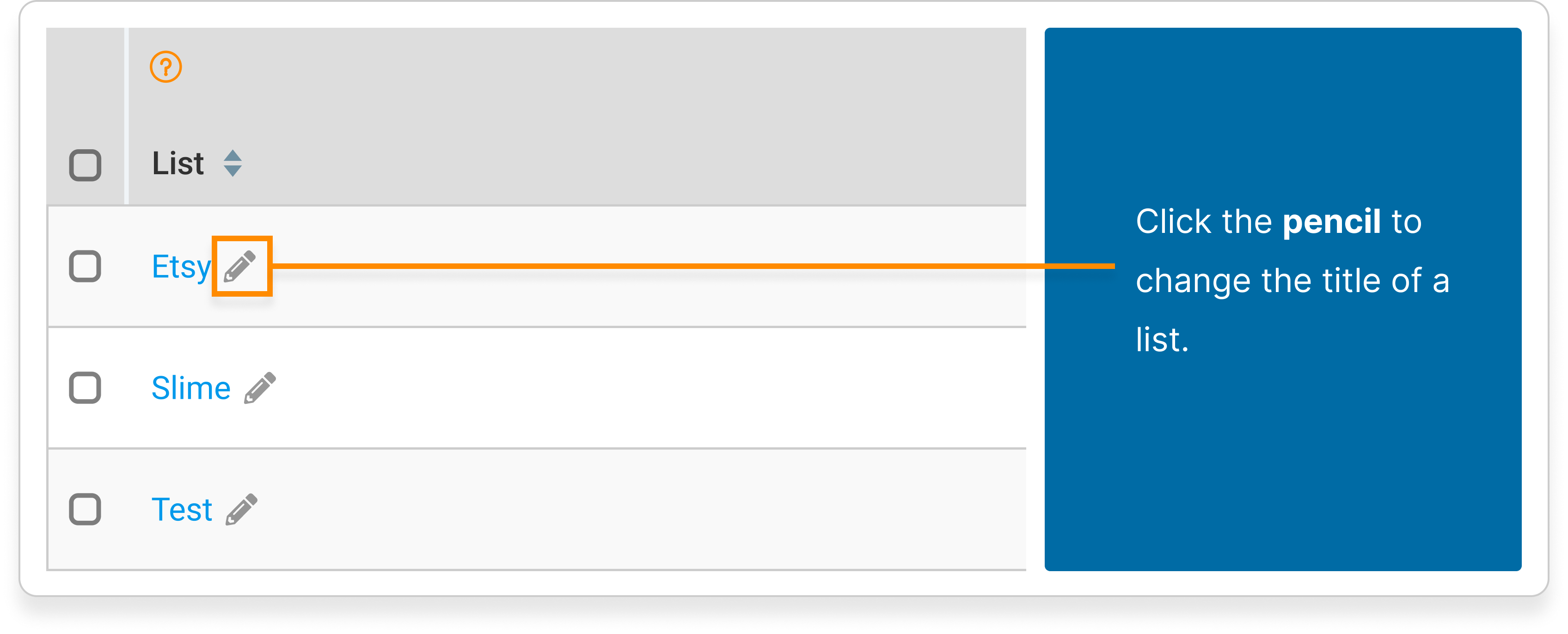 Viewing Keyword Lists
Click any of the Keyword List names to be taken to a detailed view of that list.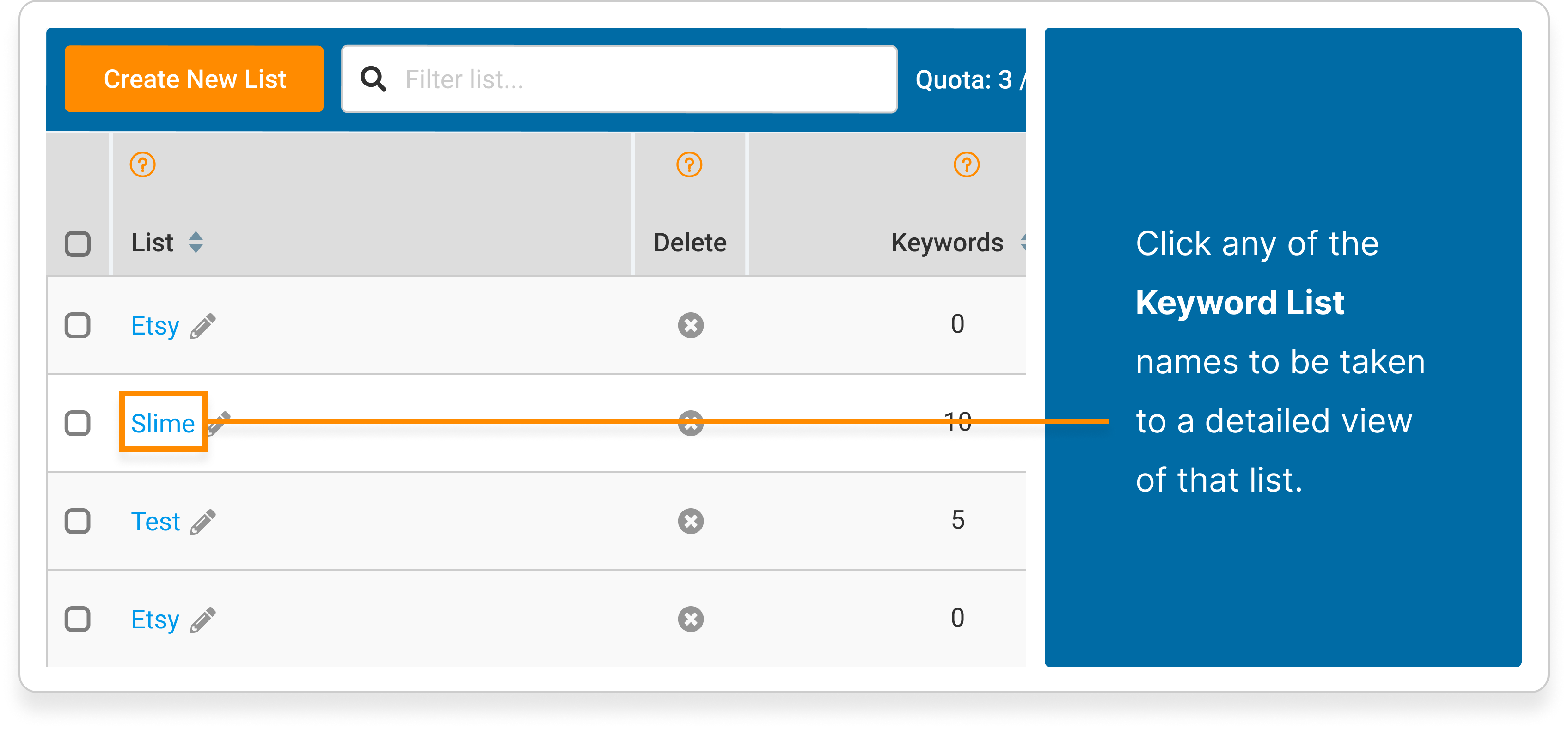 In each keyword list, you will see trend, search, click and competition information for each keyword. This helps you compare keywords and figure out which are best for your items.
Note that every time you retrieve any of your Keyword Lists, eRank automatically  refreshes the columns with the most current data available for each keyword.

Managing Keywords in a List
Color code any keyword by clicking on the circle under the Flags column:

Click the Notes column to add a note to any keyword.
Listing Builder
Use the listing builder to create titles and tags for new Etsy listings.

Click the orange Add buttons under the Listing Builder column to automatically add those keywords to the Tags section in the Listing Builder.

Add a title to your listing and then click the copy icon to copy everything to your clipboard and paste directly into your Etsy listing.

Adding Keywords
Click Add Keywords in the top left corner to type in keywords to add to this list.

Use a comma to separate each word. You can add up to 50 words to your list.
Filtering Keywords in a List
Use the Filter field in the blue bar to search for a particular keyword. This allows you to easily narrow down the list to specific keywords.

Bulk Rank Checker
Use Bulk Rank Checker to check all of the keywords in a list to see if any of your listings on Etsy are ranking in search for those keywords.
Learn more about Bulk Rank Checker here
Customizing Columns
Add or remove columns using the gear icon on the right side of the blue bar.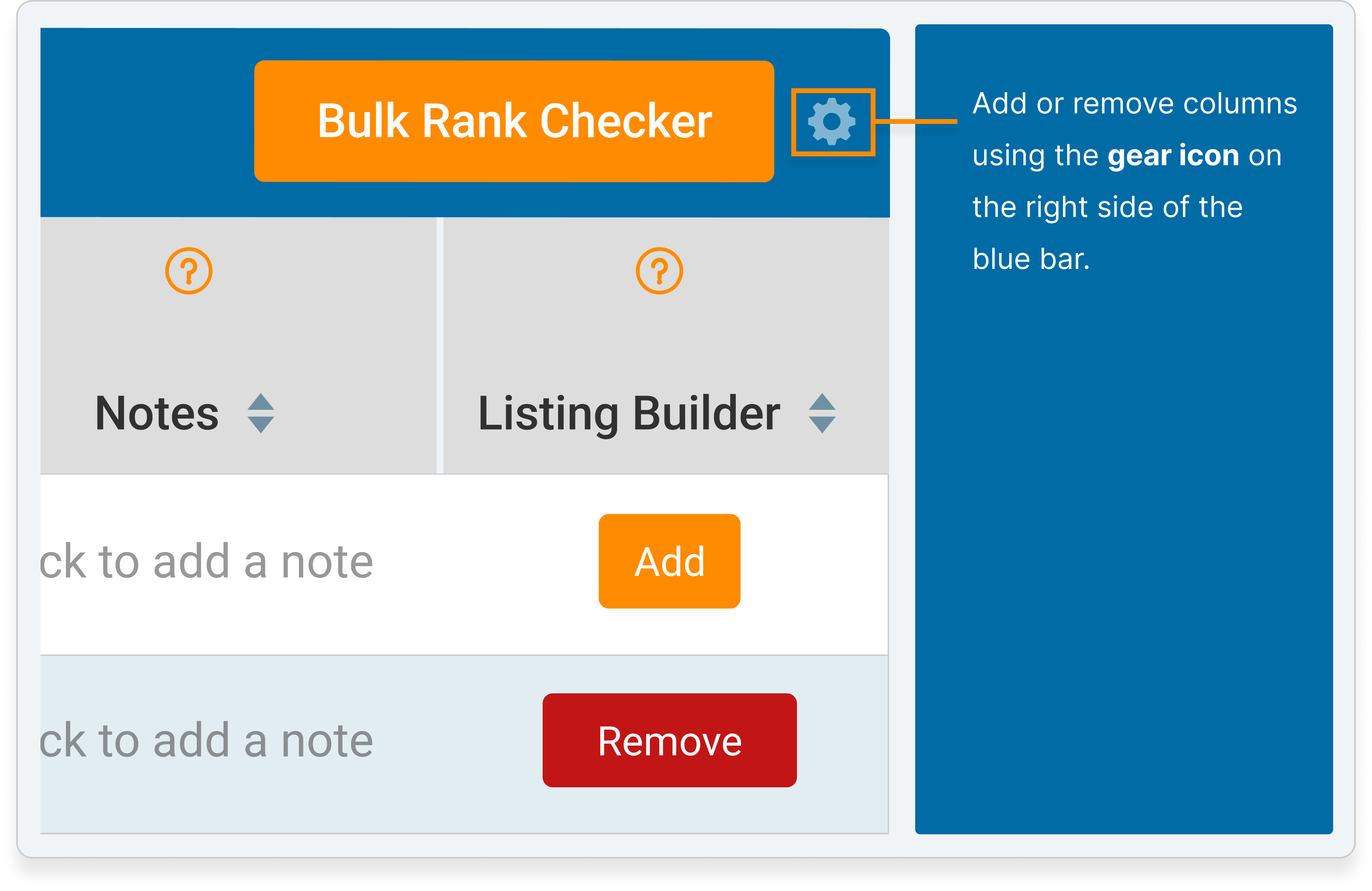 Who can use this
This feature is available to all eRank users.
Available Translations
En français – https://help.erank.com/fonctionnalites/listes-de-mots-cles/