Quick Summary
This report shows which countries Etsy users come from, the percentage of people on the internet who use Etsy (reach), how Etsy's reach compares to other shopping sites, and how Etsy's reach changes over time. Note: This report is updated daily. Source: Alexa.com
Benefits
Insight into how Etsy performs can better help you understand your own shop's performance. As Etsy grows its market share, you have more opportunities to attract buyers. A large upswing in Etsy's popularity, ahead of certain holidays for instance, can help you better predict times when you may be busier. And observing that a dip in sales is platform-wide can offer reassurance that it isn't just your shop.
How to Use
Access the Market Report on the main menu under Reports > Market Report. Once in the report, if you hover anywhere over the line chart on the left, the wheel chart in the middle, or the bar graph on the right, you will see popup data for that specific area.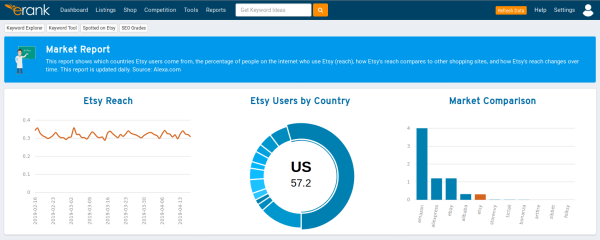 The next section in the report provides a detailed breakdown of the statistics graphically depicted above.

Who Can Use This?
This feature is available to all eRank members.