Summary
One-Word Tags shows you any listings that have single-word tags. Audit your listings, edit them on Etsy, view their traffic stats, track changes, research tags, and add tags to your Safe List.
Benefits
Use this report to save time when revising your tags. We recommend using multi-word tags whenever possible. A multi-word phrase like "opal ring" is stronger than "opal" and "ring" entered as two separate tags because it targets a more specific group of shoppers.
Click here to learn more about keyword basics on Etsy
How to Use
In the Main Menu, select Listings and then One-Word Tags.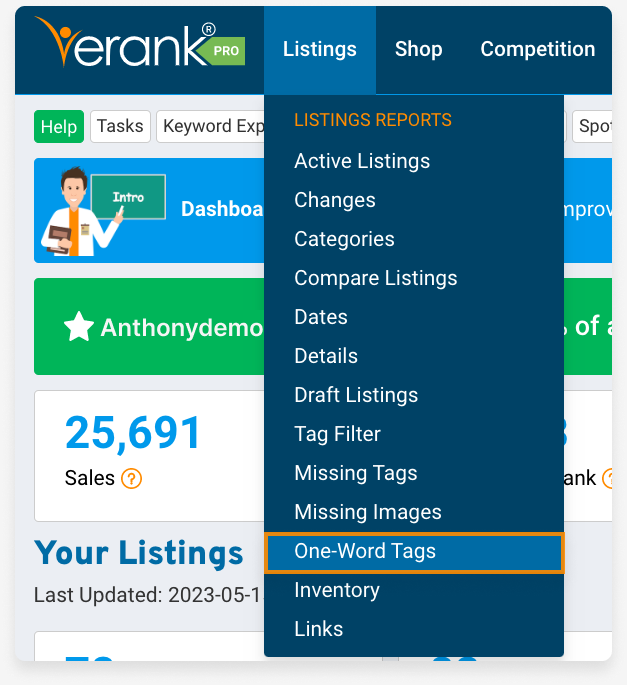 Free members can view their top 100 active listings, Basic members can view their top 200 active listings, Pro members can view their top 4000 active listings, and Expert members can view their top 5000 active listings.
Report
Use this report to view the following information:
Main Image: the listing's main image
Listing Title: the title of the listing

Listing ID:  a unique ID number assigned by Etsy to the listing
SKU: a unique ID you can add to each of your listings to help manage and keep track of your stock
One-Word Tags: any one-word tags included in the listing
Click the green Ignore button to the right of a tag to move the tag to your Safe List. 

Use the Filter field in the blue bar to filter specific listings from within the report. 
Sort your data using the small gray arrows at the top of each column.
Click the Listing Audit button, title, or ID on any listing to run an in-depth analysis of its images, tags, description, and more. This feature shows you how well your listing complies with the guidelines found in Etsy's Seller Handbook: Ultimate Guide to Search and Google's Webmaster Guidelines. 
Learn more about Listing Audit here
Click Edit on Etsy to navigate to Etsy and edit your listing.
If you have a Google Analytics account connected to your shop, click the orange Traffic Stats button to open the Traffic Stats feature, where you can view which keywords are bringing traffic to your Etsy shop.
Learn more about Traffic Stats here
Click Track Changes to navigate to the Listing Changes feature and start monitoring changes on any listing. In this feature, eRank takes a "snapshot" of each monitored listing every day that records any changes in the title, tags, price, quantity available, number of views, and number of favorites. Using this feature after editing your images allows you to keep an eye on how your edits affect your listing's traffic, so you can make additional changes later on if necessary. 
Learn more about Listing Changes here
Click the orange Show Changes button on any tracked listing to navigate to the Listing Changes feature and view all of the daily snapshots of that listing eRank has taken since you started tracking it. 
Click the Stop Tracking button on any tracked listing if you wish to stop monitoring it.

Click the orange Export button to export your report for future reference.

Safe List
Select the Safe List tab in the top left corner to view your list of approved terms.

From here, you can view all of the one-word tags you have chosen to ignore. Click the orange Remove button to the right of a tag to remove it from the list.

Who Can Use This?
This feature is available to all eRank members. However, please note that the Traffic Stats feature is only available to Basic members, Pro members and Expert members, and that Free members are unable to access the Listing Changes feature from this feature or export data.