Quick Summary
This report shows a high-level analysis of your customer reviews. The scores you see here reflect how much positive, neutral, and negative feedback you have received in the last 12 months.
Benefits
Great reviews positively impact search ranking, so it's important to address any negative or neutral reviews within 100 days of the initial review. This feature highlights those reviews that you may still be able to get revised by the buyer. Wherever possible, you should reach out to a customer and try to resolve any issues. Perhaps they will edit their review helping to improve your shop's review status.
How to Use
Access the Ratings report from the main menu under Shop > Ratings. This report provides statistical data and lets you view the Date of the review, the Rating (Neutral or Negative), Editable (Yes if less than 100 days, or No if 100 days have passed), Message (text the customer left as their review) and the Contact Buyer column.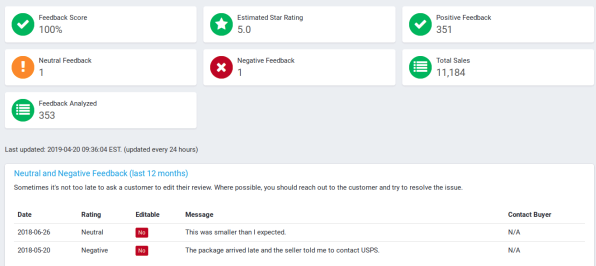 Note: eRank can only see the initial review that was left by the buyer. If they have since revised it to a positive review (4 or 5 stars) then you can safely ignore the negative comment. While a customer has 100 days (counted from when the order was either delivered or the estimated delivery date) to edit their review, you should contact the buyer as soon as possible and try to resolve any issues they may have.
Who Can Use This?
This feature is available to eRank paying members only.