Summary
Spotted on Etsy displays search results stripped of Etsy's AI personalization and paid ads and shows you which of your listings eRank found among the first 100 search results for specific keywords while performing random Etsy searches.
This feature also shows you the keywords that shoppers used to find your listings in Etsy search. 
Benefits
Use this feature to view which keywords you are ranking for on Etsy – both your own keywords that you have chosen to monitor and keywords eRank is monitoring for other sellers. Discover new keywords and track changes in your listings' rankings over time.
How to Use
Introduction
Spotted on Etsy results display daily on your Dashboard.
You can also access the feature by going to the Main Menu, clicking Shop, and then Spotted on Etsy, or by clicking the Spotted on Etsy button underneath the Main Menu.


Use the Spotted by column to view whether an Etsy visitor or eRank monitor spotted your listing in an Etsy search.
Use the Search Term column to view which search term was used to find your listing.
Use the Page column to view the pages on which your listings were found in search. Please note that with Etsy ads removed, each Etsy page contains 48 listings. 
Use the Position column to view the position in search results where your listing was found.
Use the Timestamp column to view the time of day your listing was found.

Sort your data using the small gray arrows at the top of each column.

Reports
Under Available Reports, click Your Keywords to view all of your keywords that eRank has spotted on Etsy over the past 24 hours that led to your listings.
Click Other Keywords to view any other keywords shoppers have used to find your listings over the past 24 hours.
Click All Keywords to view both.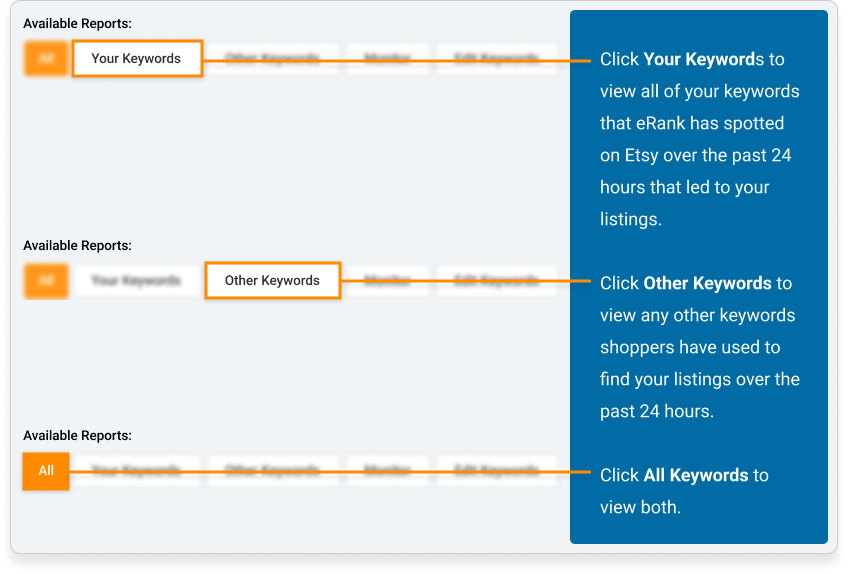 Click any listing title or the orange Listing Audit button below to perform a Listing Audit.
Learn more about Listing Audit here

Monitor
Under Available Reports, click Monitor (you can also access this tool by clicking Monitor under Shop in the Main Menu) to view an interactive line graph, with each line representing one of your listings that has ranked for the keywords you are monitoring over the past 14 days. Click Edit Keywords to add, edit, or delete monitored keywords on your Superstar Keywords list.
Who Can Use This?
This feature is available to all eRank members. Free members can monitor one keyword and Basic members can monitor up to five keywords. Pro members and Expert members can monitor up to 20 keywords.