Quick Summary
Ranked by volume of sales, this reports Etsy's Top 100 shops — for all time; for yesterday; by category; by country; by year they opened — and shows how your shop ranks.
Benefits
Provides detailed sales figures of Etsy's top-selling shops you can filter by country, category, and shop age. You can see detailed data for any of the shops shown: analyze their tags, see recent listings, and more. Reveals your shop's rank, giving you a tool to monitor your shop's growth.
How to Use
Select the Top Sellers report from the Main Menu under Competition>Top Sellers.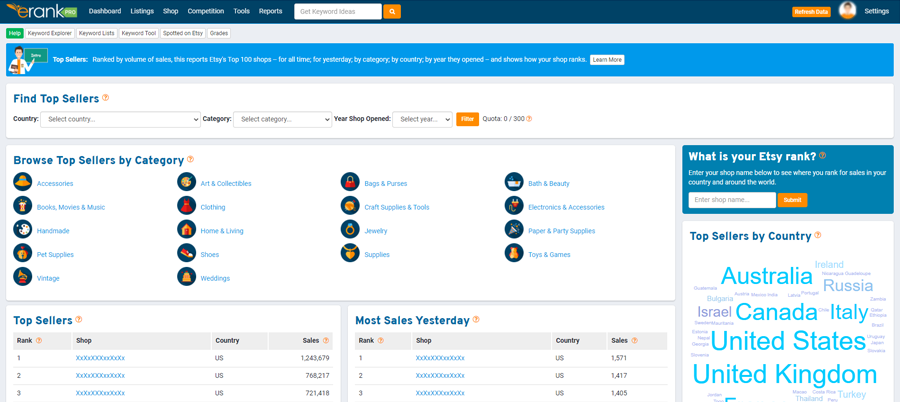 First you will see the "Find Top Sellers" section, with dropdowns for filtering data by Country, Category, and/or Year Opened. You can filter by one of these, or two, or all three at once, as shown below.

Next, in the "Browse Top Sellers by Category" section, clicking on any of the category names will open a page with that category's Top 100 shops in order by sales rank with their shop name and country. (Note: if you see an empty "Country" field, that signifies the seller did not specify a country in their Etsy shop.)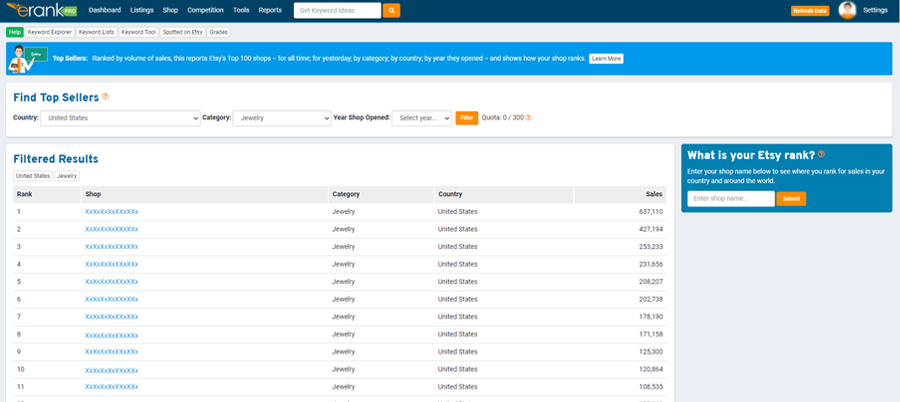 You can click on any shop name you see to move to an analysis of just that shop. Once on the page for that shop, you can click on the orange "Tag Analysis" button beside their shop name to view their shop's tags. (Paid-plan eRank members, you can click on "Track This Shop" to add it to the competitors you are tracking.) Below, you will see a "Recent Listings" section; there, you can view the shop's recently-updated items. Clicking on a listing's title will move you to Etsy to see that item as an Etsy shopper would. When you are done, just hit your browser's back arrow to return to the Top Sellers report page.
On the right side panel, you'll see a widget for exploring data related to your own shop rank on Etsy.
Typing your shop name into the text box will take you to a report exclusively about your shop. Many eRank members are pleasantly surprised by how well they are doing, so there are social network buttons right on the page to share the good news. When you're finished, just hit your browser's back arrow to return to the Top Sellers page.
Also on the right side panel, you have the handy "Top Sellers by Country" cloud. Note that font size corresponds to the number of top sellers in that country. Clicking on any country will take you to a Top Sellers report with just that country's top sellers.
Who Can Use This?
This feature is available to paying eRank members only.