Summary
Trend Buzz helps you discover which keywords are currently trending on Etsy and other popular marketplaces. eRank updates Trend Buzz daily. We flag the most popular search terms from the previous day and list the Top 100 most-searched terms for Etsy and a variety of other e-commerce platforms.
Benefits
 This feature provides both a daily and monthly update of the most popular shopping platforms' most-searched terms.
Trend Buzz also helps you improve keyword SEO (Search Engine Optimization) for your listings and gives you insight into why your shop's traffic may have increased or decreased during certain times of the year.
Use this knowledge to stay ahead of trends and plan what to stock during different seasons.
How to Use
There are 2 different ways to access this feature.
In the Main Menu, click Trends and then Trend Buzz 

2. Alternatively, you can click the Hot! button in the row of quick-link buttons just below the Main Menu.

Use Like a Top 20 Chart
Use the landing page to view the most popular keywords that buyers are searching for each day on Etsy, as well as many other e-commerce platforms. Come back each day (after 9 AM EST) to see if these keywords are one-offs or part of an ongoing trend. Free members can view the top 5 keywords for each platform, while Basic members and Pro members can view the top 100 keywords for each platform. 
However, if you plan to use any of the terms you see here in your listings, please heed the warning in the orange bar regarding trademarked terms. If you are unsure if a keyword or phrase is trademarked, click the link to the USPTO Trademark Database and search the word or phrase to check.

Choose and Filter Data
For Etsy, you can view data from 6 different countries – The United States, The United Kingdom, Canada, Australia, Germany, and France – using the first field in the blue bar.
Use the second field to set your Timeframe to Yesterday, Past 7 Days, or Past 30 Days.
For the United States, this feature also lists Etsy's Top 100 Products that were searched for over the past 30 days as well as the most searched for Recipients, the Top 100 Styles that were searched for during that time, and the Top 100 Materials that were searched for during that time.
Please note that if you change your Timeframe to anything less than 30 days, you will only be able to view the top keywords.
In the Change column under the Keywords tab, view which keywords are gaining popularity and which are losing popularity. Increases in popularity are denoted in green, while decreases are denoted in red. "Hot" next to a green arrow (with a fire symbol next to the word) means that particular keyword is rapidly increasing in popularity.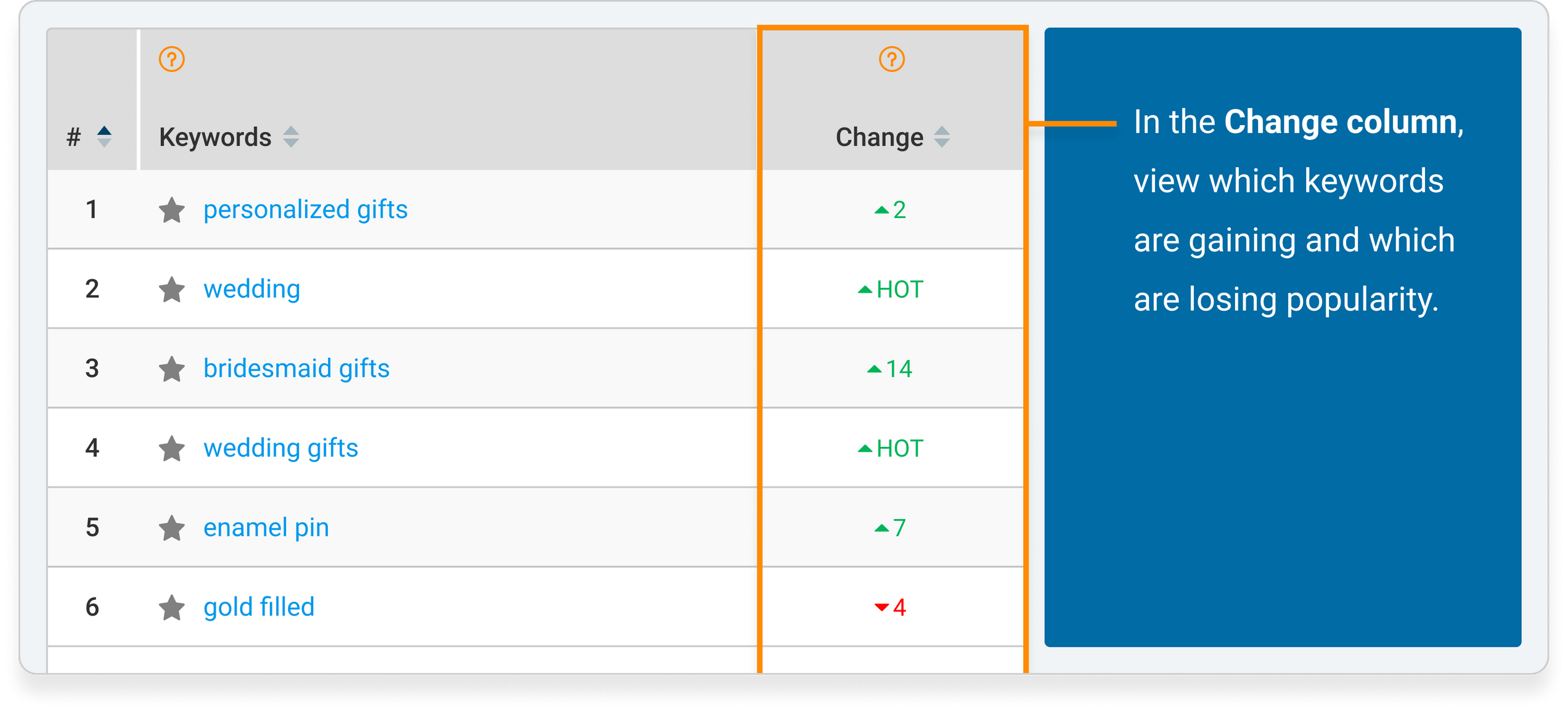 Under the remaining 4 tabs, use the Relative Popularity column to compare the popularity of the different terms.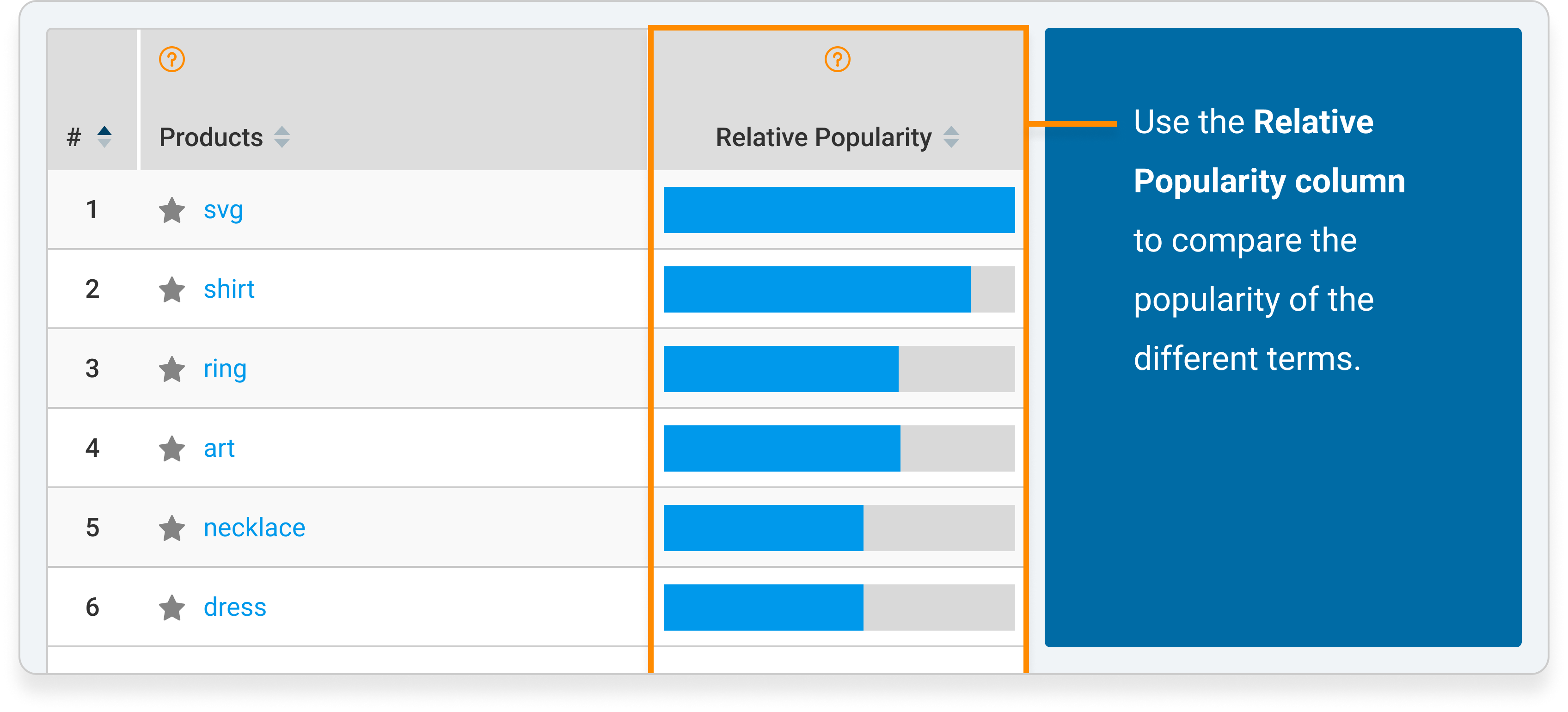 Utilize Keywords
Click the gray star next to any term to add it to one of your Keyword Lists.
Take a shortcut to your most recently edited list by clicking the floating blue button in the bottom left corner of the page. 
Learn more about Keyword Lists here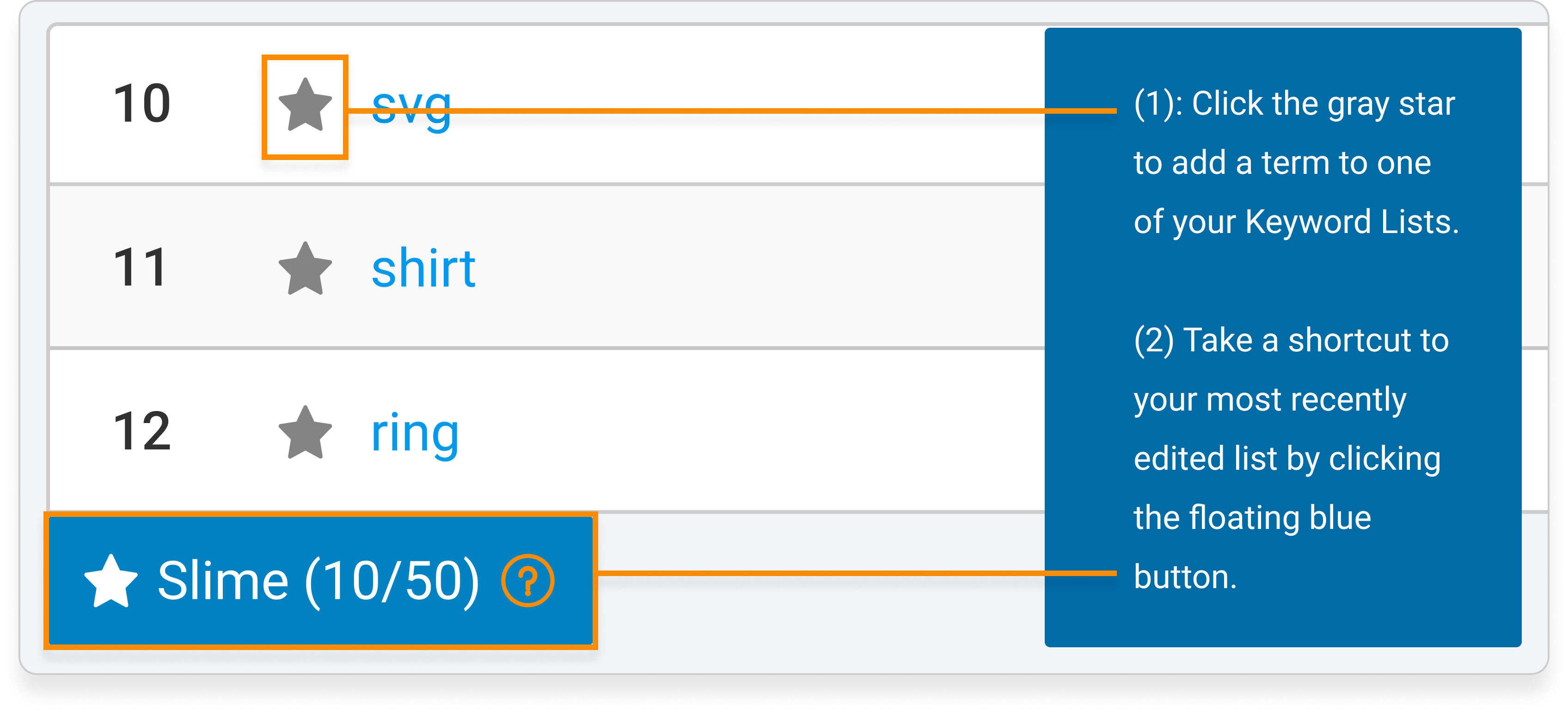 Who Can Use This?
This feature is available to all eRank members. 
Click here to upgrade your account