Reading time: 4 minutes
Opening your Etsy store is easy! I'm Etsy U Instructor Pam Duthie, and in this article I will show you the process step by step. (If you already have an Etsy shop and want to open a second one, you'll just need a second account under a different email; otherwise the steps are the same so follow along with us.)
Firstly, to create an Etsy shop you need an Etsy account. If you already have a buyer account, skip to the next section. Otherwise, this is what you need to do.
From Etsy.com, click sign in, then register. While you could also connect with Google, Facebook, or Apple, for this tutorial, we're going to register an email. Enter the email address you want to use. Next, enter the name you want to be known as – your personal name, not your shop name. Then, the password you want to use, and hit the "register" button.
Now you have an account. You can click your avatar in the top right corner of the page and you'll see more options.

You can set up more of your buyer profile there, but for now we're going to set up our shop by hitting "Sell on Etsy," then scroll down the page and click "Open your Etsy shop."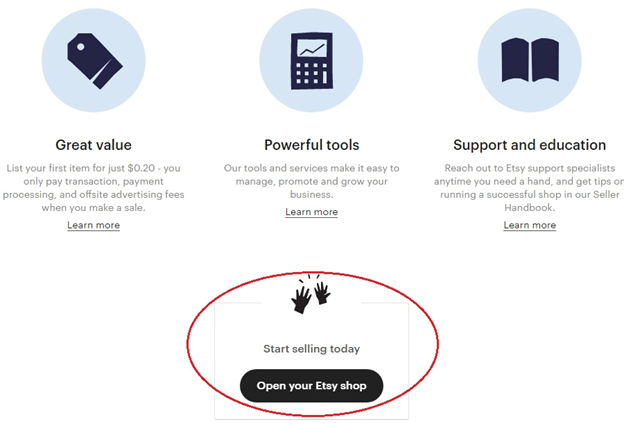 The first page will be your shop preferences, where you can fill in language, location, and the currency. At the bottom you will be asked whether you plan to sell part time, full time, etc. – do not worry; whatever you select will not impact your shop. Then click "Save and continue."
The second page is the name of your shop. This is important, so take some time here.

For one thing, although you can change it later, Etsy frowns on doing that more than twice. More importantly, your shop name is a big part of your brand. Think of something that speaks to your customers and is easy to remember and spell. (Bonus if it's 20 characters or less which would fit in a single Etsy tag.)
Click "Check availability" to make sure no one has had the same great idea as you. Note that while you might search Etsy and not see a shop by that name, Etsy doesn't permit a shop name that has ever been used before to be adopted by a different seller, even if the original shop closed after one week over a decade ago.
If your choice is available, click "Save and continue."
The next page is for stocking your shop. If you do have an item ready to go, then you can add it here. However, it is possible you're not quite ready for this yet. You can make a placeholder listing and remove it later, because you have to add at least one listing to continue setting up your shop. If you try to go ahead and click "Save and continue" without having a listing, you'll see this red banner as a warning.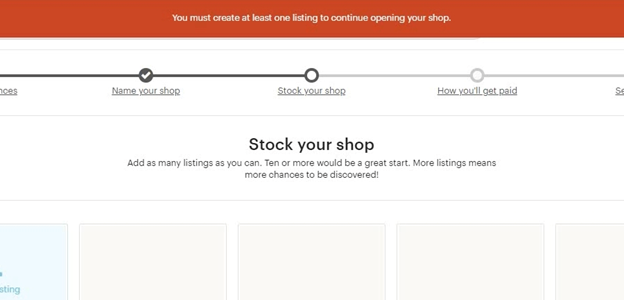 Make sure to fill in all the non-optional fields. If you're not sure, just enter your best guess and make a note to yourself to research that and change it later. If you hit save without all the mandatory fields filled in, you'll see another red warning banner across the top of your screen. It just means you have missed a mandatory field. Then hit "Save and continue." Note that your account will be billed 20 cents for this listing. Next, you can see your first listing, and you can add more or hit save and continue.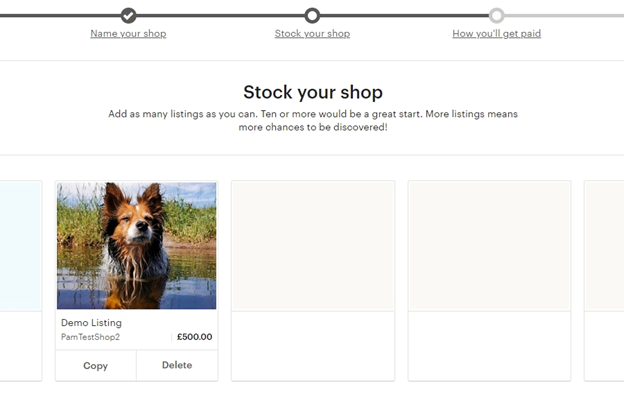 The next page is how you get paid. Select your country and enter your bank details. Different countries may have different payment options here. Also here you're asked to fill in some personal data.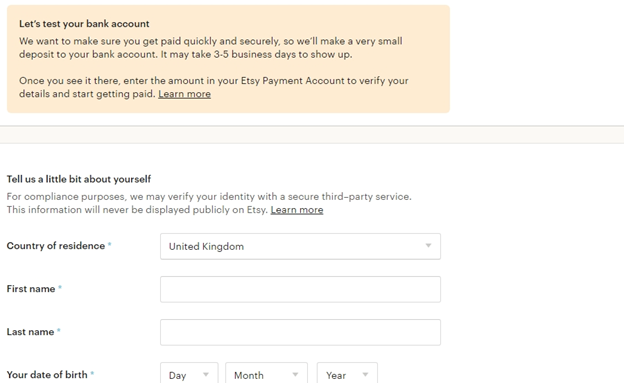 Now you're almost set up! You will have to confirm your email by clicking on the link they send you. Then when you click on your Shop Manager, you're prompted to set up billing and click open shop.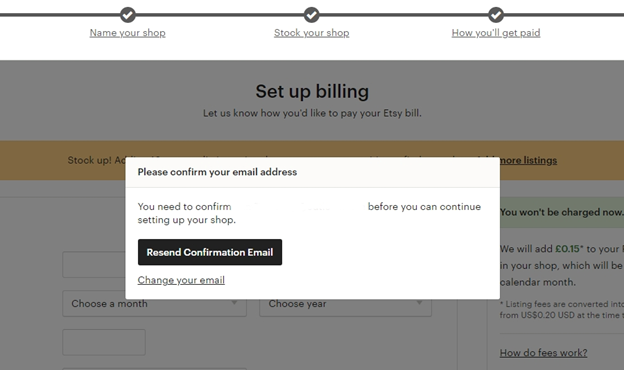 That's your shop open! Your shop's basic set up is complete but there is more you'll want to do, both to make it enticing to shoppers and to gain the favor of Etsy's search engine. Add a banner or cover photo; an avatar (usually a logo); and details about yourself. And be sure to fill in your shop policies as soon as possible.
Don't forget to verify your bank account. In a few days Etsy will send a small deposit to your bank. The link to verify this will be in your Shop Manager dashboard.

Tip: do not close this reminder until you have seen that the small amount from Etsy has been deposited, and have verified your account as it's just that – a good reminder. Because if you do not verify your bank account within 90 days, Etsy will close your account.
Enjoy selling on Etsy! If you don't already have one, here is a link to set up your free eRank account. And here's a quick video about how to connect your Etsy shop to eRank. Also consider joining eRank's Facebook group for lots more tips and advice.
See you around!
Pam Duthie
Etsy U Instructor