Reading time: 4 minutes
Challenging times to be in the mail order business if you rely on the United States Postal Service!

No worries, though! Here at eRank, we've got your back, with our handy Delivery Status report. This feature gives you a detailed overview of all your recent Etsy shipments.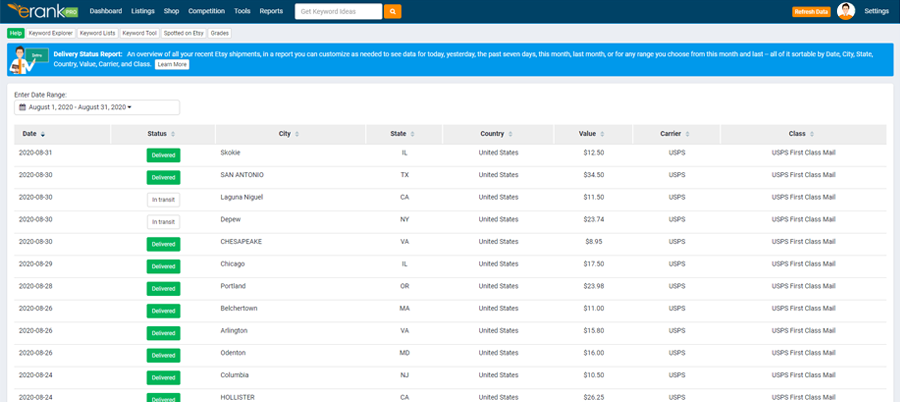 You can customize the report to see data for today, yesterday, the past seven days, this month, last month, or for any range you choose to view within this month and last – all of it sortable by Date, City, State, Country, Value, Carrier, and Class.
If you see Unknown in the Status column, that indicates the item was a digital download, or that the delivery was carried out in a way Etsy can't recognize (e.g., a customer pick-up or in-person delivery).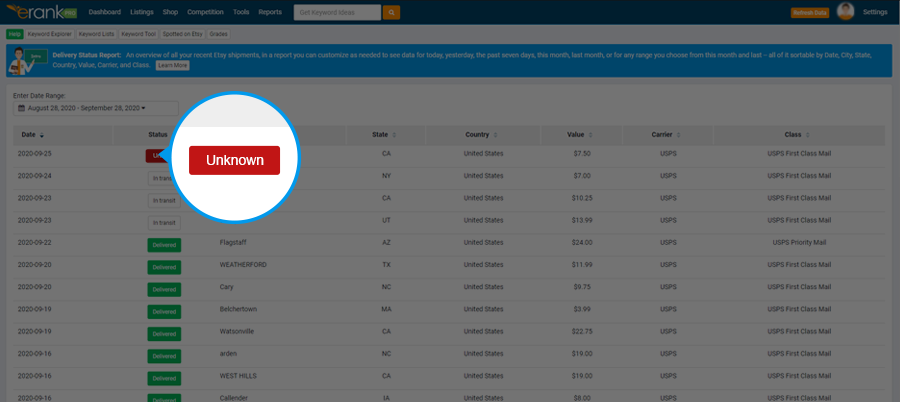 Benefits
You can monitor at a glance which shipments are delivered and which are still in transit. Featuring clickable links that take you to the Etsy order page or straight to the carrier's website, you can proactively verify, troubleshoot, then update your customer regarding carrier delays (and thereby garner more of those 5-star reviews).
How to Use
Members on either the Basic or PRO plan can access this report from the Main Menu under Shop > Delivery Status. The default view is for the last 30 days of shipments. You can customize that by clicking in the "Enter Date Range" field (outlined in red below) to be shown, on the left side menu, options for Today, Yesterday, Last 7 Days, Last 30 Days, This Month, and Last Month. If you have had orders in both of the past two months, when you click in the "Enter Date Range" field, a two-month calendar will pop up. You can use this to further customize your view. On the calendar, choose a start day and an end day, then click the blue Apply button in the bottom right corner of the two-month pop-up.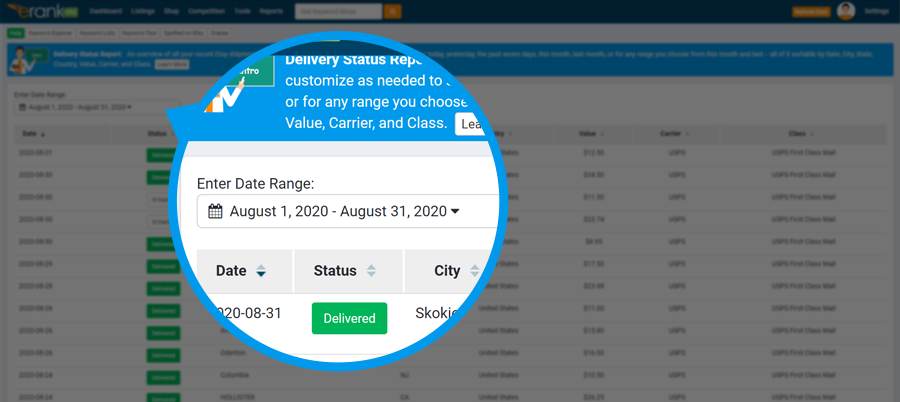 Need the delivery details for a specific order? Locate it using the City or State column and then, in the Status column, click the button showing either Transit, Pre Transit or Delivered. Clicking on Delivered will open a new tab in your browser, taking you straight to that carrier's tracking page, with all the details regarding where and when the package arrived. Clicking either Transit or Pre Transit will move you to that order in your Etsy shop (if you are logged in), where you can click on that order's tracking number, and from there be moved to the carrier's page detailing that order, where you can request they generate update emails or texts that can be sent to you and / or your customer.
International Sellers: The Delivery Status report should pull tracking data from your Etsy account regardless of whether you purchased your shipping label from Etsy and regardless of carrier, as long as you have entered the tracking number in Etsy or used a carrier or company that is synchronized with your Etsy shop. One of our members in the EU reports that when she ships via DHL, the tracking numbers are added to Etsy automatically because she uses a logistics transport company synced with Etsy. That said, for international Etsy sellers, what data eRank is able to pull from Etsy may depend on the idiosyncrasies of your home country's mail service. Another eRanker who is based in the UK reported that her Delivery Status report didn't populate until she signed up for an online account at her local post office.
Pro Tips!
One eRanker shared her experience with using the Delivery Status report (it's one of her top fav eRank features). "I sell wedding tags and stickers with dates on them, so a timely delivery is everything. This tool helps me stay on top of deliveries, especially those going Priority Mail or Express. And if I see in the Status column that a package is stuck on "In Transit" too long, I file a claim with the USPS – and magically, the package either starts moving again, or its status updates to "Delivered". If not, it takes just minutes to file a USPS Missing Mail Search. That gets an investigation started. Then, usually within five days, I get an email from a USPS representative giving me the status. Most times, it's been delivered and just missed that final scan. But occasionally it's been lost. If lost, the cost for me to reproduce the shipment and resend is nominal. Even if the customer hasn't paid for guaranteed delivery, I go that extra distance to build my brand; it's the level of customer service I like to provide, especially for brides who tend to have enough on their minds." But if your items are expensive or one of a kind, especially these days many veteran sellers recommend adding insurance.
Just keeping your Etsy customers updated as you track their shipment's progress can do a lot to head off poor feedback or even cases being filed against your shop for late shipping. When customers are kept updated about delays, and know that you are vigilant on their behalf, it can make a real difference in how they feel about you, your product, and your brand.
Hope this has been helpful! We'd love to hear how you use this report and about your own experiences with it, especially you international sellers. Join us on Facebook!