Reading time: 8 minutes
Wondering what to sell on Etsy? Here at eRank, we're back again to take the guesswork out of your Etsy SEO and tags. We'll show you the most popular search terms with shoppers. Then we'll analyze what these trending keywords tell us about what's selling best on Etsy now.
Tip: See what the most searched keywords on Etsy were yesterday (or last week, or for the past thirty days), as well as on dozens of other marketplaces like Amazon, eBay, and Redbubble.
July's Top 20 Etsy Searches
| | | |
| --- | --- | --- |
| 1. | summer jewelry | |
| 2. | minimalist | |
| 3. | personalized gifts | |
| 4. | summer gift | |
| 5. | wedding | |
| 6. | bridesmaid gifts | |
| 7. | stickers | |
| 8. | digital planner | |
| 9. | summer clothing | |
| 10. | painting | |
| 11. | wall art | |
| 12. | mid century modern | |
| 13. | earrings | |
| 14. | wall decor | |
| 15. | rings* | |
| 16. | tote bag* | |
| 17. | car accessories | |
| 18. | eddie munson** | |
| 19. | stranger things** | |
| 20. | outdoor | |
* Rings and tote bag were tied with 123,930 searches each. Please note that these (and all search-volume figures in this report) are best estimates. ** Beware of trademarked terms USPTO Trademark Database
What's hot on Etsy right now? Summer!
In July we have a month without a major gift-giving event like Father's Day or a commemorative theme like Pride. With the data stripped of month-specific searches, we get a clearer view of ongoing trends. And as we remarked upon in our report last month, people seem to simply be celebrating summer! It's as if we somehow missed out on the past two summers and so we are savoring this one all the more.
At least in the US, that is. Here is summer gift, July 2022's fourth-ranked search:

As you can see in the pie chart, the US has by far the biggest portion (93.8%) of this keyword. And we don't recall ever seeing summer gift in the Top 1000 Etsy searches before this year. But in May 2022, it began to climb from 60 searches up to 68,870 in June and then on up to July's 235,040 – an increase of 241%! To compare this in another way, that's 10,000+ more searches than 5th-ranked wedding. 45% more than bridesmaid gifts. Over 51% more than stickers! (And stickers have been on an astonishing spree for over a year now.)
Two other search terms with the word summer made July's Top 10. Taking first place overall, we have summer jewelry with 362,170 Etsy shopper searches, and ranking 9th, summer clothing with 143,950. Both of those are just like summer gift in that they are new: nary a blip last summer nor the summer before. So interesting, right? How the general tenor, the zeitgeist of a place and time can be reflected in this type of data.
New to the Etsy shopper Top 20 Keywords in July
Summer gift, summer clothing and wall decor didn't quite make the Top 20 back in June but they all ranked in the Top 30. As did stranger things. Our only real Top 20 climber this month, up from #114 in June, is #18 eddie munson joining stranger things now at #19. All things Stranger Things are hot right now following the finale of Season 4 in July. But please allow us to remind you: when selling always beware of trademarked terms and other forms of protected intellectual property. Etsy is getting better and better at spotting it. While there may well be 31,649 hits this morning on Etsy for the search term stranger things, it's not worth losing your shop.
Closing out our Top 20 is outdoor.

Now this is an annual trend you can safely put on your calendars to start including in your tags by March every year. And unlike our three summer terms, outdoor does very nicely around the world – even in Australia where it's still winter now. But they're heading into spring Down Under, whereas here in the northern hemisphere, we're facing fall.
What else is hot? All things fall
Across quite a few of the platforms and marketplaces that we track for you, we've been seeing fall-related searches throughout July. Making Etsy's Top 1000 shopper searches in July were fall, fall svg, autumn, fall decor, fall sweatshirt, and fall shirt.
Back to school and off to college
Back-to-school shopping is always big in the US. Eight searches with the word school made Etsy's Top 1000 in July, beginning with back to school supplies ranking 39th overall. And there were as many searches equipping those heading off to college. Especially if you make anything which could be used for dorm room decor, you need to jump on that asap. Up from three searches in June, there were eight off-to-college searches in Etsy's July Top 1000. Ranking 40th, dorm decor, followed by college dorm decor, dorm wall decor, dorm decor for college girls, dorm room decor, college apartment decor, and dorm were all in the Top 500. Ranked #874 was the keyword dorm posters with 13,120 shopper searches.
Here's dorm decor: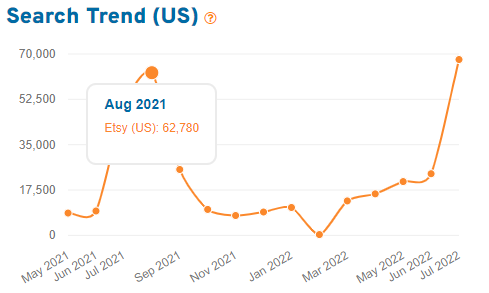 Note that last year, dorm decor didn't peak until August with 62,780 searches. This year by July 31, it has already surpassed that with 67,870. We are confident it will continue to climb even higher in August. With products ranging from wall art to lighting to pillows, curtains, rugs and linens, lots of you can get in on this trend.
Halloween!
Halloween is HUGE on Etsy. The keyword halloween ranked 25th overall in July, followed by halloween decor, halloween shirt, halloween svg, halloween sweatshirt and halloween png, all in the Top 500 Etsy shopper searches. Combined with the current phenomenal popularity of LARP (live action role playing) and cosplay, and with Etsy as a premier source for costumes and gear? Anything you make or supply along these lines should only get hotter, at the very least through Halloween.
What's up?
Digital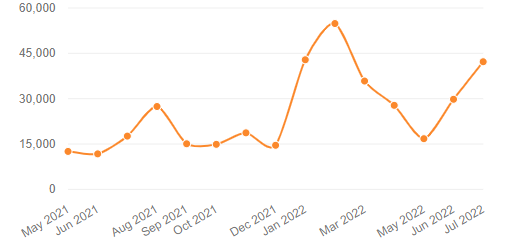 Here we can see digital is climbing back up from a concerning low in May of 16,760 Etsy shopper searches to reach 42,220 in July. Altogether, there were 10 digital searches in July's Top 1000. Digital planner was itself well up MoM, ranking 8th overall, followed by digital prints, digital download, digital, digital art, digital paper, digital stickers, digital prints wall art, digital planners, and digital journal.
Pink

Both pink and pink wall art made Etsy's Top 1000 shopper searches in July. And it's popular in the UK, Canada and Australia, too. And not just on Etsy. Fall 2022 haute couture lines are also showing a lot of pink, in shades ranging from barbiecore pink to magenta. Which seems weird for fall – until you look at the search trend line chart on the left above, which shows pink peaked in November last year. Was that an early harbinger of what influencers and reporters in July referred to as the "trending celebrity pink fashion phenomenon"?
Boho
Here are boho-related searches; the first three made July's Top 1000.

Sure, scary levels of Etsy Competition in the US, but look at those Click Through Rates (CTRs). The Search Trend bar charts (farthest to the right above) show boho decor, boho and boho wall decor all trending up. The single-word term boho is at a 15-mos high.
Other styles trending up
Mid century modern as a search term continues strong and is currently up over the previous two months. It ranked 12th overall in July. And cottagecore is also up, and by quite a bit. It hit its highest since January in July, with a very similar distribution globally as mid century modern. It's been fun watching these two polar-opposite style trends running together in top popularity in recent years, consistently in Etsy's Top 1000 and consistently ranking above all others.
We've been watching a new (or rather, newly-rediscovered) style trend which for 2022 first broke into Etsy's Top 1000 back in March. And it's way up from there now. Here's preppy.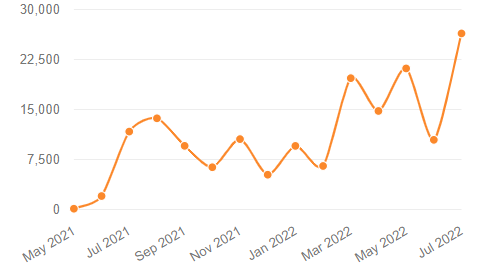 Month on Month, it bounced up 153%. If preppy is something you offer or would like to, check out the Related Searches table in the Keyword Tool; the top six searches there all have CTRs over 100%! So far, only preppy and preppy room decor are in the Top 1000 searches.
And preppy's polar opposite is surely goth, right? Well, goth is also at its highest so far in 2022, ranking #247 (just above preppy in 266th place) with gothic home decor and gothic also making Etsy's Top 1000.
Materials
Gold trumped silver in July. Gold had 10 searches in Etsy's Top 1000. Ranking #180, gold ring was in the lead with gold necklace, gold earrings, gold hoop earrings, gold rings, and gold all in the Top 500, followed by gold filled, gold filled ring, gold hoops and gold chain.
Silver ranked 489th, followed by only four related searches: silver rings, sterling silver ring, silver earrings, and sterling silver earrings down in 977th place.
Spike of the Month
Ranking 207th in Etsy's Top 1000 with 30,110 customer searches: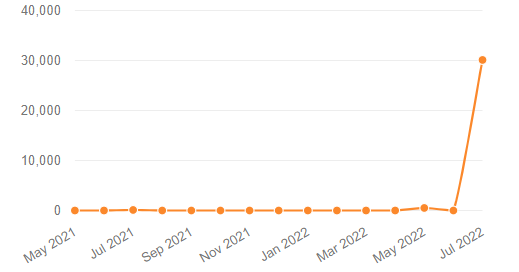 That's plaster intaglios. And what the heck are those? A bit like embossing seals that start with carving into a flat surface (creating the intaglio) which then are stamped to create a raised impression, the seal. What we're seeing most on Etsy and in Google search results are actually plaster casts from intaglios, but that's being pedantic given how obscure an item this is. And how did this trend crop up? We have no idea! Do you?
Want to talk about it?
We'd love to hear your take on these or any other trends you've spotted. As ever, you're welcome to join us in eRank's private Facebook group. Start a discussion, exchange ideas, or ask questions. With over 20,000 members, someone friendly is always around to help! Here's a link.
RESOURCES
Tools: eRank's Trend Buzz and Keyword Tool have 15 months of historical Etsy search data to help you understand recent trends in what's selling on Etsy now, what did well this time last year, and help you spot what's new. Together, they are the best way to track what's hot (and what's not) on Etsy.