Reading time: 23 minutes
Wondering what to sell on Etsy? Here at eRank, we're back again to take the guesswork out of your Etsy SEO and tags. We'll show you the most popular search terms with shoppers. Then we'll analyze what these trending keywords tell us about what's selling best on Etsy now.
Tip: See what the most searched keywords on Etsy were yesterday (or last week, or for the past thirty days), as well as on dozens of other marketplaces like Amazon, eBay, and Redbubble.
October's Top 20 Etsy Searches
| | | |
| --- | --- | --- |
| 1. | halloween | |
| 2. | personalized gifts | |
| 3. | gifts | |
| 4. | fall | |
| 5. | minimalist | |
| 6. | handmade jewelry | |
| 7. | home decor | |
| 8. | christmas | |
| 9. | halloween costumes | |
| 10. | mid century modern | |
| 11. | painting | |
| 12. | stickers | |
| 13. | embroidery | |
| 14. | earrings | |
| 15. | wall art | |
| 16. | do it yourself | |
| 17. | rings | |
| 18. | coffee | |
| 19. | christmas ornaments | |
| 20. | digital planner | |
* Please note that all search-volume figures in this report are eRank's best estimates.
New to Etsy's Top 20 US shopper searches this month
Five keywords rose to make October's Top 20 shopper searches. Five dropped out. Let's have a quick look at those first, shall we?
Well, the climb of #9 halloween costumes is no surprise. While in September it ranked well down at #129, halloween costume (singular) ranked #74 and halloween adult costume ranked #22, just missing the Top 20.
Do it yourself ranks 16th, up from 36th. (By the way, that one was in the UK's Top 20 last month; more about the Brits in a bit.) No. 17 rings is usually not far from the top with US shoppers; ring ranked #32 in September. And let's just take a minute now to count how many ring-related searches we had in October's Top 1000: 23! Wonder if that number will climb as we get into full-on gift-buying season? It did in November 2021.
Ranking #18, coffee is also up just a bit Month on Month with US Etsy shoppers; it ranked just outside the Top 20 in September. Coffee is another keyword that did better back in September in another of Etsy's top countries: Canada. In fact, as we mentioned in our last Trend Report, in Canada the search term coffee was up Year on Year by 175%. And that search volume wasn't all for coffee itself, in bean form or ground. Rather, it was also coffee candles, coffee stickers, coffee mugs, even coffee wallets and coffee washcloths. We speculated these were mostly gift items for coffee lovers. We'll check in with the Canadian Top Etsy Shopper Keywords here later. For now, let's get back to this month and Etsy's US shoppers. Keywords related to coffee in October: ha ha, just two! Coffee at #18, and coffee mug ranked #504. Interesting.
And as a sign of what's to come: ranked 19th, christmas ornaments, up from #89. If you've had a peek at eRank's Trend Buzz 7 Day lists lately, you can see what's rising like a tsunami heading our way: all the Christmas-related search terms. Are you ready, Gang?
Now for what's been nudged out of the Top 20
Which five shopper searches were pushed down to make room for these since September's report? Halloween sweatshirt, halloween shirt, photography, fall decor, and car accessories. But none of them went far – oops, except for one. All the rest stayed in the Top 50, except for fall decor. That one dropped from ranking 19th in September all the way down to, wow: #688 in October. Huh.
We decided to check when fall decor began to drop a year ago, and that's when we noticed this.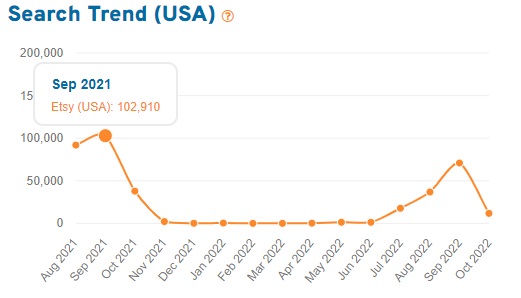 A year ago in September, there were 102,910 searches for fall decor. Quite a bit more than September 2022, when at its peak there were 70,870 searches – a 31% decrease. And a year ago in October, there were still 37,840 searches for fall decor. This year? Yep: dropped like a rock (69%!) to 11,740 in October.
So, if you're still using fall decor as a keyword, now's the time to swap it out for something more useful. You can absolutely still have your fall decor items listed, but if they aren't selling well (and remember eRank's Golden Rule: never change a listing that is selling well!), try these decor keywords to describe them instead. Trending better are: home decor; holiday decor; wall decor; seasonal decor; room decor. All of those are in the current Top 500 Etsy shopper searches.
What's hot hot hot in the US Top 20 (and what's not)
For well over a year now we've talked here about how two opposing style trends have dominated Etsy shopper searches. Of course, we are talking about Cottagecore and Mid-Century Modern(with minimalist being a subset of MCM's clean lines, geometric shapes, and minimal ornamentation). Well, mid-century modern has leapt ahead to take a mad lead! By the end of October, cottagecore dropped to #328 in the Etsy US Top 1000, and the only other related keyword, cottagecore dress, ranked down at #934. Poor cottagecore! Just look:

As you can see, cottagecore's always been up and down. But it's currently at its 15-mo nadir with 17,770 searches (tied with cloak for pity's sake). A year ago, it had 42,850. That's a 58% drop. Let's compare its data with that of mid century modern, below.

Cottagecore has been trending longer than mid century modern, so it starts a good deal higher (farthest left on our 15-mo line graphs). Back in August 2021, cottagecore had 33,840 searches, while mid century modern had only 16,720. But contrast cottagecore's up-and-down activity from then until now with how much steadier the performance of mid century modern has been. Once it shot up to 161,970 searches in November 2021, mid century modern never sank lower than 104,910 searches. Cottagecore's high – also in November 2021 – was 45,850 searches, and since then it's dropped below 28,000 searches four times.
Battle of the styles
We must admit having a soft spot for underdog cottagecore. And that fondness is shared uncommonly widely on Etsy's other top markets (the UK, Canada, and Australia; see pie chart). As is the taste for mid century modern in the UK, Canada, Germany, and Australia, though. But there's another big difference between these two contrasting style trends: did you spot it? It's search volume. At its 15-mo peak, cottagecore had 45,850 searches. Compared with mid century modern's peak at 161,970, that's a difference of 111.7%.
And mid century modern is in our Top 20, ranked 10th, the same placement it had in September. Meanwhile, Month on Month cottagecore dropped from #95 to #328th rank. Poor rabbit. Have all its fans converted to mid century modern? Highly unlikely. Have they turned to other keywords that describe cottagecore's cozy nostalgic comfy shabby look? The closest synonym in terms of style is shabby chic:

And look: that one's even more volatile than cottagecore has been! And at its highs, way less search volume than cottagecore's: 45,850 vs shabby chic's 15-mo high of 4,410 searches – like 90% less. Conclusions we can draw from this is that there apparently is a very real difference between cottagecore and shabby chic in shoppers' minds after all. A more distant cousin is boho:

Boho vs Minimalist
Now that looks more promising! While down from its 15-mo high of 30,780 searches, boho's back up from a dip in September to 18,760 searches, and ranks #301 in our current Top 1000. Boho's also got a good distribution across Etsy's other top markets. The purple slice of the pie chart above is France with a 3.2% share of the pie. The UK's got 7.7, Canada 6.5 and Germany's is 5.9%. And like cottagecore, boho's been popular for years now. If you want to try a test to perk up any cottagecore items you've got, try switching some to boho.
And when you're doing your research, be sure to scroll down in eRank's Keyword Tool to the "Keyword Ideas" chart and filter by Related Searches.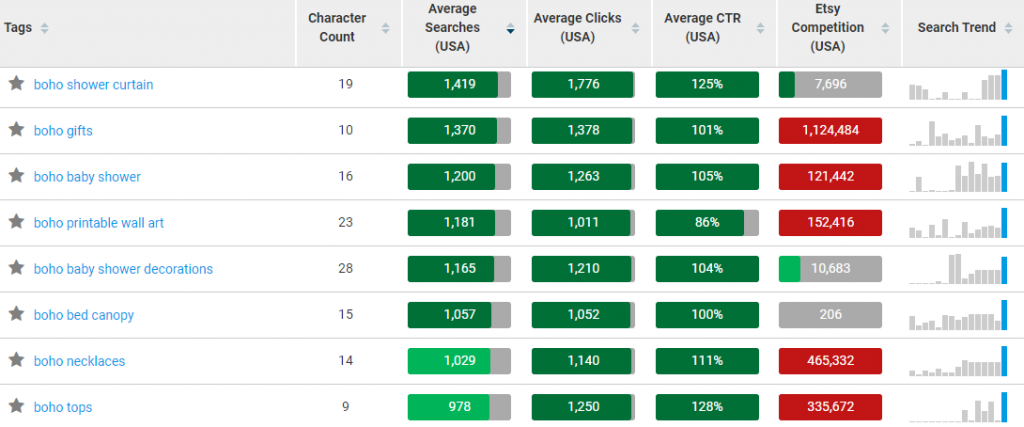 These eight related searches show why we're devoting this much of our Trend Report talking about styles. Because as shown above, they can encompass many of Etsy's top-selling categories, from decor to gifts to party supplies to wall art to jewelry to clothing and more. See those blue bars on the little Search Trend graphs (last column)? Those are for the current month. All eight of these search terms are popular with shoppers right now. All have excellent metrics for search volume, clicks, and click-through rates. And look: three also have low to very low Etsy competition!
Next, let's see how boho contrasts with minimalist, which has ranked fifth most popular Etsy search for the past two months running. Here is minimalist:

Well, will you look at that Search Trend graph! You know how cottagecore, shabby chic, and boho were so erratically up and down compared with the far more stable mid century modern? In case you're on a small screen, here again is mid century modern:

See how alike the 15-mo search trend graphs are for minimalist and mid century modern? Both rise at the same time, October 2021, then stay high through the holiday season, falling a bit (but nothing like cottagecore et al) to hold fairly steady up to the present. Except that minimalist is even more popular in terms of search volume than mid century modern! Its peak in December 2021 hit 410,210 Etsy shopper searches!
Currently, minimalist has been hovering for three months now right around 222,000 searches. Double the search volume of mid century modern during the same period. The categories top sellers are selecting for minimalist items: wedding invitation templates; wedding signs; art & collectible digital prints; hoop earrings; and wallets. So: a broad range of products. And as you can see from the pie charts, minimalist is not just popular in the US; it's captivating the other top three of Etsy's countries, the UK, Canada and Australia. Shall we take a quick look at what else is trending there?
What's popular now with Etsy shoppers in the UK, Canada, and Australia
In the UK, it's baubles! (Plus, we just like how much more fun and festive the word "bauble" sounds than its US equivalent "ornament.") Here is the data for bauble:

And lest you think that little climb back up in October 2022 on the Search Trend graph is underwhelming, you can see that it's actually a bit higher than bauble was in the UK a year ago when it had 1,050 searches. Year on Year, with 1,300 searches it's up. And if it at least matches last year's holiday high, bauble will reach 3,450 searches, and perhaps more. Currently there are three shopper searches containing bauble in the UK's Top 1000 Etsy Searches: personalised christmas bauble, christmas bauble, and christmas baubles. None have reached the UK Top 20 yet. What has? Christmas decorations ranks 7th, christmas wreath is at #14, and in 20th place, advent calendar.
In the US, advent calendar ranks down at #65, distantly followed by advent calendar for adults at #761. Whereas the UK Top 1000 has five entries: advent calendar, book advent calendar, advent calendar kit, advent calendar bags, and advent calendar 2022. While our personal favorite didn't make the Top 1000, we love it nonetheless: die hard advent calendar. With 2,400 searches in October, it just missed making the UK Top 1000. We want one.
Christmas wreath also ranks much higher in the UK; it's at 14th as compared with its US counterpart all the way down in 101st place. There is a good reason why: Halloween and Thanksgiving in the UK are nothing like the major holidays they are in the US. So, all Christmas-related searches begin trending at least a month sooner on Etsy UK and they also rank higher for awhile than on Etsy US.
Sellers outside the UK who are wanting to access UK buyers need to keep in mind that, like bauble, the UK has different names for things than US shoppers typically use. (Although we were surprised to see that 8.3% of the shoppers using that keyword are in the US. The same share of the pie as Australia has.) Knitwear currently ranks #33 on Etsy UK's Top 1000 searches. Etsy US? The Keyword Tool indicates only 10 searches for October. And then there's jumper. This keyword's more confusing because it actually means an entirely different garment in the US, where jumper is a type of dress. There are five entries for jumper in the current Etsy UK Top 1000: halloween jumper; christmas jumper, jumper, christmas jumpers, and personalised jumpers. (In the US in October there were 10 jumper searches.)
Vintage: interesting!
As we data geeks at eRank review the daily keywords for Etsy's top countries on all the platforms we use, we have noticed for over a year that vintage is often popular in the UK. In October's Etsy UK Top 1000, there were six shopper searches with the word vintage, and these three were in the Top 100: #32 vintage pearl necklace; #39 hat women vintage, and #46 vintage handbag. Vintage as a broad search ranked #133, followed by nike vintage track pants and vintage poster. Here are the Keyword Tool's UK results for vintage:

So, we thought we'd see how vintage items were trending in the US. First, we checked the October Top 1000. And wow, we were surprised to find only two searches. Vintage ranking #310, and vintage sweatshirt #401. Next we did a Keyword Tool search for vintage on Etsy US.

The broad keyword vintage is down Month on Month from 27,790 in September to 18,760 by the end of October. Search volume is higher than in the UK, so even though vintage is down in the US, there were 18,760 to the UK's 7,650 searches. (But Competition is also off the charts!)
Jewelry in the UK
Since it's clear that Christmas trends earlier in the UK than in our other Top Four markets, let's see how jewelry (or rather, jewellery) is faring. It's a popular gift, and we know a lot of you sell it. The broad keyword jewellery is No. 3 in the UK's Top 1000, followed by #16 personalised jewellery; #100 handmade jewelry; #108 jewellery box; #298 septum jewelry; #468 jewellery making; #623 jewellery stand, and #740 halloween jewelry.
Seeing handmade jewelry ranking all the way down at #100 in the UK is curious. It's definitely down; it ranked #69 in September, which was down from 60th in August. Whereas that search term currently ranks #6 in the US and seems like it's always popular, right? It was #3 in September. So, we decided to have a look at it. Here are the US results for handmade jewelry:

Well, that's a surprise! Handmade jewelry has actually taken quite dive in the US in 15 months. It's currently down 58%! It's just that even its lows on the Search Trend chart there along the bottom were enough to still keep it in the US Top 1000 every month, making its drop hard to spot. Let's compare those results to the UK's for handmade jewelry (note: the British spelling handmade jewellery doesn't rank in their Top 1000).

Huh: handmade jewelry does not appear to be all that popular a holiday gift in the UK. Glancing back up at the US results shows us the same! Over 15 months, sales were low three months running, November through January in the US! They did pick up for Valentine's Day, and again around Mother's Day, which is celebrated in the US in May. In the UK, Mother's Day (or Mothering Day) is in March. We see a little lift in on the search trend line around then, probably for both Valentine's Day and Mother's Day gift giving.
So in the UK, handmade jewelry is actually higher now with 8,750 searches than it was at its holiday peak last year. That said, just as with Etsy's US shoppers, that keyword has taken quite a tumble since August/September of 2021, and by even more: 71%. Ah, but look at that UK Click Through Rate. Averaged over the past 12 months, it's 111% (the US CTR is 91%). Mixed messages for sure. We'll keep an eye on it for you.
In our last two Trend Reports, we talked about the most unusual trend of the word handmade. In the US and in Canada and Australia, that keyword factored in searches in all three countries' Top 20 in August 2022. And in the US that month, three handmade searches actually took the Top 3 spots: a first! No.1 was handmade home decor, followed by handmade clothing and handmade jewelry. Then in September, those first two dropped like rocks down to #665 and #787. Only handmade jewelry hung on to its No.3 spot. The one Top-Four country that didn't see this flurry was the UK. We promised to watch this for you, so next let's compare results for the broad keyword handmade in all four Top Etsy countries.
How's handmade doing?
Below on the left is 15 months of Etsy search trend data on US shoppers for the broad keyword "handmade," alongside a pie chart showing how that pie is divided. Then we'll show you each of Etsy's other top countries, the UK, Canada, and Australia.




Seems this suggests our assumption that handmade items sell best as holiday gifts is wrong! Or at least, not for the holiday we were expecting. In all four countries, the 15-mo Search Trend graphs show that Etsy customers are actually shopping for handmade items the most around Valentine's Day. In October 2022 (the last full month for which we have data), it's only in Australia where handmade is popular enough that three handmade-related searches made their Etsy Top 20. (More about Australia's top searches in a bit.)
But first, let's have a quick look to see whether Canada's Etsy shoppers mirror their US counterparts as closely as they did in our last report.
What's up in Canada?
For the three months we've done these Etsy Top-Four Trend Reports, Canada's Top 20 list has aligned quite closely with the US Top 20. For October, the four terms Canada did not share with the US Top 20 were still near the top of their list – with one exception. US-ranked 19th christmas ornaments is down at #107 in Canada.
But it is not as if Christmas shopping isn't already ramping up there. By the end of October, there were 27 Christmas-related searches in their Top 1000; the US has 31. The UK has 47 but, as we mentioned above, because Halloween and Thanksgiving are not as big in the UK, Christmas preparations there start a good month earlier. Whereas in Australia, it's the polar opposite. They are heading into summer. So, just like this time last year, the Aussies aren't much into the holiday spirit yet; they have only 13 Christmas-related searches in their October Top 1000.
But back to what's trending in Canada. Dogs are. There are more than twice as many searches with the word dog in Canada than for cat. In the US, cats win. Dog only figures in six searches in the US Top 1000. Canada has 15. Dogs win in the UK too, with twice as many shopper searches for dogs than cats. Australia? It's also dogs. We were sure the French prefer cats; there are always lots of cat searches on the French-shopper platforms we monitor. Mais non, at least not on Etsy. The French actually shop equally for dog items as they do for cats – that is, if you count smelly cat as a cat-related search.
How's vintage in Canada? Has it as concerning a dearth of shopper searches as it currently does in the US? Or is it performing better, as in the UK? Well, it appears that Canada's kind of in between. Compared with the US's measly two vintage-related searches, Canada has four. However, none are in their Top 100 (the UK had three of its six in their Top 100). These are Canada's: ranking #192, 90 vintage clothes; #311 vintage poster; #675 vintage; and #709 vintage t shirt.
And revisiting advent calendar, this time for Canada, we find four advent searches (twice as many as the US), with the first ranking #72: advent calendar. The rest are #76 advent calendar 2022; #682 advent and our favorite at #836: beer advent. That last product is trending now as we compile this report: on November 5th, beer advent calendar was #78 on Etsy Canada's list in eRank's Trend Buzz. Sounds fun.
Wallets
Another trend that Canada does not share with the US: wallets. Wallet ranked 25th on Etsy Canada with shoppers, followed by wallets, small wallet, wallet women, and cute wallet, all in the Top 500 searches. Here are Canada's stats for wallet:

Wallet is not only popular with Etsy shoppers up there in Canada; it's also one of the rare instances in which the Click Through Rate is high (112%!) and yet Etsy Competition is low!
Compare that with Etsy US and Etsy UK, where each has only two searches. In the US, they are wallet at #122, and leather wallet ranking #786. Judging by search volume, UK shoppers have still less enthusiasm, with wallet at #384 and personalised wallet at #914. On the other hand, unlike the US, in the UK the keyword wallet has been climbing recently. Currently, it's at a 15mo high. But Etsy Competition for the keyword is also sky high. So, we don't see the opportunity that there is in Canada – and also in Australia!
What's hot right now Down Under
Like Canada, Australia also has five wallet-related searches, although the top one only ranks #74, and the rest don't make their Etsy Shopper Top 500. Also, the CTR is not quite as high as Canada's. But 97% is still very good, and with the Search Trend volume so up and down, averaging 97% over 12 months is ace indeed.
Again though, as in Canada, the real steal here is in the Etsy Competition for this keyword. "Very Low" should be music to wallet sellers' ears. The wallet-related searches in Australia by end of October 2022: wallet, hugo boss wallet, mens wallet, witchy wallet and personalised phone wallet case. These are all doing far better than they were in October 2021. That said though, our Trend Report Spike of the Month has to go to Australia for wedding:

Spike of the Month: Wedding
This trend is easy to miss in the data. Looking at the "Etsy Searchers by Country" pie chart (above right), Australia isn't even mentioned. That's because it is such a spike. Year on Year, the keyword wedding has had a sky-high increase of 17,200%!
The reason why is simple: Australia locked down for the pandemic far more strictly than did Etsy's other Top Four countries. Couple that factor with being the only one that's in the Southern Hemisphere. It's the middle of spring there now: peak wedding season. Should be absolutely massive this year. So, congrats to every happy pair, and to you wedding-niche sellers, too: we're delighted for you!
Slump of the Month?
A trend downturn we noted in last month's report was press on nails. That's been a monster trend for well over a year on a number of the platforms eRank tracks. But we'd begun to see hints in the data that, just like slime before it, this trend might be sliding. By September 2022 in the US the keyword had fallen in rank to 55th. In the UK, it slid even further: #362. And Canada had no searches related to press on nails in their Top 1000 at all.
Australia was the only one of Etsy's Top Four markets where press on nails still trended well in September, ranking 14th in their Top 20. This past month? Well, here are the stats for Etsy US:

Looks like we might have been right: that is for sure a slump. And this past month, even in Australia. Press on nails went from 14th-ranked down to #239, a Month-on-Month drop of 77%.
Fluke of the Month?
A puzzle for us in Australia's October Top 20 Etsy Shopper Searches was 9th-ranked moodboard brand kit. The US, UK, and Canada can't muster enough results for that keyword to even register in eRank's Keyword Tool. Look: Australia's got the entire pie to itself!

But even though it's currently ranked higher than wedding in Australia, we didn't award it Spike of the Month. Because we suspect that moodboard brand kit is more like Fluke of the Month. In October it got 17,550 searches (quite high for Australia), plus a Click Through Rate of 141% – and an Etsy Competition score too low to detect! But are Australian Etsy shoppers really this into such a niche item? And so suddenly? Moodboard brand kit did not make even their Top 1000 back in September.
Let's go down the rabbit hole a bit. The broader keyword moodboard saw a similar single-month spike in the US in both September 2022 and a year ago in October 2021. But with much, much lower search volume, and that was for a keyword – moodboard – less niche than Australia's long-tailed moodboard brand kit and its 17,550 searches! What the heck? The last time the broader keyword moodboard even charted in Australia was back in August and September of 2021 with a skimpy 350 searches at its highest. Canada had a similar sort of blip (150 searches) in August 2021 and again in March 2022.
As for the other half of that long-tailed keyword, brand kit: it's got four related searches in Australia's current Top 500. Along with moodboard brand kit, there's "etsy" branding ranked 58th, brand board at #400, and etsy branding at #405. Now, in doing our daily reviews of the Australia lists for Trend Buzz, we have been seeing etsy branding often recently. Whether this is just a one-off fluke or it turns out to be more, one thing this keyword tells all of us sellers is that people who list marketing kits and tips and tutorials have a market on Etsy. Here are the results for brand kit on Etsy US:

Handmade in Australia
As we mentioned earlier, only in Australia did Etsy shoppers push three handmade-related searches back into their Top 20. Handmade clothing ranked 3rd, handmade clothing took 4th place, and handmade furniture, #18. In September, Australia had more handmade searches in their Top 1000, a total of seven compared with October's three. So, it is a bit of a mixed message: Month on Month, fewer searches but higher search volume. For your viewing convenience, here again are Australia's results for the broad keyword handmade:

This report is already mad long so we'll just leave you with this. Are we the last to know about begonia darthvaderiana? It's been trending in Australia. We had to google it. Apparently it's a rare begonia from Borneo. Now we want one.
Want to talk about it?
We'd love to hear your take on these or any other trends you've spotted. Aver, you're welcome to join us in eRank's private Facebook group. Start a discussion, exchange ideas, or ask questions. With over 20,000 members, someone friendly is always around to help! Here's a link.
RESOURCES: eRank's Trend Buzz and Keyword Tool have 15 months of historical Etsy search data to help you understand recent trends in what's selling on Etsy now, what did well this time last year, and help you spot what's new. Together, they are the best way to track what's hot (and what's not) on Etsy.