Publication date: September 7, 2023
Reading time: 26 minutes
Wondering what to sell on Etsy? Here at eRank, we're back again to take the guesswork out of your Etsy SEO and tags. We'll show you the most popular search terms with shoppers. Then we'll analyze what these trending keywords tell us about what's selling best on Etsy now.
Tip: See what the most searched keywords on Etsy were yesterday, as well as on dozens of other marketplaces like Amazon, eBay, and Redbubble.
And if you would prefer to watch or listen to this content, here you go! 
August's Top 20 Etsy searches in the US
1.   halloween
2.   personalized gift
3.   stickers
4.   kitchen
5.   decor
6.   gift
7.   wall decor
8.   furniture
9.   earrings
10.  fall home
11.  sweatshirt
12.  halloween shirt
13.  home decor
14.  wall art
15.  fall decor
16.  fall clothing
17.  barbie
18.  rings
19.  handmade jewelry
20.  rugs
* Warning: Beware of trademarked terms. This list may contain keywords that are trademarked. USPTO Trademark Database
What's new Month on Month (MoM) to the US Top 20
We like to look at these first. One reason is that it's an indicator of how much volatility there is in current trends. As benchmarks: a turnover exceeding nine is remarkable. Rarely (mostly during the pandemic), we see fewer than five search terms that are new MoM; that is stagnant.
In July, we were relieved to see nine new. Because in June, the US was the only one of Etsy's Top 4 countries to be near-stagnant with a turnover of only five. Whereas the other three (UK, CA, AU) all had unusually high rates of change. As the UK and Canada did again in July. Like the US, Australia had 9 new. (More about all of them coming up!)
Well, the US has finally caught up to the UK and Canada: it's got 12 keywords that are new MoM. An extraordinary rate of change! Without further ado, here are August's climbers, with current rank + search term + rank back in July.
#4 kitchen, up from #160
#5 decor, up from #22
#7 wall decor, up from #26
#8 furniture, up from #54
#10 fall home didn't make July's Top 1000!
#11 sweatshirt, up from #83
#12 halloween shirt, up from #50
#15* fall decor, up from #515
#16 fall clothing didn't make July's Top 1000!
#18 rings, up from #41
#19 handmade jewelry didn't make July's Top 1000!
#20 rugs, up from #35
* Note: Etsy is also promoting this keyword, fall decor, on its home page. Have a look:

The three screamers of August (that is, our highest fliers) 
We have three Top 20 shopper searches that didn't rank anywhere in July's Top 1000. We call these screamers. Because it's exceptional to come from nowhere and then in just a month rank in the Top 20. These days, to make the US Top 1000, a keyword needs at least 7,500 searches. (And a good deal more around the winter holidays.)
Screamers tend to relate to either a change of season, a holiday, or an entertainment phenom like July's Barbenheimer. (As predicted, that one was a one-hit wonder. In one month, it dropped from #16 down and out of the Top 1000 completely.) Let's look at our three new screamers, shall we?
Fall home
Perfect example of a seasonal keyword appearing just ahead of a change of season. But we must say, we don't recall it being in our Top 20 in past Augusts. Accordingly, let's check it out in Keyword Tool.

Indeed: "fall home" had zero search volume in August 2022, and just 230 searches in September. Maybe "fall home" is the new way of saying fall decor. (And "fall decor" ranks #15). Also, looks like fall is being welcomed earlier this year. In August 2022, the highest-ranking fall-related search was down in 70th place!
Fall clothing 
Our other fall screamer is "fall clothing." Same story as "fall home"? Let's see.

Similar! At least with this, there was a bit of a blip last August. 7,730 searches. But it wasn't enough to make last August's Top 1000. While it looks pretty flat on the trend line, there were searches in September and October. 1,210 and 2,210 respectively. Therefore, if you still have unlisted fall clothing in your inventory, it's certainly worth listing!
Fall versus Autumn
Look at both of these fall-related pie charts. The US has virtually all the pie! So, we had a look at our other three top Etsy countries. This month in the UK, there were 1,150 searches for fall decor. But for autumn decor? 3,600 searches; more than double. And last September was when "autumn decor" hit its peak there: 13,800 searches!
(In Australia, neither fall nor autumn are trending now. Understandably so: it's spring there now.)
However, in Canada "fall decor" is currently at its 15-mo high with 4,750 searches. There, it's very close to August 2022's 4,700. For "autumn decor"? That's the real story.
Right now in Canada, "autumn decor" is at its 15-mo high of 12,650. That's a YoY increase of 955% over August 2022's 1,200. If, like last year, it continues to climb from here, buckle up. By which we mean, if you sell outside the US, start including "autumn" in your fall-related keywords!
Handmade jewelry 
This keyword has been coming and going for awhile now, in the US and elsewhere. It ranks 19th now, after having dropped down and out of July's Top 1000. Let's see what's what.

 Yep: as we said, it's been coming and going from US Top 1000 lists for 15 months now. Before that, we didn't see "handmade" in as many searches. Shoppers used the filter for handmade and that used to work. But it hasn't for some time now. Lots of Etsy shoppers are savvy, though. They just include "handmade" to what they type into Etsy's search bar. Some months more than others, it seems.
Even with handmade jewelry's current 87,890 searches, we're nowhere near previous peaks. In fact, the 15-mo high was exactly a year ago when it had 279,080 searches! The other two highs were in September and March, both well up in the 270,000 range. For now, we'd say it's a keyword worth keeping, at least in your tags. (By the way: "handmade gift" is also up MoM.)
And speaking of Etsy's other top countries, let's go see what else is new with them, shall we? We'll start with the UK, and then move east. (And even if you don't sell outside the US, you still might want to read on. In rooting through what's popular in Etsy's other top markets, we always discover more about US trends.)
August's Top 20 Etsy searches in the UK
home decor
jewellery 
gift
school
personalised gift
wall art
summer
rug
halloween
stickers 
necklace
tote bag
earrings
crochet pattern
digital planner
t shirt
crochet
christmas
shelves
pokemon
* Warning: Beware of trademarked terms. This list may contain keywords that are trademarked.
What's new MoM to the UK Top 20 
Again, let's begin our analysis with what's on this Top 20 list that wasn't on last month's. These are the hottest rising trends. And also an indicator of how much unpredictability there is in these top keywords. 
Well, you can finally let go of those hats, folks! You went two months straight having turnover be a mad-high 12. Now, the UK is back to normal with eight new. A healthy rate of change. And only two top climbers weren't anywhere in July's Top 1000. Both are seasonal: "school" and "christmas."
Highest climbers on the UK Top 20 list
Here are your climbers, listed with current rank + search term + their rank back in July.
#4 school (didn't make July's Top 1000)
#9 halloween, up from #44
#12 totebag, up from #58
#13 earrings, up from #29
#14 crochet pattern, up from #173
#17 crochet, up from #202
#18 christmas (didn't make July's Top 1000)
#19 shelves, up from #170
We've already mentioned your two screamers, "christmas" and "school." (Being seasonal, it's no surprise to see them spike.) Therefore, let's move on to the highest climbers that did rank in July's Top 1000, but not in July's Top 100.
Crochet
Both "crochet" and "crochet pattern" have been up and down and in and out of the Top 1000 in several of Etsy's top countries. Let's look up crochet first.

Well now, isn't that a textbook up-and-down search trend line? It does appear lowest in June and July in both 2022 and 2023. And this past week, we noticed talk of crochet in an online crafting group. That with the seasons turning, they felt like doing some crochet again. So, maybe crocheting's not much of a summer thing?
Let's see if that theory holds true for 14th-ranked "crochet pattern."

Whew! That's quite a one-month climb! From 5,500 searches to 17,600! Up a lovely 220%. And YoY, it's up a bit more: 235%. But like "crochet," search volume is so erratic. If you're in this niche, perhaps just know that this is how it is. There were four crochet-related searches in the UK Top 1000 this month. Ranked high to low: crochet pattern, crochet, crochet patterns, and crochet bag.
Shelves
This is unexpected. We can't recall ever seeing this keyword in any country's Top 20. Off to Keyword Tool we go!

Why yes, it appears shelves are having a moment! That spike indicates 15,600 searches in August. Year on Year, "shelves" is up 593%! And above on the right, look at that sizeable portion of pie you guys get! There is also a quite worthy 12-mo average CTR of 111%.
Most months, looks like there was enough search volume to make at least your Top 1000 searches. Given that steady-enough search volume, shelves might be a good niche? Especially if you niche further down. Have a look.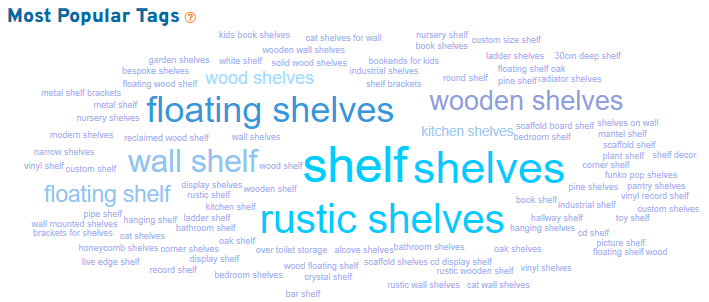 Update on keywords we're watching for you
The only real screamer you had in last month's report was "rug." Which we found a bit intriguing. We hadn't recalled "rug" ever making a US Top 20 list. The highest it got was #46 once.
Well, times have changed! "Rugs" made the US Top 20 this month! And "rug" is your 8th-ranked shopper search. Have a look.

Up YoY by 40%, and it's the fifth Top 20 appearance rug's had in the past 15 months. You've also got an annual CTR of 120%! As well, another pretty nice-sized slice of the Searcher pie too: close to 20%. All in all, we'd say this looks like a good niche. 
"Bookmark" and "embroidery"
These two were your concerning sliders in our last monthly report. Bookmark has perked back up! By 81%! Yay!
And embroidery? Still down; fell another 100 searches to a new 15-mo low. (Same in the US and Australia. They're at their respective 15-mo lows, too.) But we wonder: could the big embroidery trend have been a pandemic thing? Lots of people picked up hobbies and crafts during the pandemic. Some for the first time ever. We'll continue to keep an eye on that one for you.
Meanwhile, they're still embroidering over in Canada! From a 15-mo low last month, embroidery has shot up there from 1,050 searches to 9,550. Up by 809%! Looks like Canada's the market to target if you sell embroidery wares or supplies.
"Wedding" and "travel" and "barware"
For months now, we've been tracking these for you. Let's see how they're doing. "Wedding" sure looks good. Twenty-one wedding-related searches made your Top 1000. The highest is "wedding card" at #33, followed by "wedding gift" at #41. "Wedding" ranks #98, and that's it for your Top 100. Nevertheless, 14 of the 21 searches made your Top 500, so we'd say that's healthy.
Next, "travel." Oh boy. Way down. But! Search volume exactly matches last August's. Could this be a once-yearly decline? Because who makes plans and purchases for vacation when they're on vacation? (As many are in August.)
Lastly: barware. That one had come as something of a surprise, trending as high as it did out of nowhere. (And pretty much nowhere else at the time.) Let's have a look at that one before we leave you.

Yep. That one's done. Mark your calendars to list barware well ahead of May and June next year. And with that, cheers! It's west to Canada we go.
August's Top 20 Etsy searches in Canada
gift
autumn clothing
personalised gift
handmade jewellery
wedding gift
necklace
halloween
mugs
earrings
barbie
wall art
sweatshirt
stickers
ring
wedding
decor
tshirt
prints
autumn decor
poster
* Warning: Beware of trademarked terms. This list may contain keywords that are trademarked.
Since we began doing these four-country trend reports, Canada's Top 20 has closely mirrored the US list. Right through April 2023, when it was uncannily in sync. Then in May, we reported that Canada was not quite as close as usual. Canada had five terms that didn't make the US Top 30. Which seemed newsworthy at the time.
Then we got to June. Of the four countries, only the US had a near-stagnant turnover (five new) in their Top 20. Whilst Canada? Like the UK, it had twelve. Well exceeding our benchmark – more than nine – that indicates a high rate of change. (Australia had nine in June.)
And this carried over to July. Yes, the US did freshen up a bit with nine new keywords MoM. But Canada was once again like the UK. For two months in a row, Canada had 12 new keywords and 12 pushed out.
This month? While the UK finally reverted to a normal rate of change (8 new), the US finally spiked to 12. And Canada has 11. Like the US: well above the norm. Only Canada has had this now for three months in a row. Unprecedented! Let's look at them, shall we?
Canada's Climbers of the Month
Here are your shopper searches that are new MoM, with current rank + keyword + rank back in July.
#2 autumn clothing (didn't make July's Top 1000)
#4 handmade jewellery, up from 954 (but handmade jewelry ranked 19)
#7 halloween, up from 108
#8 mugs, up from 52
#12 sweatshirt, up from 106
#15 wedding, up from 46
#16 decor (didn't make July's Top 1000)
#17 tshirt, up from 42
#18 prints, up from 21
#19 autumn decor (didn't make July's Top 1000)
#20 poster, up from 22
And remember the beforetimes (up until June) when most of Canada's Top 20 ranked in the US Top 30? They're back! Only five that don't this month (not counting Canada's "autumn" to the US's "fall" and the spelling of jewellery / jewelry). Once more, these two countries are most alike of the countries we report.
Canada's Screamers of the Month
Just like the US this month, Canada has three screamers. That is, shopper searches ranking in your Top 20 that didn't make even the Top 1000 a month ago. And two screamers are (more or less) the same as the US's. "Autumn clothing" ranks #2 ("fall clothing" is #16 on the US Top 20). And #19 "autumn decor," is roughly equivalent to the US's 15th-ranked "fall home."
These are of course all seasonal searches. When the seasons are about to turn, it's no surprise to see them soar up out of nowhere. That said (as we mentioned in the US section), your "autumn decor" has more going on!
Autumn decor
That spike you see here on the Search Trend line graph represents 12,650 searches.

That's a substantial increase compared with its previous 15-mo high of 3,550 searches back in October. In fact, a 955% increase! So, as we mentioned above, if it continues to climb as it did last year, buckle up. And be sure you include "autumn" in your fall-related keywords!
Note: like the US Etsy homepage, we know that on the UK Etsy homepage, Etsy is promoting "autumn decor". Here it is in the UK:

While we don't have access to Canada's Etsy homepage, it's likely the same there, given the extraordinary search volume. However, this doesn't mean it is not trending! It is! 
Decor
Again like the US this month, you have one screamer that is not like the others. Along with its two fall (seasonal) screamers, the US has "handmade jewelry." And yours is "decor." It ranks 16th this month after failing to make Canada's Top 1000 last month.
Seems odd that it wasn't in your Top 1000 just 30 days before. Because you did have decor-related searches in July. Eight of them, and of those eight, three ranked in the Top 100.
Accordingly, let's see if Keyword Tool can enlighten us.

Well, well! Glad we looked! "Decor" is not just up by quite a lot MoM. It's also well up YoY! A year ago, it had 1,250 searches. Now it's got 13,700: that's up 996%!
But what really catches the eye here is its 15-mo high in November: 48,850. That was enough to rank 8th – especially high given the competition during peak holiday shopping.
Altogether, "decor" appeared 14 times in this month's Top 1000, up from eight. Hence, the question is: will it soar from here as it did last year, and perhaps even higher? We'll keep you posted!
And while we're on the subject of decor and spikes, check this out!

This is "halloween decor." With 10,750 shopper searches, it ranks 28th in your Top 1000. That is up YoY by 147%.
Updating what we've been watching for you
Really, there was only one remarkable search we had our eye on: slime. Last month, slime was high in both Canada and the UK. But it was still languishing in the US and Australia. Especially compared with its halcyon days when it ruled every Top 20 list! Shall we take a quick peek?
Uh oh: looks like it's just the opposite this month! Now slime's down in Canada and the UK, while it's now up a bit in the US. And in Australia, it's up by a lot: from 1,150 searches then to 3,450 searches this month. Still got slime, Aussie sellers?
And with that, let's move on to Australia.
August's Top 20 Etsy searches in Australia
necklace
halloween sweatshirt
planner
tshirt
wall art
shoes
digital planner
rug
t shirt 
gift for men
clothing
print on demand
digital prints
gift for women
jewelry
ring
stickers
bag
bags
jewellery
What's new MoM to Australia's Top 20
Wow! There's one we don't even need to check. We know this is the first time we've seen "print on demand" on a monthly Top 20 list! Good news for you Aussie POD sellers! So, before we get to the rest of the climbers, here is "print on demand."

We can see "print on demand" is at a 15-mo high alright! Nearly twice the search volume as its previous high in May. And there on the right is the kind of pie chart distribution we like to see. The more countries, the more confidence we have that a keyword might be a solid trend. And Australia does have a larger slice of the global shopper pie than it typically gets. Good on ya!  
While we're here, let's take a quick peek to see if shoppers use the acronym POD in search. Be right back! (dot dot dot) No, they don't. At least, not in Australia. Shoppers in Canada do, though: there, "pod" ranked #165 in July and #521 this month.
But let's get back to Australia and "print on demand." That line chart above indicates this keyword made Australia's Top 1000 twice more in the past 15 months, in January and again in May. Add this one to a Keyword List, PODers. We will, too: definitely worth watching!
Other climbers in your monthly Top 20 now
You have eleven new keywords that weren't in your Top 20 last month. Since we began doing these 4-country monthly trend reports, that's the highest rate of turnover you've ever had. It's the same rate of change as Canada's this month. Their Top 20 has had over-the-top volatility three months in a row. So interesting!
On the other hand, in Australia's Top 20 a few are duplicates. Tshirt / t shirt; jewelry / jewellery; bag / bags. If we disregarded the duplicates, that would bring your rate of change to eight. And eight is in the normal (and healthy!) range.
Note though that here at eRank, we always show you keywords as shoppers typed them into search. Despite the fact that Etsy's algorithm treats singular and plurals the same. And alternative spellings like jewelry / jewellery. This means that you needn't use both in your listing tags or titles. Just choose whichever ranks highest.
Here then are your Etsy shopper searches that are new MoM, with current rank + keyword + rank back in July.
#2 halloween sweatshirt (didn't make July's Top 1000)
#3 planner, up from 37
#6 shoes, up from 27
#8 rug, up from 32
#9 t shirt, up from 65
#13 digital prints (didn't make July's Top 1000)
#15 jewelry, up from 24
#16 ring, up from 264
#18 bag, up from 49
#19 bags, up from 84
#20 jewellery  (didn't make July's Top 1000)
Australia's Screamers of the Month
Like the US and Canada this month, you've got three screamers. That is, shopper searches ranking in your Top 20 this month that didn't make even your Top 1000 last month. In rank order high to low, they are: #2 halloween sweatshirt, #13 digital prints, and #20 jewellery.
Halloween sweatshirt
This one's no surprise. It's seasonal, after all.

We're showing you the Keyword Statistics bar chart on the left here for three reasons.
1) All bars are green and green means go!
2) Get a load of that Average CTR: 147%! And given it's a 12-mo average, many, many shoppers clicked in August 2023 to get it that high!
3) Wow, that's a low figure for Etsy Competition!
However, the even bigger story may be its 15-mo trend history. "Halloween sweatshirt" first began to register low but measurable search volume in July 2022: 150 searches. Then in August 2022, it had 700 searches. Compare that with this month's 19,600 searches. It's a YoY increase of 2,700%! Yowza!  
Digital prints
This one was much more of a puzzler. We've noticed that Australia tends to have higher-ranking digital-related searches. Maybe, at least in part, due to shipping costs and times? So, we were surprised to discover "digital prints" didn't make last month's Top 1000. Let's have a look.

Ah: well that explains it. Search volume for digital prints was simply unusually low last month. Exactly as it was last year when in June it had 1,200 searches and in July, 1,550. Quite in keeping with July 2023's 1,200 searches. Guess it's just an up and down search. But that's good to know, right? When your digital-print sales suddenly plummet, at least you know where to look.
Jewellery
Just a matter of British spelling compared with the US "jewelry"? A month ago there were seven jewelry-related searches in your Top 1000, led by "jewelry" ranking 24th. And there were four jewellery-related searches, too. The highest, "jewellery making," ranked at #58.
It was just the broad, single-word "jewellery" that didn't make July's Top 1000. Let's see if we can glean anything from the data, shall we?

Just another erratic performer! And that pie chart is educational. Look where Etsy shoppers are using the British spelling, "jewellery." Unsurprisingly, only 5.8% of US shoppers – but that's still more than Australia's 4.6%! Remember, the Searchers by Country pie chart data is averaged over 12 months. Wouldn't you think Australia (which uses British spelling) would have more of that pie?
Ah well: that's academic. What you need to know is that both "jewelry" and "jewellery" made your Top 20 this month. And "necklace" was No. 1! And "ring".
The one jewelry item conspicuously missing from your Top 20 is earrings. We are pretty sure that "earrings" is the single keyword that never leaves the US Top 20. (And you know we have to go look now, lol.)
The Etsy shopper search "earrings" around the world
Here is 15 months of "earrings" search data on US Etsy shoppers.

In 15 months, the lowest "earrings" got was in July 2023 with 73,880 searches. Plenty to keep it in the US Top 20.
Let's look at the UK next
The pie chart's the same as the one shown just above. So, we'll show you the Keyword Statistics chart instead.

We checked: the lowest that search volume got for "earrings" in the UK was 13,750. Enough to rank 13th in their Top 20.
Next, let's see how this search does in Canada

Currently, "earrings" has 16,750 searches. It's in 9th place in their Top 20. The lowest it got in the past 15 months was in May 2023 with 8,600 searches. Yep, not quite enough to keep it in Canada's Top 20 that month. And its low back in February dropped it again, down to 44th.
Now, let's return to Australia to compare "earrings" there

Yikes: look how "earrings" bottomed out in July 2023 to just 50 searches! It had 16,500 searches in July 2022! That's a 99.7% drop. On the bright side, you guys, of the four countries, you've got by far the best Click-Through Rate. And by far the lowest competition. So there's that, eh? When your earrings sales slow down, at least now you know it's not you!
And with that, phew! More than enough from us this month! As ever, we'd love to hear your take on these or any other trends you've spotted. You're welcome to join us in eRank's private Facebook group. Start a discussion, exchange ideas, or ask questions. With over 24,000 members around the world, someone friendly is always there to help! Here's a link.
RESOURCES: eRank's Trend Buzz and Keyword Tool have 15 months of historical Etsy search data to help you understand recent trends in what's selling on Etsy now, what did well this time last year, and help you spot what's new. Together, they are the best way to track what's hot (and what's not) on Etsy.