Reading time: 11 minutes
Wondering what to sell on Etsy? Here at eRank, we're back again to take the guesswork out of your Etsy SEO and tags. We'll show you the most popular search terms with shoppers. Then we'll analyze what these trending keywords tell us about what's selling best on Etsy now.
Tip: See what the most searched keywords on Etsy were yesterday (or last week's, or for the past two weeks or the past thirty days), as well as on dozens of other marketplaces like Amazon, eBay, and Redbubble.
May's Top 20 Etsy Searches
| | | |
| --- | --- | --- |
| # | May 2022 | April 2022 |
| 1. | graduation gifts | personalized gifts for mom |
| 2. | gifts | gifts |
| 3. | fathers day gifts | necklaces |
| 4. | minimalist | mothers day gift |
| 5. | handmade jewelry | minimalist |
| 6. | stickers | gift baskets |
| 7. | outdoor furniture | stickers |
| 8. | earrings | custom gift |
| 9. | mid century modern | earrings |
| 10. | personalized gifts for mom | mid century modern |
| 11. | bridesmaid gifts | mothers day |
| 12. | digital prints | rings |
| 13. | mothers day gift | easter |
| 14. | painting | painting |
| 15. | necklaces | wedding invitation |
| 16. | rings | bridesmaid gifts |
| 17. | harry styles* | digital planner |
| 18. | embroidery | graduation gifts |
| 19. | digital planner | wall art |
| 20. | wall art | self care gift box |
On the left, May 2022's top Etsy searches, alongside April's Top 20 on the right. *Beware of trademarked terms. USPTO Trademark database
New to the Etsy shopper Top 20 in May
The top searches are settling back to normal after a few turbulent months that saw an uncommon amount of turnover in the Top 20. In May we have five new search terms, which is a far more typical rate of change. Mother's Day conceded a bit of ground to fathers day gift (while still keeping two representing the procrastinators (personalized gifts for mom and mothers day gift).
And graduation gifts rose from 18th place to take the top spot in May. If you can sell giftables appropriate for any of these occasions, be sure to mark your calendars to get them listed well in advance for next year.
Like Mother's Day, Father's Day, and graduations, outdoor furniture soars seasonally. And this year, it's also way up Year-on-Year (YoY)! Take a look:

The pop-up on the line graph shows 40,795 Etsy shopper searches in May 2021 for outdoor furniture. Then, see that leap at the end in May 2022? That's 103,493 searches, a YoY increase of 154%!
While not in April's Top 20, the other three are hardly newbies to our Top 20 lists: digital prints, harry styles, and embroidery. Here is the search trend graph for digital prints:

As you can see, digital prints as a search term has been pretty steadily climbing since last August. Per the pop-up, it hit a high of 47,165 Etsy shopper searches in January 2022. Then last month, it really took off! 88,693 searches sent it from ranking #101 in April's Top 1000 up to taking 12th place in May. Wow!
Embroidery has also been trending for awhile now, and starting back in September 2021 up to the holidays, it rose dramatically:

That peak in December signifies 88,893 searches. Thereafter, it dropped a bit, even falling out of the Top 1000 in a couple of months since, but has made it back into the Top 20 in May with 67,296 queries. YoY, that's an increase of 532%. We've also been seeing lots of search volume for embroidery in other countries, as shown in the pie chart on the right. This bolsters our belief that embroidery is a durable trend.
By the way, always be sure to scroll down to check out the related searches chart in the Keyword Tool. In May, three made the Top 1000: embroidery kit, custom embroidered sweatshirt, and embroidery designs. Embroidery kit has a US average click-through rate (CTR) of 117%!
Those of you on one of eRank's paid plans can see May's Top 100 shopper searches here. So, let's move on to trends we've been watching develop as we do our daily review of all eRank's keyword data.
New trends in styles and materials
Those of you in home decor, check out this skyrocket!

This is ombre home decor. This keyword ranked #115 overall in Etsy's Top 1000 searches in May, and in the Home category, it ranked 14th. Google it and you can see it's not a new concept, which suggests it might be more than a fad. Rather, it's something which has been building in popularity since it began turning up on Pinterest boards back in 2015. Any way you can get in on the trend? We're seeing everything from curtains to pillows to wall art to shelf backing. And Canadian sellers note: Canada had 30% of those ombre home decor searches. That's high!
Next, let's check in on another longstanding trend: cottagecore. As promised in previous reports, we've been watching this one for you.

As you can see, cottagecore has its ups and downs. But this is a multi years-long trend! And just when we think we've seen the last of it, up it pops right back into the Top 1000. In May, it ranked #132, along with two other related searches: #220 cottagecore dress and #772 cottagecore decor. Ranks are even higher if you look at the Etsy Clothing category Top 100: there, cottagecore is #9, and cottagecore dress in #20.
And how's boho doing? That style trend has been around much longer than cottagecore. If you go by search count alone, about half as well as cottagecore:

Comparing the two "Etsy Searchers by Country" charts, we see that Germany took the piece of the boho pie that Australia had of cottagecore. Nevertheless, boho too had three searches in the Top 1000. Boho ranked #627; boho wall decor #598, and boho decor #372. (In Etsy's Home Top 100 category, boho decor ranked #56.)
Trending materials
All things wood and wooden! In May's Top 1000 Etsy Searches, woodworking ranked #574, wood #749, and wood wall art #893. This is wood:

We've been watching wood with interest for awhile now. As you can see in the Search Trend line graph (above left), the keyword wood had a big jump between Nov and Jan (the holidays) on Etsy when it hit a peak of 20,498 searches. Dipped after the holidays and then in March began to climb again. What is really notable is the geographic spread. We've also seen it popping up on our daily keyword lists on the other marketplaces and platforms we follow. In our estimation, wood is solid. And the fact that, like embroidery, it's also turning up in DIY searches is a further indication people are liking it as a material. Woodworking ranked #80 in Etsy's Craft Supplies & Tools category.
And wood is everywhere on Etsy! We're seeing wood flowers and wood vases to put them in, and wood shelving to put the vases on. Wood earrings, wood rings, wood wall art, wood carving, wood signs, wood boxes, wood coasters, wood tables, wood bowls, wood beads, and on and on!
A material that was trending wildly hot for awhile has been all things resin. But we're sorry to report that it's not looking good for resin:

From its high a year ago in April of 35,796 searches, resin has fairly steadily fallen to 9,925 searches in May 2022. That's a 72% drop. As we can see, as a trend it has had broad appeal, geographically. And it's been used as a material in a broad range of categories from art to jewelry to craft supplies to office accessories and home decor. Well, here's a glimpse of that sad tale.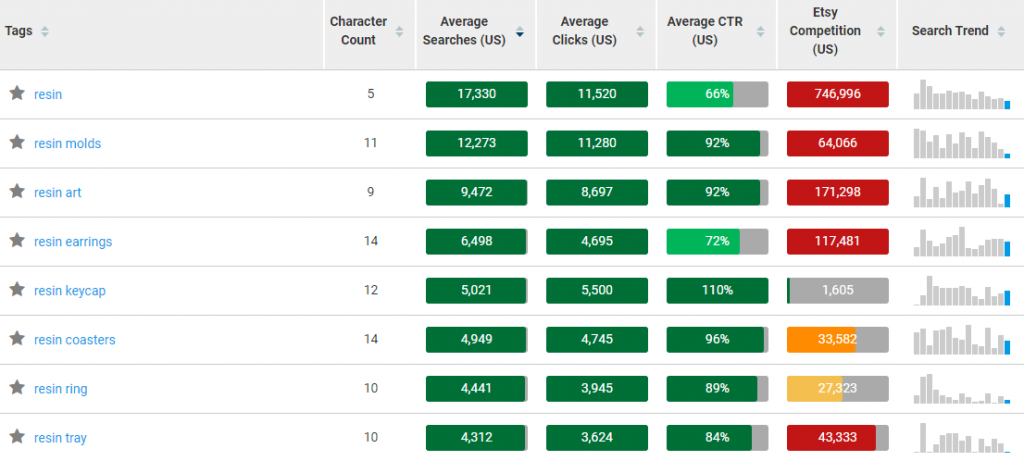 Look at the last column on the right, Search Trend. Those bars in blue are May 2022, preceded by bars for each of the previous 14 months. While the CTRs (fifth column) look quite good, always remember they are averages derived from 12 months of search volume. Of all the related searches, only resin made May's Top 1000 Etsy searches, and it ranked down at #599. It may be time to start looking around for the next big trend. Because while there will continue to be some people wanting to buy resin products , the data suggests that as a hot trend, it's cooling.
Want to know what material is doing quite well now? Fabric.

A year ago, there were 16,493 searches for the keyword fabric. This May? 30,539: a YoY increase of 85%. As you can see in the Search Trend chart, it climbed quite a bit between June and August last year. This year, it's been steadily climbing since March to rank #91 in Etsy's Top 1000 in May. The UK and Australia have quite good search volume as well.
A type of fabric we'd expect to see doing well heading into summer in the US is linen. Yet as a keyword it's quite a bit down since a high back in March. What we are seeing spike right now: linen bedding.

In May, linen bedding made Etsy's Top 1000 with 8,126 searches, and is quite popular in the UK and Canada as well.
A quick roundup of other Top 1000 materials trending up now:
ceramic (up 383% Month on Month!)
gold (up 86% MoM)
moss (up 66% MoM and 79% YoY)
Still hot hot hot!
One ongoing trend we've been reporting on for months now that shows no sign of stopping? Everything related to fantasy, cosplay, role playing games, and all the costumes, accessories, action figures, and paraphernalia to go with! The first week in June, costumes ranked 19th on Etsy. Costume weapons ranked #38. And in the UK, chamfrom made the top 100 searches. We had to look that up: chamfrom is a type of protective armor for a horse's head.
Here's pirate boots: get a load of that spike in May!

While pirate boots didn't make May's Top 1000, it ranked #76 in the Top 100 in Etsy's Shoes category. There were 2,371searches for pirate boots in May: that's just crazy! Yesterday (June 5th), pirate beard and pirate waistcoat ranked #6 and #8 in Etsy's Top 100 UK shopper searches. "Arrr!"
Trendspotting!
Here are some trends we've been spotting over the past month. Worth a look for those of you scouting for new products to research?
Ranking #27 in May's Top 1000, the car accessories niche continues to be robust, as shown in the top search below. But it's got the Etsy US shop competition to reflect that popularity! However, car accessories for women also made the Top 1000 Searches, ranking #215. The competition for that keyword is much less daunting. And it's up 150% MoM!

Also up, and with both attractive CTRs and manageable competition, are anime car accessories, cute car accessories, and car mirror hanging accessories. (Not shown: rearview mirror accessories is another keyword that's been trending steadily since February.)
Speaking of cute: cute desk accessories and kawaii desk accessories are both doing well, with reasonable Etsy competition and quite good CTRs. Even the keyword cute itself is doing well:

As you can see, cute has its ups and downs, but it's made the Top 1000 searches five times in the past 15 months. Definitely worth fitting into a tag, especially in the US, Canada, and the UK. All making May's Top 1000: cute earrings, cute stickers and just plain cute.
Another curious search term that caught our eye: cat litter box furniture. It spiked in May, and even higher than its last spike in April 2021. Here it is, at the end:

Check out that Etsy competition: only 245 shops! Might be a record low! Especially in relation to the Click Through Rate: 89%!
But did you spot what's really the big news in that table? Get a load of furniture! We've already mentioned outdoor furniture, which took 7th place overall in May's Top 1000. Well, furniture ranked #84. And have a look at this:

That spike in May represents 30,943 searches. Year on Year, furniture is up 121%! It also shows unusually good distribution in Etsy's other top countries, the UK, Canada, Australia, Germany and France.
Spike of the Month
Nevertheless, for our Spike of the Month we're choosing this one:

This is wire jewelry. While far more niche than furniture (but nowhere near as niche as cat litter box furniture), we are really pleased to see wire jewelry back up. It's been out of the limelight for years now. And Etsy has some of the best wire artists in the world. With only 3,872 searches in May, wire jewelry didn't crack the Top 1000. Nor even the Jewelry category's Top 100 searches. But average US Click Through Rate is 104%. And the related term wire wrapped jewelry has triple the average US search volume. Good luck, wire wrappers: we're pulling for you!
Want to talk about it?
We'd love to hear your take on these or any other trends you've spotted. As ever, you're welcome to join us in eRank's private Facebook group. Start a discussion, exchange ideas, or ask questions. With over 20,000 members, someone friendly is always around to help! Here's a link.
RESOURCES
Tools: eRank's Trend Buzz and Keyword Tool have 15 months of historical Etsy search data to help you understand recent trends in what's selling on Etsy now, what did well this time last year, and help you spot what's new. Together, they are the best way to track what's hot (and what's not) on Etsy.