Publication date: March 23, 2023
Reading Time: 4 Minutes
Are you having a difficult time sourcing high-quality packaging at budget-friendly prices for your Etsy shop? Today, we are here to help you find packaging that enhances your brand without emptying your bank account. With some careful research and calculations, you are sure to find something that works for you.
Get the best deal you can: buy in bulk!
The best way to save money on product packaging is to purchase it in bulk from a wholesale supplier. Typically, these suppliers have different tiers of pricing. These tiers correspond with how many units of an item you purchase. The more units you purchase, the lower your price per unit will be. Aim to order enough to qualify for the highest tier your budget will allow. This gets you the best deal possible.
Tip: At first, purchasing so much at once may seem intimidating. But think about how much money it will save you in the long run!
Remember to factor in order fulfillment, ship times, and shipping costs
When you order in large quantities from a wholesale supplier, there will likely be a significant shipping charge. As you compare the prices of different suppliers for a specific item, factor this into the item's price per unit, along with taxes and any other fees.
Also, note that it may take your supplier a while to assemble and ship your order. Unlike Amazon Prime, wholesalers will normally have a lead time of a week or more. This allows them time to process numerous large orders at once. While most offer expedited shipping, you will pay a premium for it! Far better to just factor into your ordering schedule their lead time and shipping carrier's transit time. This way, you'll have a new shipment of packaging on the way well before you run out.
Find the right wholesale supplier for your brand
If you are looking for a one-stop shop, check out Uline, Store Supply Warehouse and PackagingSupplies.com. Each provides a wide assortment of shipping and office supplies. And you'll find every kind of inner packaging and void fill (tissue paper, packing peanuts, etc.). Both Uline and Store Supply Warehouse also offer a variety of customizable items, including product tags, stickers, and tissue paper. Watch out for Uline's shipping charges though; they are higher than average. But they do offer the occasional free-shipping coupon for orders over a set minimum.
PackagingSupplies has a low-price guarantee and will even "meet or beat" competitors' prices! Simply send a link to a similar product to their sales team before you place your order. They will either match it or offer you an even better deal.
For shipping supplies, check with your carrier
Want free mailing supplies? USPS has a sizable selection of free boxes, mailers, and other helpful things. And they'll deliver it all to your door at no charge. (Just be sure to compare prices! Many Etsy sellers find that USPS more than makes up in shipping charges what they spend providing free packaging.)
Want something customized with your shop's branding? FedEx offers affordable, customizable shipping boxes, business cards, note cards, and more! Again though, be sure to work out costs. You may do better buying these from somewhere like VistaPrint.
For affordable, customizable labels, try OnlineLabels. Choose from hundreds of templates or upload your own design! OnlineLabels will also price-match if you send their team a link to a similar product from a competitor. In fact, they'll actually beat that competitor's price by 10%! Unlike many label wholesalers, OnlineLabels does not impose minimum quantities on their customers. You can even order a single sheet or roll of labels. This is ideal if you are still in the design stage.
Make the most of your budget
Affordable packaging is more accessible than one might think. You don't need to have a resale license to purchase from any of the places we've mentioned. You don't even need to own a business!
Tip: In the beginning, it's smart to purchase samples before making a larger purchase. This way, you can make sure the product is high-quality and suits your Etsy shop's aesthetic.
Finding packaging that accentuates your brand without eating into your profit margins can be tricky, though. For instance, a better price could be based on a freight-shipping rate that requires delivery to a commercial address. Remember, you can always call to request a quote from a sales rep.
Expect that getting the best price available will involve ordering in bulk. Bulk purchasing requires not only careful budgeting and planning ahead. It also means storing it all! If you are working in cramped quarters, that is also a factor to consider. You may find good deals on some products offered on eBay or Amazon. Or consider buying in bulk and quickly selling off some of it, either on Etsy in the supplies category, or on eBay.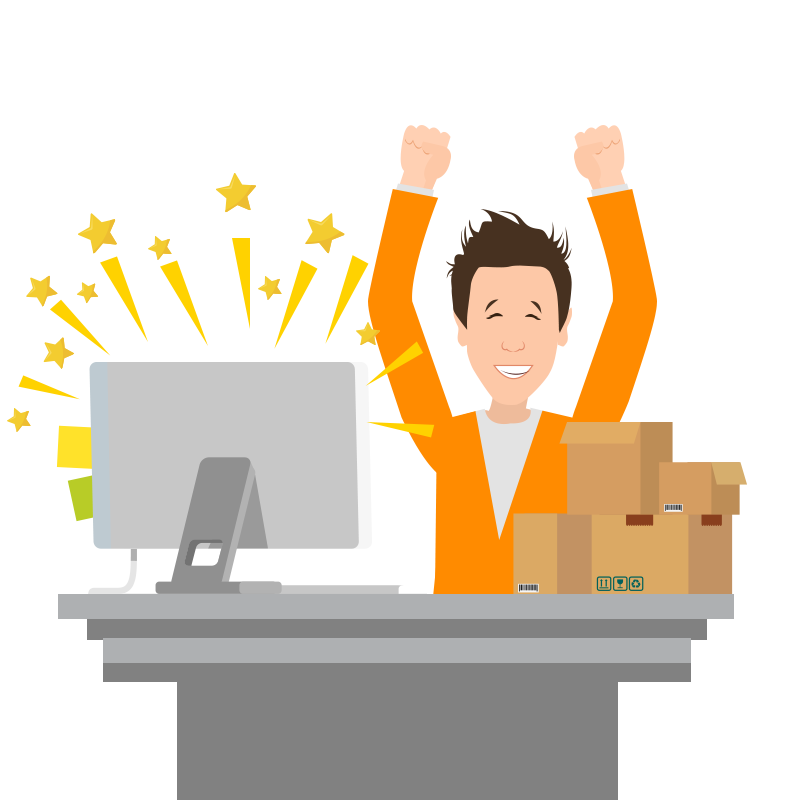 If you've just started your small-business journey, all this may feel overwhelming. But you don't have to tackle it all at once! And if you have questions, feel free to join us in eRank's private Facebook community. With over 24,000 members, someone friendly is always around to help! 
RESOURCES
Here's a previous blog post in this series: An Introduction to Eco-Friendly Packaging for Etsy Sellers
Here's a cool eRank tool to monitor your shipments