Published on: January 19th, 2023
Reading Time: 4 Minutes
Choosing the right packaging for your products is an important part of marketing your brand. Choosing materials that convey your business's aesthetic and ethical values provides customers with a great first impression of what your brand stands for. 
Are you aiming to be more environmentally-conscious this year? If so, that's fantastic! Reducing your business's carbon footprint helps combat climate change. It also signals to your customers that you care about the impact your brand has on the planet and its resources. Did you know that the conventional plastics used to make packaging materials such as mailers, ribbon, and decorative tape are estimated to take centuries to decompose? Opting for biodegradable alternatives is a great place to start. Unfortunately, sourcing packaging that is eco-friendly, attractive and affordable can be a challenging. Here are some ideas and resources to get you started.
Monitor your costs
Changing your product packaging can impact your profit margins. You should be able to pass these costs along to your customers. The first step is to identify what your current costs are for each of your items. You'll find eRank's Profit Calculator ideal for this. This tool is free for all eRank members. It helps you figure out the cost of creating, selling, and shipping your items. Using it will ensure you make a profit!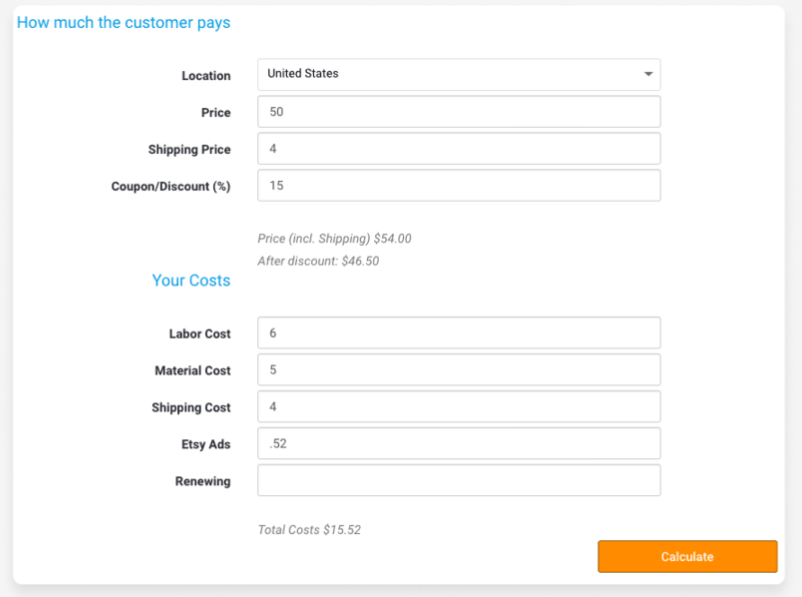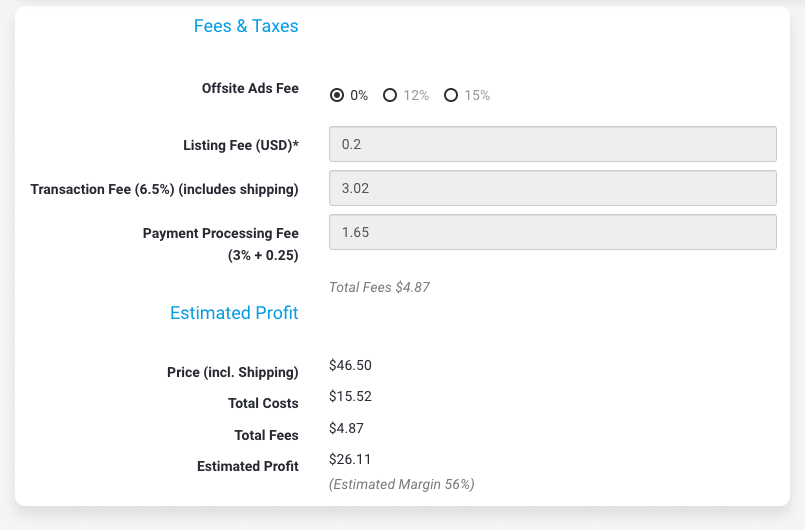 Outer packaging
Shipping boxes and padded mailers speak volumes about your brand's values. Standard mailers are plastic-lined and contain non-biodegradable ink. This makes them difficult to recycle. Even some cardboard shipping boxes have printing on them in ink that is harmful to the environment.
Etsy's partnership with EcoEnclose makes it easy to source eco-friendly boxes and mailers at affordable prices. Here, you'll find a selection of brown paper mailers, rigid cardstock mailers, and shipping boxes. Made with 100% recycled paper and eco-friendly ink, these mailers and boxes are all curbside recyclable. They are also biodegradable. This means that customers can reuse them or toss in their paper-recycling bin.


Void fill
Fortunately, there are many eco-friendly packing materials to keep your products safe in the mail! One commonly used is called "void fill." That's just what it sounds like. After you put your product into its shipping carton, you fill any voids with this. Doing so keeps your product from shifting around inside its box. Through this same partnership with Etsy, Eco Enclose offers several sustainable types of void fill. Choose from biodegradable tissue paper, brown Kraft packaging paper, and GreenWrap. GreenWrap is a biodegradable alternative to bubble wrap. Its expandable honeycomb paper molds around your product to cushion, protect and insulate fragile goods.
Funpak ® is a veteran-owned company that offers a variety of fun, colorful biodegradable packing peanuts that are made from cornstarch. These can be disposed of in the compost bin or simply dissolved in water. 
Labels and inserts like business cards, packing slips
To complete your brand's makeover, don't overlook labels and inserts like business cards and packing slips. You'll want plastic-free labels and tags, as well as recycled paper for your packing slips. Sturdy brown Kraft paper tags, such as these tags from PaperMart, are ideal replacements for conventional hang tags. OnlineLabels offers a wide variety of sheet labels. These can be printed on brown Kraft paper or 100% recycled white paper, as well as other options.
For printer paper, look for 100% recycled. Or upcycled material using sustainable fibers. For example, the brand Elementree makes printer paper from sawmill waste chips. Compared to standard copy paper, their process yields 50% more paper from the same amount of wood. It's widely available wherever printer paper is sold, from Amazon and BestBuy to Walgreens and Walmart. Other sustainable fibers in lower-impact papers are sugarcane, bamboo, and hemp.
Reusing old packaging
Of course, the most eco-conscious choice is to conserve and reuse. Who among us does not have boxes and void fill from incoming shipments? Be careful though about confusing your customer – reusing an Amazon Prime box has been known to do so. A brief convo ahead of time about your eco-conscious practices can prevent that. It may even inspire your customers to reuse packaging as well! You can also tuck a note about it into their order or include it on their packing slip.
Do the best you can
At the end of the day, lowering your business's carbon footprint is a project with no end date. You may not have the means to make every facet of your brand sustainable at the present time, and that's fine. Simply doing what you can will make a world of difference. We hope these suggestions are helpful as you assess your packaging needs and shop for eco-friendly materials!
RESOURCES
Creating a Shipping Station For Your Workspace – eRank Blog

Etsy Shipping Settings 101– eRank Blog