Published on: November 28, 2022
Reading time: 5 minutes
So, you've finally begun your Etsy journey. You've got your products, photographed every detail, created your first few listings, and launched your shop. Now what?
Getting your first sale on Etsy can be an exciting and fulfilling experience, but what does it take to get that first sale to happen? Though there is no guaranteed way to get that first sale, there are steps you can take to help jumpstart your shop.
Optimize your listings
Search Engine Optimization (SEO) is vital for being found anywhere on the web, and Etsy is no different. Optimizing each of your listings to include keywords that are relevant to your product is essential. Start by thinking how you as a shopper would search for a product like yours. Make a list. Then work those search terms into your product's title, description and tags.
Search engines and shoppers prefer naturally-phrased descriptions. Avoid "keyword stuffing." which is a blatant overuse of keywords in your product title and description. Instead, include relevant keywords in your title and description in an organic way. The key here is to include search terms an Etsy shopper might type into Etsy's search bar to find your product.
In addition to relevant keywords, be sure to describe any details that your customers may need to know about your product. And not just what's wonderful about it. For instance, if you sell vintage items you will want to mention any flaws or wear that your item has. Does it require special care? Managing expectations beforehand helps prevent customer-service issues – and less than 5-star reviews.
Price to sell
While you may think that pricing your item to sell means being the cheapest, that is rarely the case. Pricing your item too low can make your product come off as low quality. In turn, this can undermine shopper confidence in choosing to make a purchase. This is especially true when your shop has yet to make its first sales and thus has no reviews to help establish trust.
Starting out, it's best to shoot for that sweet spot where your price is neither the highest nor the lowest. eRank's Keyword Tool is perfect for this task.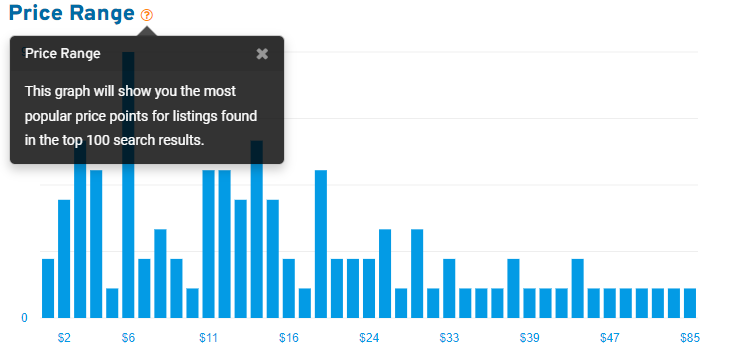 While making a profit may not be your top priority with your first few sales, be sure your price covers your materials, time, and (if you offer free shipping) shipping costs. eRank's Profit Calculator makes it easy. This tool also automatically estimates your Etsy fees and profit. Just enter the selling price of your item along with labor, material, and shipping costs. It will display an estimate of the Etsy fees you'll be charged, and the profit you can expect to make.
Quality photos
Enticing photos are critical to the ecommerce shopping experience. Since buyers can't pick up and examine your item in person, add photos taken from every angle. Include a size-reference photo showing your product with a common object like a coin or pencil. Or better yet, show it beside a ruler. Complaints about their purchase being smaller or larger are frustratingly common for Etsy sellers – despite all the places in the listing where you enter exact dimensions. Helping your buyer visualize scale in your product photos can aid in shaping expectations.
Spread the word about your shop!
You have put in all the hard work setting up your shop and filling it with your products, and you should be proud. Spread the word about your new shop. Tell your family, your friends, share it on social media. There is every chance that friends or family may be interested in a product you offer. Consider encouraging them to buy from your Etsy shop to help get your store going. (Just be careful you don't give the appearance of shilling, which is against Etsy's House Rules; in fact, it is a good idea to read through all of those before you start selling.)
Consider using Etsy Ads
Advertising can help you get the ball rolling and reach more eyes. Etsy ads let you set a daily budget, and allow you to pick and choose what items are advertised. Etsy ads can help put your items in a better search position and that may lead to sales.
If you decide to run Etsy ads, start with a small dollar amount and periodically check to see how much of that budget is being used up each day. If you are repeatedly using up your ad budget, you can raise it as you see fit. Etsy also offers an off-site ad program, as well as other marketing opportunities like coupons and site-wide sales. Read more about those here.
Fill out your shop's About section and Shop Policies
Your shop's About section is where you give shoppers an overview of your Etsy business. Here is your chance to convey what sets your shop apart and why shoppers should buy from you. Shop Policies are equally crucial in encouraging a shopper to choose to buy from you. Clearly defining your shop's policies on order cancellation, returns, and privacy not only helps you get sales! It ensures that customers know what to expect when buying from you. In turn, this increases shopper trust and the likelihood of positive reviews, which lead to more sales. Yay!
List new products often
More products mean more opportunities to attract more eyes to your shop. Listing new products on a regular basis means you are showing up in search results more frequently. That said, make sure that you are listing quality products and not just creating listings for the sake of filling up your shop. Add new products or different versions of your existing products to keep your shop fresh.
Don't give up!
Getting your first sale can take some time – months, even. Be patient; don't be discouraged if it doesn't happen right away. Use these early days and weeks to do keyword and new product research. Experiment with photos, videos, and descriptions. Read Etsy's The Ultimate Guide to Etsy Search. Take notes! There is no exact science to scoring your first sale, so the key here is to be persistent and enjoy the learning experience. Before you know it, your shop will be growing.
New to eRank and Etsy? Head on over to our friendly eRank Facebook group. With over 20,000+ members, someone is always around to help!