Publication date: September 5, 2023
Reading time: 7 minutes
And if you would prefer to watch or listen to this content, here you go! 
Wondering what the top shopper searches were on Amazon in August 2023? We data geeks at eRank are here to take the guesswork out of your SEO and tags. We'll show you the most popular search terms with Amazon shoppers. Then we'll analyze what these trending keywords tell us about what's selling best on Amazon now.
Tip: See what the most searched keywords on Amazon were yesterday (or last week, or for the past thirty days), as well as on dozens of other marketplaces like Etsy, eBay, and Redbubble.
August's Top 20 Amazon searches
1. the summer I turned pretty season 2
2. the summer I turned pretty
3. red white and royal blue movie
4. laptop
5. backpack
6. headphones
7. desk
8. airpods
9. monitor
10. kindle
11. office chair
12. pencil pouch
13. ipad
14. pencil case
15. ps5
16. protein powder
17. tv
18. keyboard
19. ssd
20. pens
Warning: Beware of trademarked terms. This list may contain keywords that are trademarked. USPTO Trademark Database
What's climbing now on Amazon's Top 20
Been awhile since we did one of these trend reports focusing on Amazon. It's remarkable how different their top keywords are! For August, Etsy's No. 1 keyword was "halloween," and another Halloween search made Etsy's Top 20. Whereas Amazon? Halloween didn't even make their August Top 100!
What Etsy and Amazon do have in common is the Back to School / Off to College trend. A number of these Top 20 shopper searches could be purchases for school/dorm. In rank order: laptop, backpack, headphones (and "headphones for school" ranks #30), desk, airpods, monitor, kindle, office chair, pencil pouch, ipad, pencil case, ps5 (and 17th-ranked tv: can't study all the time!), keyboard, ssd, pens. That's 16 out of 20 in Amazon's Top 20!
And here are Amazon's Top 20 Climbers. That is, keywords moving up fastest in rank. Listed with their ranks first:
#3 red white and royal blue movie (an Amazon Studios Prime Video release)
#8 airpods
#10 kindle
#13 ipad
#16 protein powder
#20 pens
What else is trending on Amazon?
Looks like lots more Back to School / Off to College supplies! The word "school" made it into three shopper searches in Amazon's Top 100.
#30 headphones for school
#49 school supplies
#63 water bottles for school
Those of you doing Print On Demand (POD), take note of that last one, "water bottles for school." Here it is in Keyword Explorer.

That bit of a blip you see on the Search Trend line back in August 2022 was 17,590 searches. This August? The spike you see represents 406,010 searches – an increase of 2,208%!
Mind you, this doesn't indicate that water bottles are suddenly so much more popular. Rather, it's the specific search phrase wording, "water bottles for school." That said, "water bottle" is also doing well.
Water bottle
Here are results for "water bottle."

This keyword is charting the second-highest it has in the past 15 months. The 15-month peak was a year ago in July 2022 with 676,280 searches. In August 2023, it's got 651,260. And Amazon owns the lion's share of this search. Of the 21 marketplaces we track for this keyword, Amazon rules with a 12-month average of 406,345 searches. Its closest competitor is Walmart with 33,416 searches — 91.7% fewer!
So, if water bottles are what you sell, Amazon is the place to be.
Mouse pad
Like "water bottle," not all the search volume for this one will be for back to school or dorm. But some could be! "Mouse pad" ranks 22nd with over 601,210 searches in August. That's another one for you makers and POD sellers.

As you can see above on the left, demand has been fairly steady. In the past 15 months, "mouse pad" searches only dipped below half a million once, in May 2023.
Shower curtain
Yet another one for you POD sellers! Shower curtain ranks 27th in August's Top 100 Amazon searches. And it's another search that Amazon dominates. Its closest competitor for that keyword is Target – with one tenth Amazon's annual search volume. 54,443 to 544,234.
And the 12-month average Click-Through Rate (CTR) on Amazon is 133%. Target's? 64%. In fact, just comparing CTRs, Craigslist's is closest to Amazon's with 121%. (Craigslist? for shower curtains?) And Etsy's CTR is third, with a worthy 111%. But Etsy's search volume is pretty paltry in comparison. Nevertheless, "shower curtain" ranks #487 on Etsy in August, with 11,750 searches. (As for Amazon? For August it's got 578,180 searches.)
No telling how many of those are for POD shower curtains. The keyword "custom shower curtain" had 3,220 searches on Amazon in August. But people may be shopping for POD items in other ways. For example, shoppers could be filtering for Custom. We do know Amazon offers POD shower curtains though; customers can just upload their own image and presto. (Lol, now we want one.)
Amazon Spike of the Month
Ranking 21st is "rakhi for brother" and it's shot up 87 places! Back in July, it had 2,120 Amazon searches. In August, it had 625,230 searches. That's an increase approaching 30,000%: wow.
So, what are these and can you make them? Yes, you can! Per Wikipedia, a rakhi is a bracelet of red or yellow strings tied by a woman round the wrist of a man to set up brotherly relations, and this happens annually on August 30 during the popular Hindu festival Raksha Bandhan.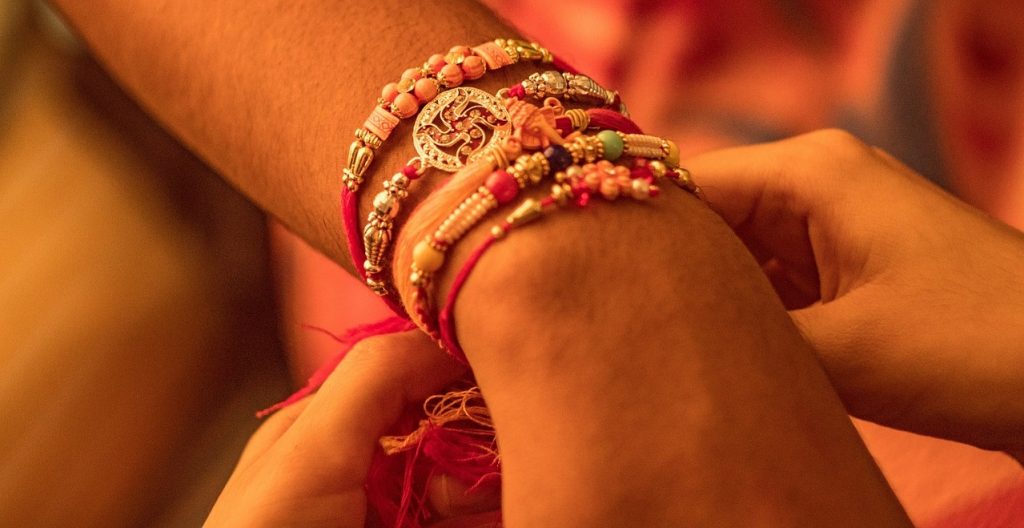 While it started in South Asia, Raksha Bandhan is now celebrated worldwide, and not just in Hindu communities. It's also observed in Jainism, Sikhism, and Buddhism. As you can see below on the right, the US has a big slice of the Amazon shopper pie, and with 17.4% Canada also has a nice piece.

Let's go take a quick peek at "rakhi for brother" over on Etsy
Shall we sneak over to Etsy to see if "rakhi for brother" is trending there too? Yes, let's!

Interesting! On Etsy, search volume for "rakhi for brother" is smaller by orders of magnitude than Amazon's. And YoY it's down quite a bit, the reverse of the trend on Amazon. From 9,280 Etsy shopper searches in August 2022, it had only 4,530 this August: down 51%. And look at that pie chart. On Etsy, the US has 72% of the shoppers searching for this keyword. The UK has nearly 23%, and Canada trails with 4.5%.
So we took a dip further into Keyword Explorer. It showed us that "rakhi for brother" on Etsy is down YoY in the UK and Canada just as it is in the US now. On Etsy, that is. It's a textbook example of why you need to compare marketplaces when you're doing keyword research! Do you sell on Amazon yet?
As ever, we'd love to hear your take on these or any other trends you've spotted. You're welcome to join us in eRank's private Facebook group. Start a discussion, exchange ideas, or ask questions. With over 24,000 members from around the world, someone friendly is always there to help! Here's a link.
RESOURCES: eRank's Trend Buzz and Keyword Tool have 15 months of historical Amazon search data to help you understand recent trends in what's selling on Amazon now, what did well this time last year, and help you spot what's new. Together, they are the best way to track what's hot (and what's not) on Amazon.