Whether you are brand new to selling on Etsy, or a tenured veteran looking to start another shop, you are going need to take the steps to get your shop up and running. Today we are going to dive into the process of how to start an Etsy shop. Let's get Started.
Preparing Your Brand and Products
If you are going to be selling on Etsy, you are going to need to have something to sell. Chances are though, if you're here, you probably at least have an idea of what you want to sell, if you aren't already selling in some capacity.
You are going to want to have a collection of strong photographs for each of your products. Photograph your product from every imaginable angle so that buyers can really see what they are getting. Once you get your shop set up, consider reading our post about product photography for Etsy to help make your listings even better.
If you don't already have a name for your business or shop, you are also going to need to come up with something. A lot of sellers choose a name that relates to the type of product they are selling, but you can really choose anything you want.
Opening Your Shop
Now you are ready! You have some products ready, They're photographed and you have a name for your Etsy shop. All that's left is to open the shop. Fortunately for you, this process is easy, and we're going to walk you through the steps.
Getting Started
In your web browser, type Etsy.com and once the page loads,  Click sign-in. If you don't already have an Etsy account, you will be able to register here. Once you are registered and logged in, you will want to click the drop down next to the cart icon, and click "Sell on Etsy".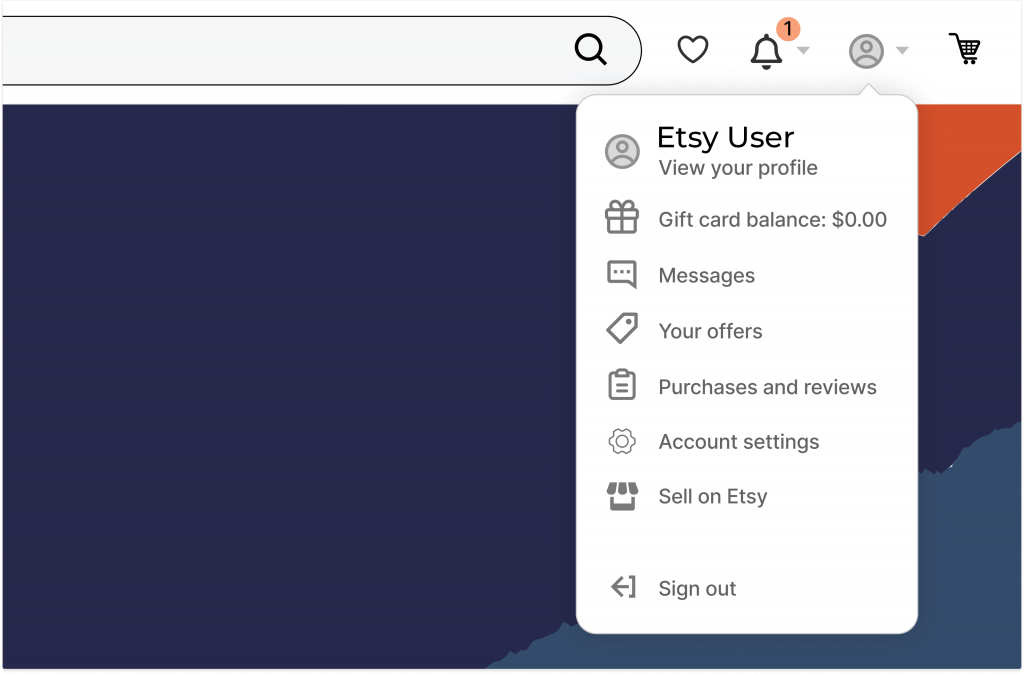 Once you click Sell on Etsy, you will see a splash page with a button in the center that says get started. Click this to begin setting up your Etsy shop.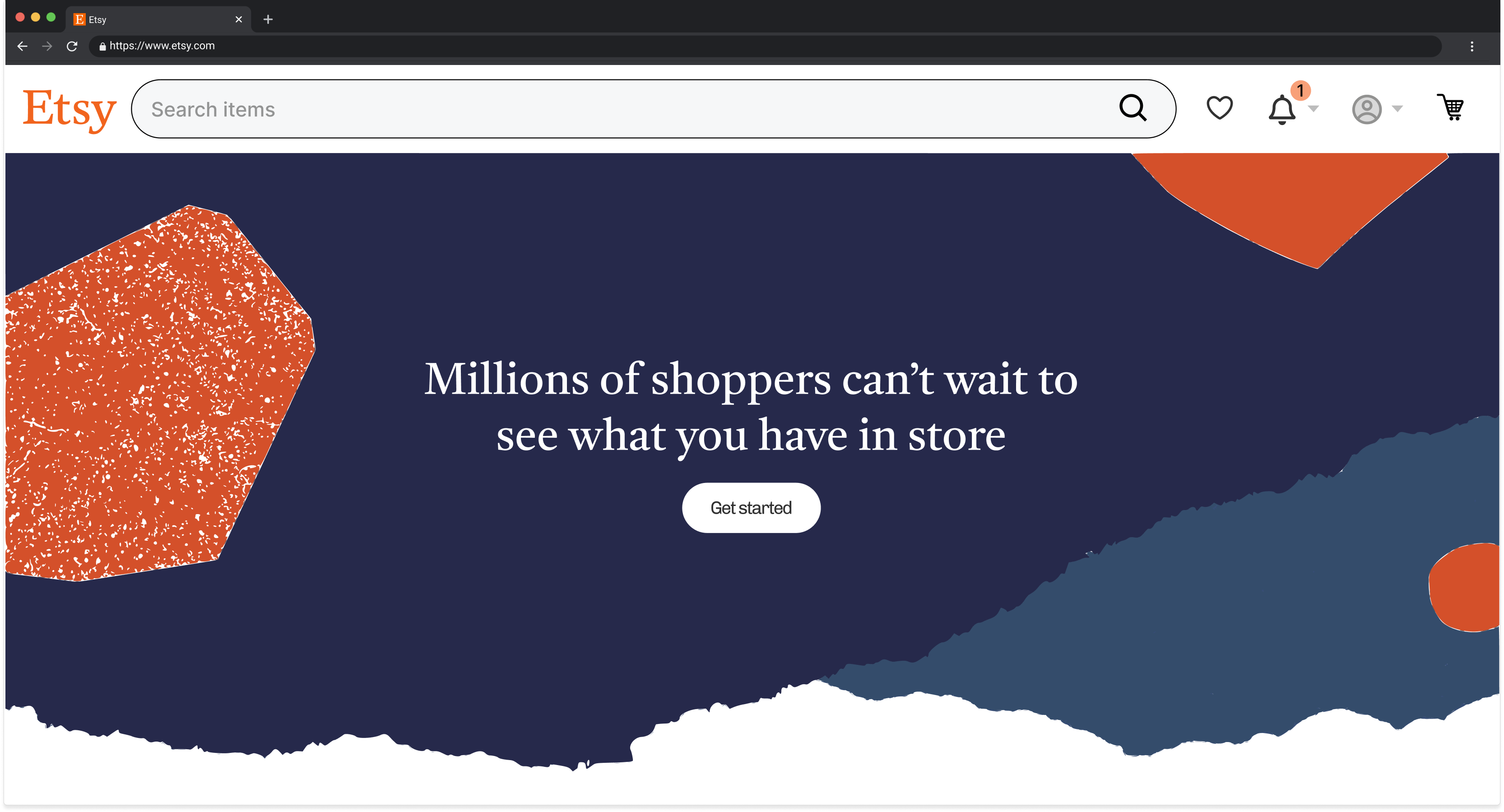 Shop Preferences
Upon clicking "Get Started" you will be presented with some choices for your shop. You will have to choose things like the shop's language and country in which it operates. Once you have made all your selections on this step, you can click "Save and Continue to move on to the next step.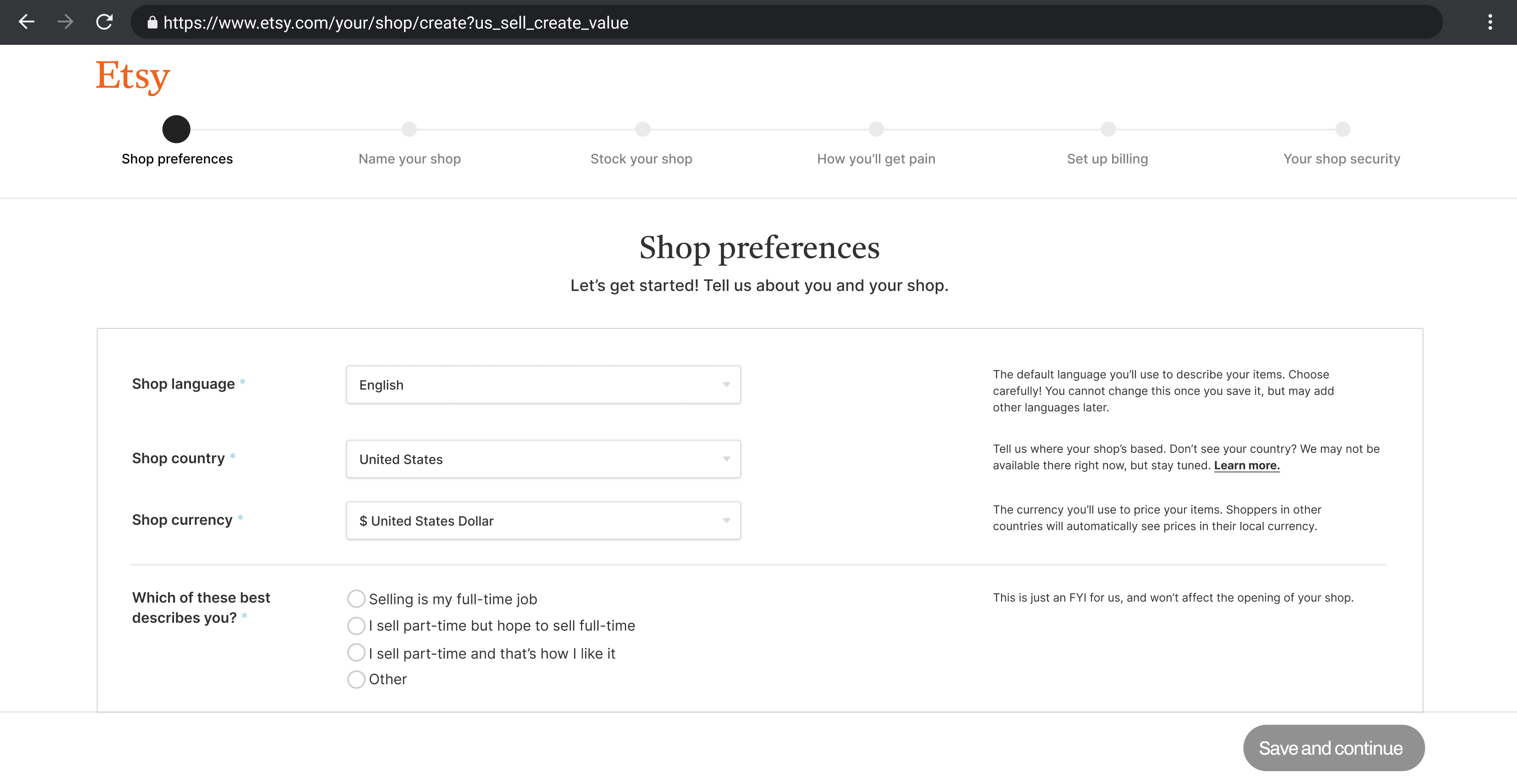 Name Your Shop
This is where you get to name your shop. If you are already an established seller with a brand, then the choice here is simple, but if this is your first foray into selling handmade goods, then you will have to decide on a name.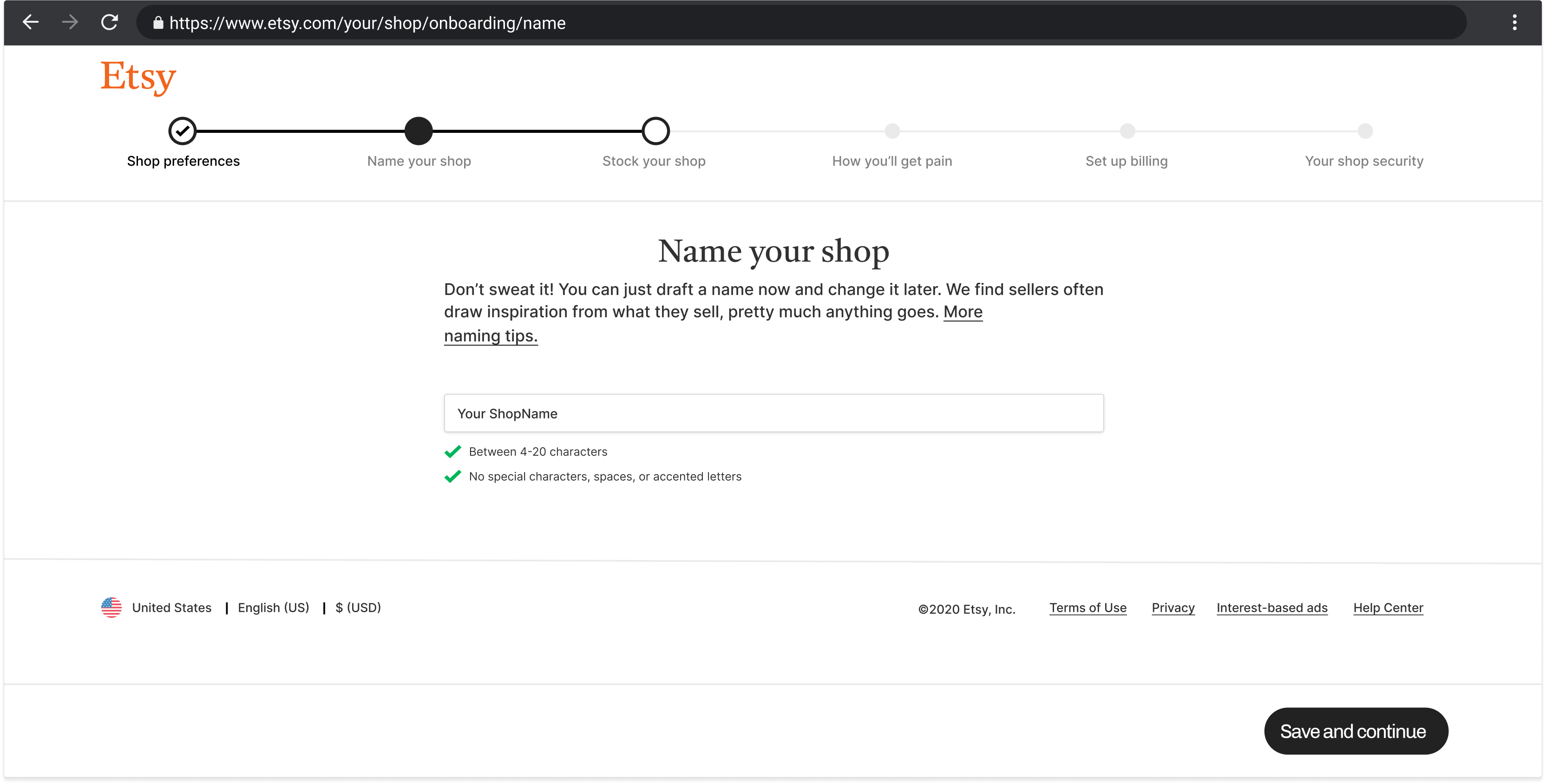 Don't get too caught up on a name at this point. You can change your shop's name as often as you like before going live. After that you can rename your shop up to five times.
Stock Your Shop
Now for the fun part, this is where you will create your very first listing.
Photos
First you will need to select some photos for your product. It is important to show your product from all angles and provide an accurate representation of what a customer will receive. You can add up to 10 photos here. Every photo is an opportunity to sell your product, so be sure to use all of them if you can.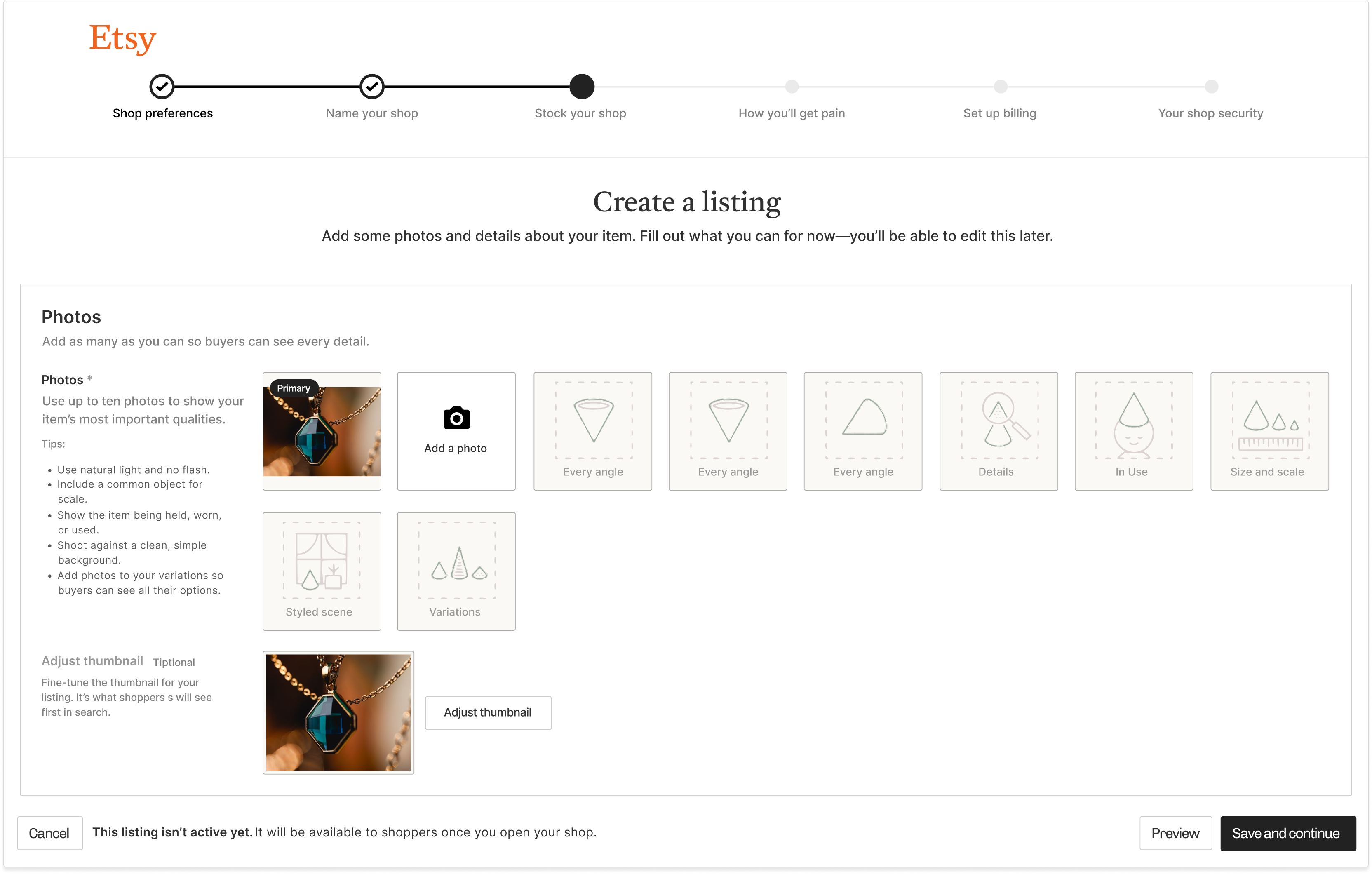 QUICK TIP: Use this time to add alt text to your images which can be added by hovering your mouse over each image and clicking the pen icon. Alt-Text is indexed by search engine and used to explain the context of the image in the event that it doesn't load.
Video
Below the photos section, you will have the option to upload a short (5-15 seconds) video featuring your product. These don't have to be high end productions. A quick video with your camera phone can show off your product and help get the sale. Adding a video is not a requirement for the listing, but Etsy does claim that listing videos are helping convert sales.

Listing Detail
This is where you will describe your product and all the related details. When writing these parts, you will want to think about how shoppers might search for your product on Etsy. Using tools like eRank's keyword explorer is a great opportunity to find out keywords that buyers may be searching for. Including relevant keywords in your products description is crucial to appearing in search.
There are a few other things you will need to select or add in this section. If you are working on your items with a production partner, you will need to select that here. This will allow you to give credit to anyone else involved in the making of your product. The section option allows you to create sections within your shop for your products. This is a good way to group related items together. The tags section is where you can add up to 13 keywords to your product. That's 13 more opportunities to get found in search. Materials on the other hand is purely informational and not used by Etsy search.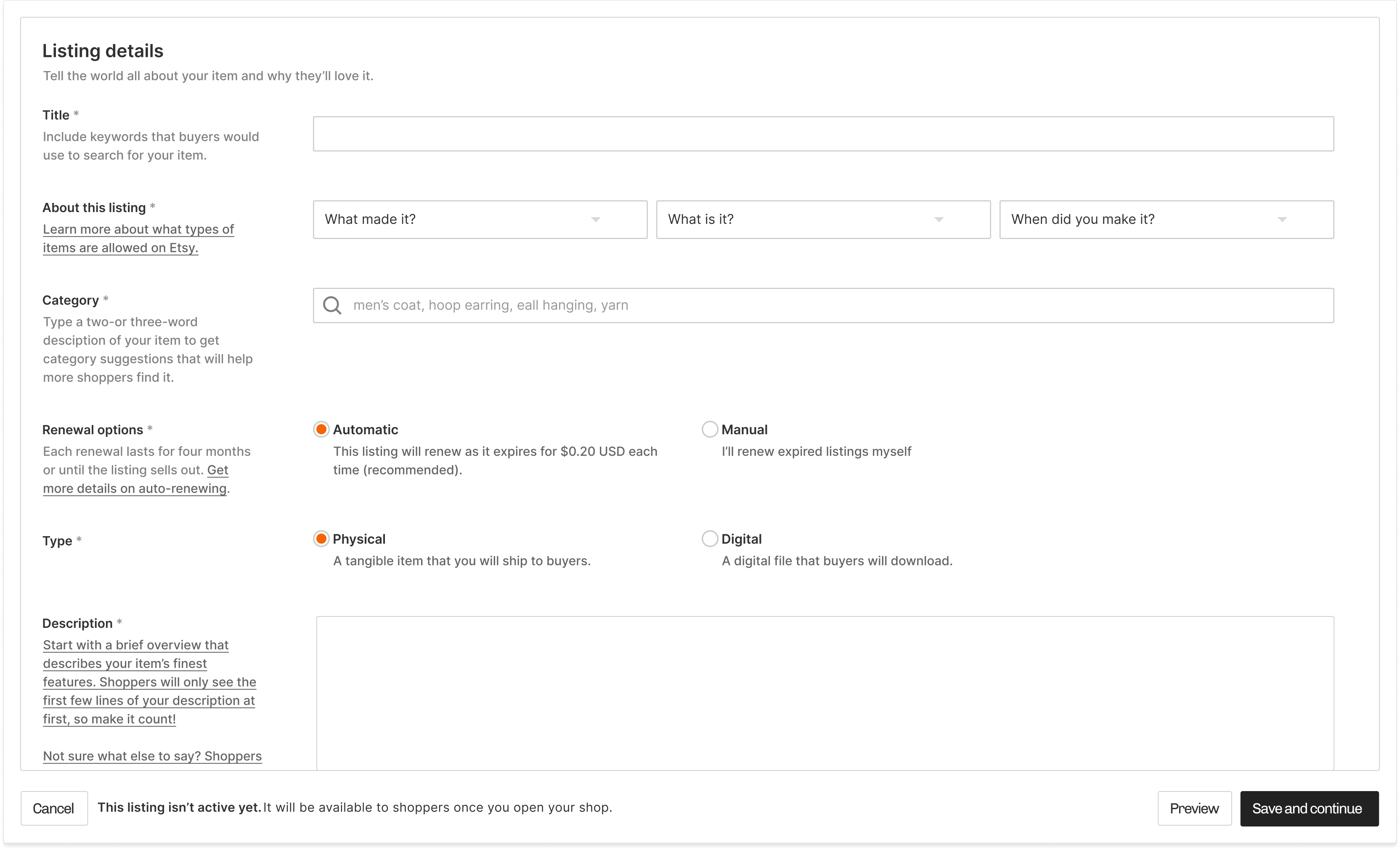 Inventory and Pricing
This is where you will provide details on the quantity of the product you have available to sell and the product's price. You can also provide a SKU for your product if you have one, but they are only visible to the seller. SKUs can be helpful for keeping track of your inventory in your shop. More information, check out Etsy's help document.
Restock requests allow your shoppers to sign up for an alert that will let them know when and out of stock item becomes available again. If you subscribe to Etsy Plus, this is a great way to be able to potentially capture a future sale on an out-of-stock product.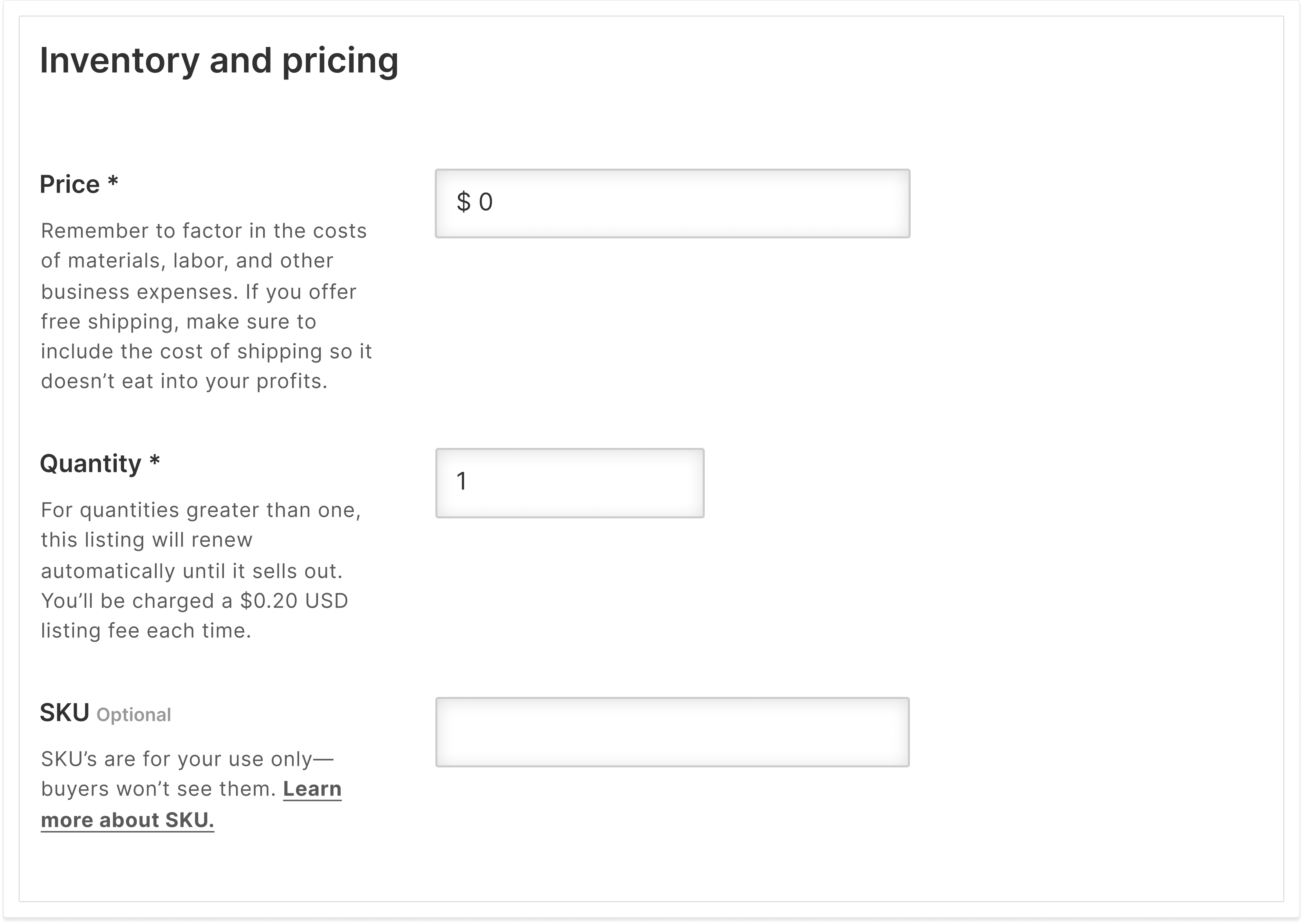 Variations
Variations allow you to present different offerings for the same product. Let's say for example, you sell a specific design of a jewelry box, but offer it in 3 different types of wood. Using variations, you would be able to sell the jewelry box in one listing but offer the 3 different wood choices for buyers to choose from. You are also able to set different prices for variations and can link each variation to a specific photo so buyers can see what each option will look like.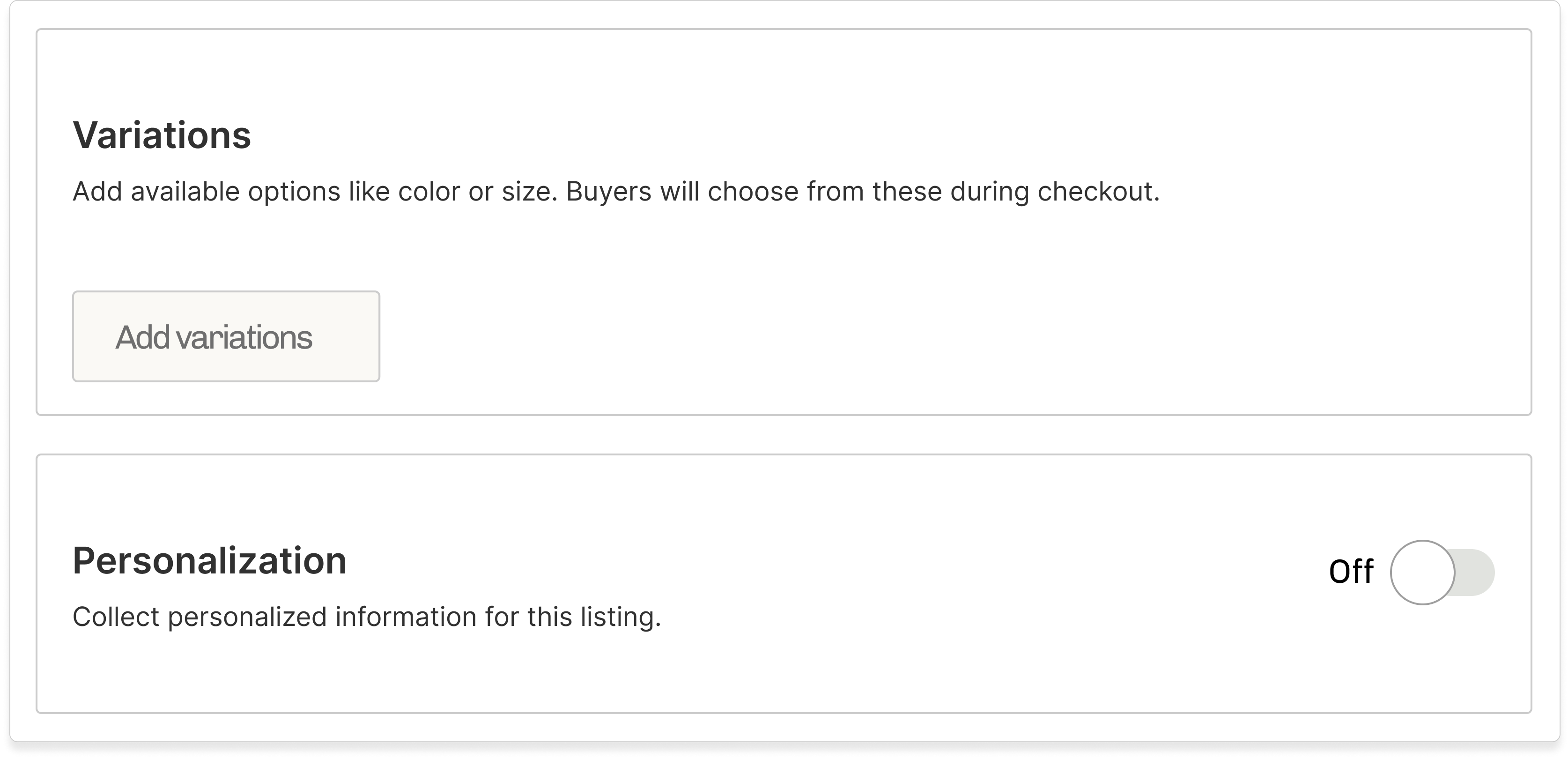 Personalization
Personalization for your items if optional, but if you want to offer a way to customers to personalize their purchase, this is when you can provide them with the instructions to do so.
Shipping
Unless your shop is selling digital only items, this is where you will set up details of how your items Is shipped. Since your shop is new, you won't have any profiles yet, so you will need to provide all the details for this package. That includes its weight and packed size, origin zip code, where you are willing to ship to, and carrier services. If you offer free shipping either internationally, or domestically, you will be able to select that here as well as charge a handling fee if you choose. Once you have all that entered, you can save this as a shipping profile to use in the future for similar items.
How You'll Get Paid
Probably one of the most important parts of the process is how you want to receive your payments. First you will need to choose between individual/sole proprietorship and an incorporated business. If you don't have a legally established business, you will want to select Individual or sole proprietorship from the choices.

Tell Us a Little Bit About Yourself
In this section you will need to provide your personal information for tax purposes. This information is simple, just provide you country of residence, name, date of birth and address you use when filing your taxes.
Getting Paid on Etsy
This Is where you will need to enter your banking information to be able to receive your payouts from Etsy. You will need to provide the full name as shown on your checking account along with your account type, routing number, and account number. If you have paper checks for your bank account, you can find your account and routing number there, otherwise you will need to contact your bank if you don't have this information.
Set Up Billing
The final step in the initial shop setup process is to provide Etsy with a way for you to pay them for any incurred charges. Once you are established, and making sales, your listing fees and Etsy Ad Fees will be deducted from your earnings. If you don't have any earnings to deduct from at any time, this is the payment method Etsy will use. Unlike the section where you setup how you will get paid, for this part you will need to use a major credit card or debit card. Keep in mind you won't be charged for anything at the time of setting up your shop. Any fees will be due on the first day of the following month.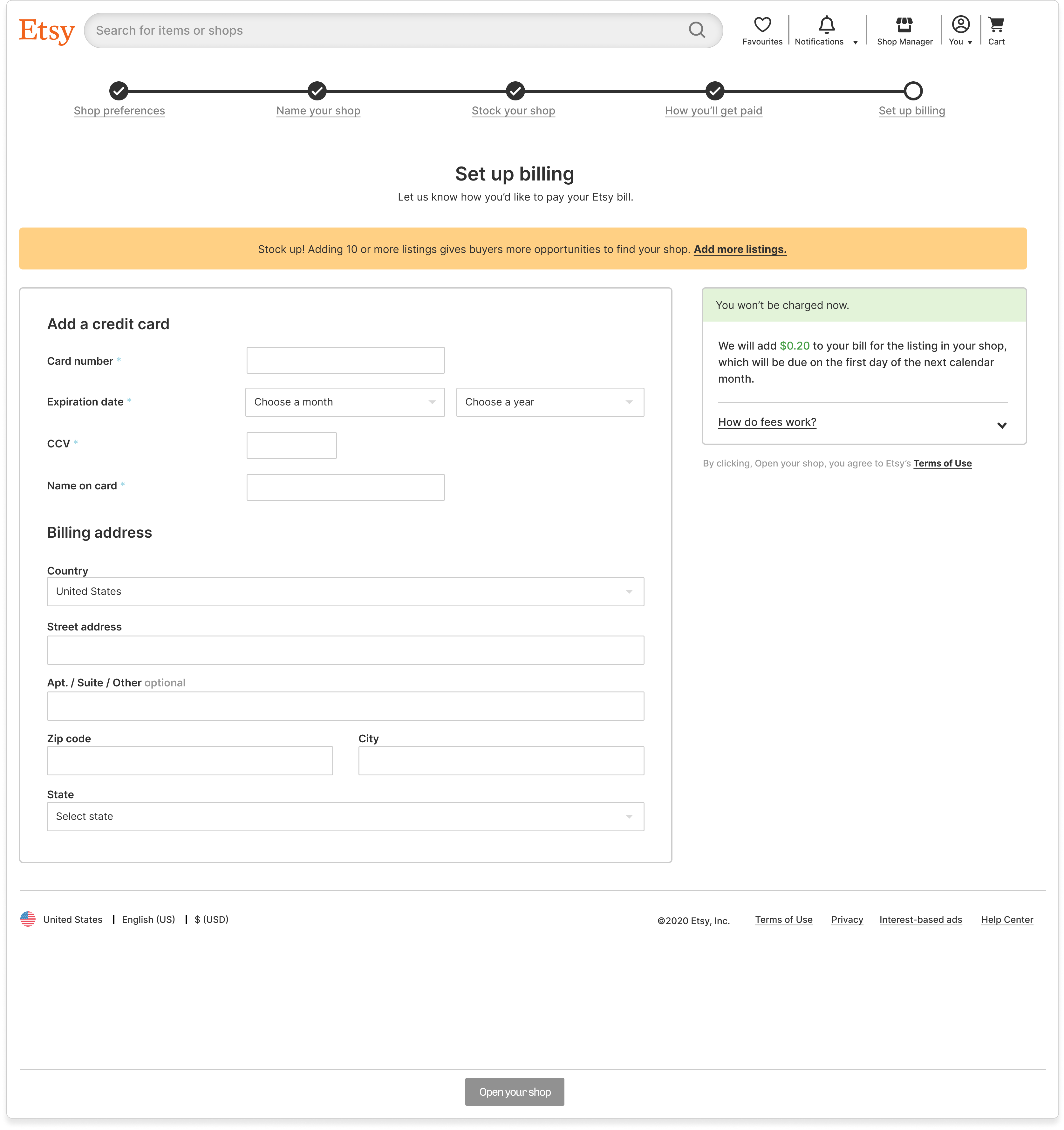 Fees and Considerations As You Start Your Etsy Journey
Now that you have your shop set up and ready to start selling, lets talk about the fees that you can run into while selling on Etsy, as well as some other options you may want to consider.
Listing Fees
This is the 20-cent fee that you incur every time you list a product on your shop. You will also be charged This fee any time you renew a listing. This means when you sell out of an item, then make more of that item, you will be charged 20 cents to renew that listing.
Transaction Fees
These are the fees you will be charged any time you make a sale. Etsy takes 5% of your listings price before taxes, as well as 5% of the shipping fee, if you charge buyers a shipping fee. For example, if you have an item listed for $20 and charge a 5$ shipping fee, Etsy will take 1$ from the sale of your item, as well as 25 cents from the shipping fee that you charge. So in this example, your total fees would be $1.25.
Payment Processing Fees
In addition to the fees mentioned above, Etsy charges a 3% fee plus a 25 cent flat ratr for using their payment processing platform (this allows buyers to seamlessly make purchases using a variety of payment options) This 3% fee is calculated based on the total sale price of an item including sales tax.
Marketing Fees
Etsy offers a variety of ways to help market your product including paid advertising both in Etsy search and on Google. For offsite ads, Etsy only charges you when you make a sale.(More on that here) For ads within Etsy search, you choose a daily budget, and your select products will be show each day until that budget is exhausted. This daily ad budget is charged regardless of whether you make a sale or not, so be sure to experiment with this to see what works.
Shipping Fees
As you sell your products, you will need to ship them out to the buyer (unless you are selling digital products) Fortunately Etsy sells discounted shipping label right on the platform. Like other fees. Any shipping label you purchase through Etsy will be deducted from you balance.
Etsy Plus Subscription
In addition to the basic free subscription, Etsy offers a premium tier plan costing $10 a month and comes with a few perks. These perks include 15 listing credits and $5 in Etsy ad credits a month, which equals an $8 dollar value alone. Other perks include advances shop customization options, and the ability to for customers to sign up for restock alerts which will send them an email when an out-of-stock items is available again. If you find yourself renewing or adding new items each month, and run Etsy ads, this may be a good value for you.
What's Next?
You've taken the steps to start your Etsy journey, now it's time to grow your sales and build your audience. The next steps can look however you want them to, this is after all, your journey. Here are a few things you can do to help you along that journey.
Setup a free eRank account to learn more about your customers
Start marketing your products and brand on social media
Design and list more products
Explore the Esty sellers handbook