You love hitting yard sales and thrift shops and auctions and you are accumulating all the things.
Or, maybe you inherited your great grandmother's estate and can't possibly keep everything.
Or, perhaps you're a born entrepreneur, business ideas always floating through your head, and you have a passion for vintage.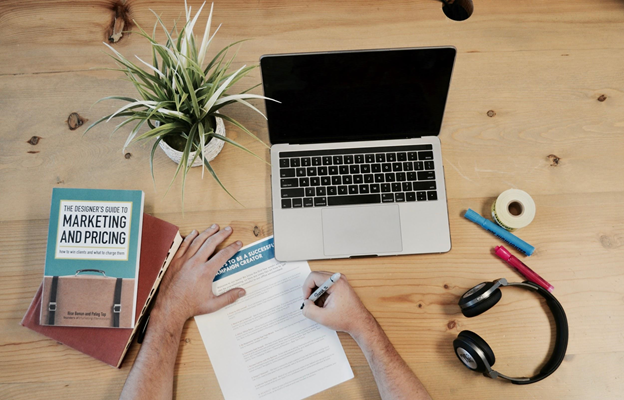 Whatever the case, Etsy's got you! And so do we in today's post, because if you have a desire to sell vintage, Etsy is your place!
I 100% believe that despite the challenges Etsy can throw our way, it is still the best platform out there for having a successful vintage business (or side gig).
Like everything else in this world, the more you put into it, the more you will get out of it.
But also, like everything in business, it's best to have some general guidelines to set you up for success. This "Beginner's Guide to Selling Vintage on Etsy" is an excellent place to start!
Step 1: Pick your focus
One of the first things to do when you are starting an Etsy vintage business is to pick a focus … aka: your niche!
A niche is a targetable, focused section of a population and the related products or services that you provide them.
Example:
Targeted Section (aka: target market): Single businessmen with style and money
Related Products: Trendy men's vintage wear at premium prices
When you pick a niche, everything else becomes so much easier. From sourcing to marketing and everything in between, you will have a clear idea of where to focus your efforts and will become an expert in your chosen area.
Getting so specific may seem counterintuitive. After all, it's easy to think you will get fewer sales if you don't offer something for everyone. Actually, the opposite is true. When you are very specific about who you are trying to attract with your business, you are more likely to convert your traffic to sales, sell multiple items in an order, and have customers who return to your shop for more.
And those are just a few of the benefits.
When choosing a niche, consider:
Will you love it? It's a good idea to go with something you love yourself! You will be spending a lot of time doing this, so it might as well be something you love. Passion shines through in business. That goes for your target market as well. You are going to be interacting on a daily basis with your target market, so make sure it's in line with who you want to serve.
Is there a demand for it? Do some research on trends … hang out where your target market is hanging out (e.g., Instagram, Facebook, etc.) … watch them and see what it is they want. This is especially helpful in the beginning when you are making sure there is a demand for your niche … but also as you move forward with your business and are sourcing more things they will want and love.
Can you easily source for it? If you can't get what you need without hopping on a plane to the other side of the country, then you probably should pick another niche. Make sure to consider the sources that are close to you and/or that you can otherwise easily source (online estate sale auctions, for example).
Step 2: Brand Your Vintage Business
Branding is not something the average vintage seller takes into consideration.
(And, it's more than just a logo.)
Branding is what identifies you in a crowded online world. It also wraps up with a metaphorical bow what is special about you and your business.
Don't get so overwhelmed though that lack of branding keeps you from getting started — you can always change things. When I started on Etsy in 2013, I hadn't a clue that I needed to brand my business; I did that later.
However, the earlier you integrate this piece in your business, the better results you will have.
Some not-so-obvious things to consider when branding your business:
How will you prioritize customer service?
How quickly will you ship your items out?
What tone will you use and what story will you tell — in your listing descriptions; in your policies; in your announcement; in your About section; on social media, etc.?
Step 3: Source & List Thoughtfully
I recommend starting small when sourcing and listing.
There are several reasons for this.
You don't want to end up with all kinds of stuff nobody wants and a garage full of literal junk. This is a very common thing to happen to vintage sellers. When you start small, you can get a feel for what people are liking/buying and focus your efforts there.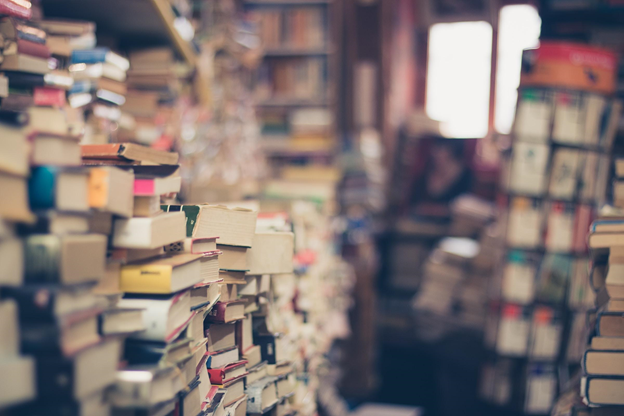 Sourcing takes time and money: this is easy to overlook (especially the time part). As you gain knowledge and expertise, you will eventually be able to streamline this process.
Listing takes time and money: there are tricks and skills that will help you be more efficient with listing, but there really is no way around the fact that it is time consuming. Those listing fees and renewal fees, although small, can also add up quickly.
Always be mindful of those two invaluable assets: time and money!
"Small" is subjective. You do need to have enough Etsy listings to get found and to start getting results. But you want to prioritize quality listings over quantity. If you can find this balance, you will be optimizing the use of your time and money.
So, be thoughtful with what you source and list:
Does it fit your niche and brand?
Will your target customers want it?
Is it likely to yield enough profit to make it worth your time and money?
If the answer is no to any of the above: don't get it, don't list it, it's not worth it!
P.S.: Always consider both shipping challenges and expense when choosing what to source and list.
Step 4: Get Your Listings Found
Since you are here on eRank, you've probably heard of this thing called SEO (Search Engine Optimization).
SEO can be extremely overwhelming for new sellers, but it doesn't need to be.
eRank is packed full of tools to help you get found on Etsy in a super simple way.
If you are just getting started, make sure to check out the free Keyword Tool.
You can type in any keyword, and a ton of other suggestions pop up in a magical cloud.
In this example, I typed in "vintage mens ties" and this is what resulted: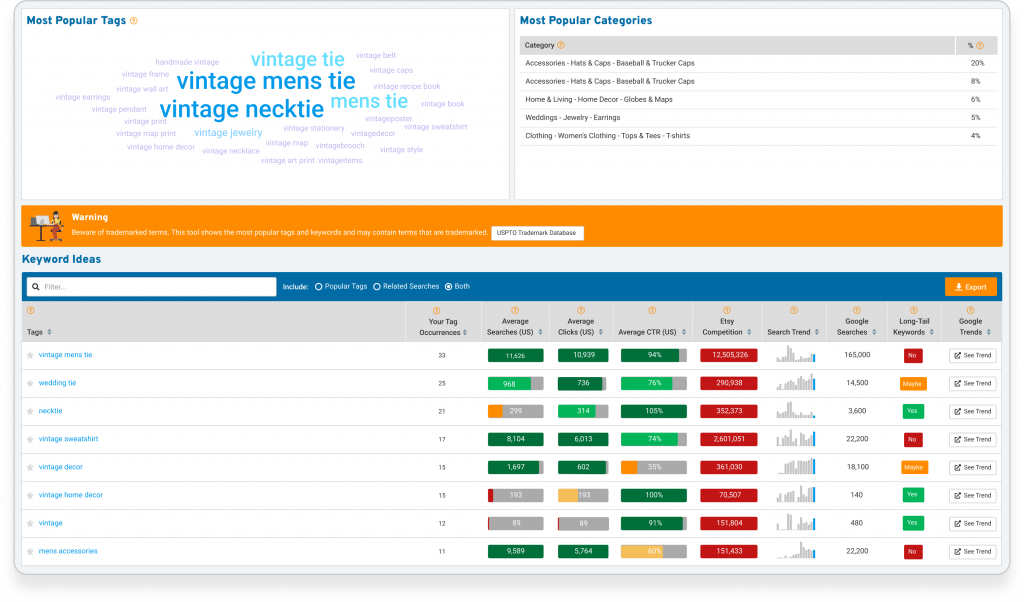 "Mens accessories", "vintage necktie" and "wedding tie" are just three of the awesome keywords I was able to get in a matter of seconds! This tool is GREAT when you are trying to come up with keywords for your tags, titles, and other strategic places throughout your Etsy shop!
Step 5: Just Get Started
Steps 1 through 4 are very important, yes, but don't let any of them keep you from just getting started.
All of them can and should be adjusted as you learn and grow.
I've had so many vintage sellers tell me they were afraid to get started, and I always give the same response: Just … get … started! You have very little to lose by throwing up your first listing. Everything can be adjusted as you go. Don't let your fears keep you from just getting started.
If you don't get started, you won't have the opportunity that everyone needs in business: to try, to learn, to adjust, and keep going!
You will trip … you will fall … you might even fail before you succeed. Accept that, and you will be miles ahead of so many other sellers on Etsy. It's how you get up, brush yourself off, learn and keep moving forward that sets you apart from the shops that never get anywhere or just give up.
You've got this!
Traci Hugelmaier