Published on: March 30, 2023
Reading time: 6 minutes
Are you interested in increasing your Etsy sales during wedding season? Of course, people do get married throughout the year. But in the Northern Hemisphere, late spring to early fall is the most popular time for weddings. This is reflected in Etsy search trends. Here are the US Search Trend results for the broad keyword "weddings" in eRank's Keyword Tool.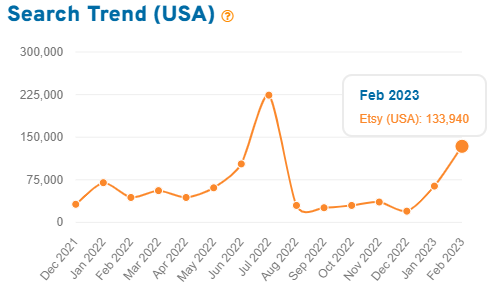 As you can see, the highest peak for "weddings" is in July. There were 224,030 searches then – but look at February 2023! At 133,940 searches, it's way up Year on Year, by over 200%. We expect that with this season's combined with those postponed due to the pandemic, weddings will be HUGE this year.
And see how these two annual peaks helpfully come during the two slowest seasons for most Etsy shops? There is a reason for the two peaks: one represents wedding preparations. Everything from shopping for gowns to cute ring-bearer proposals. The guest invitations, the bachelor/ette party supplies, the décor. Then, closer to wedding season, it tends to be more guests buying wedding gifts, outfits, and all the last minute touches. So, in this post, we will provide some tips for making the most out of this. And even If you don't sell wedding-specific items, no worries. We'll suggest ways for you to break into this niche!
Discover wedding-related keywords
Want to see which Etsy shopper searches are currently popular? Check out Trend Buzz. This feature helps you discover which keywords are trending on Etsy and 25 other popular markets. You'll see what were the Top 100 most-searched terms for yesterday, the past 7 days, and the past 30 days.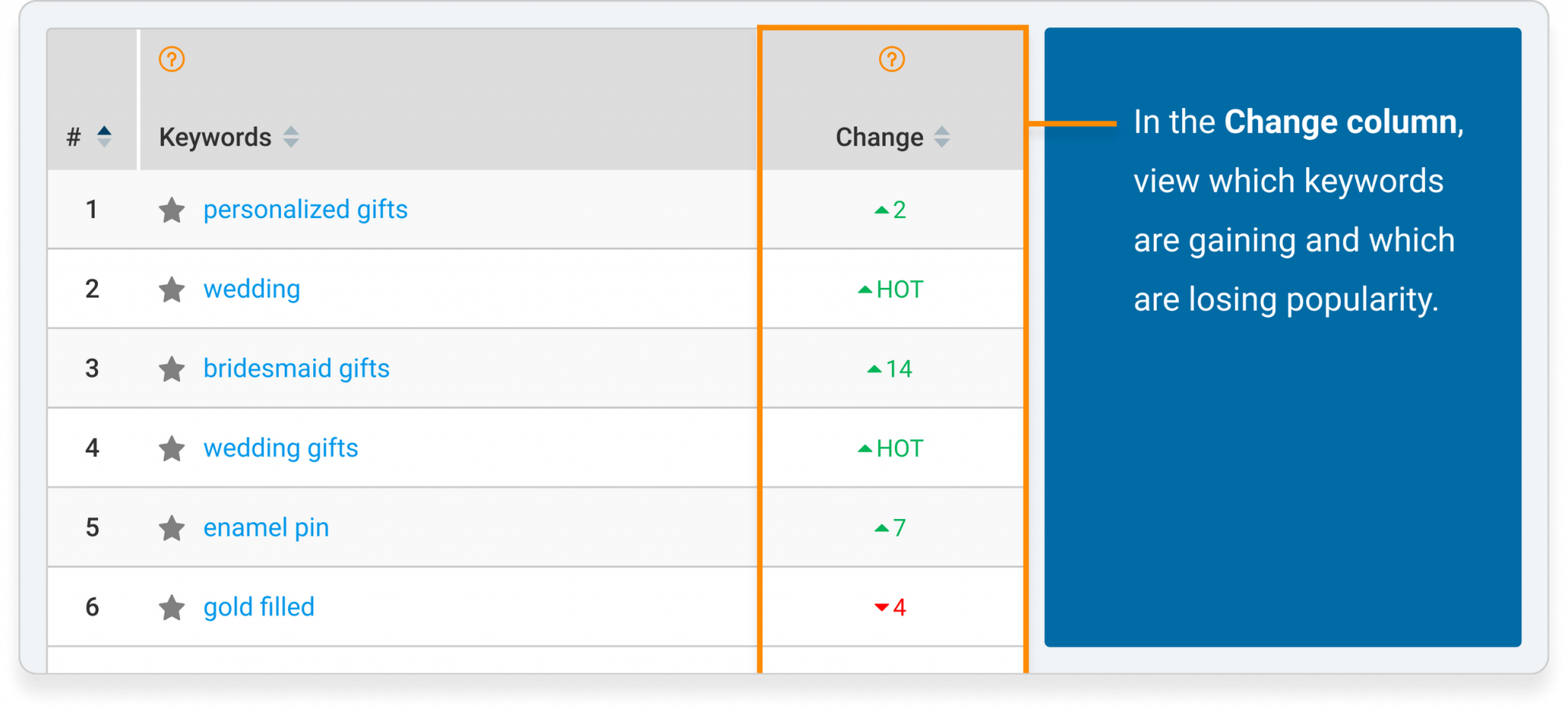 The Change column on the right indicates whether a term is increasing in popularity, decreasing in popularity, or maintaining the same level of popularity. HOT means that particular keyword is rapidly increasing in popularity. You can choose to see results for US Etsy shoppers, or for five other top Etsy countries. And over on the left menu, you can select other e-commerce platforms and popular brick & mortar retailers to see their Top 100 shopper searches.
To view the past 15 months of keyword data, check out Monthly Trends. This feature lets you browse the most popular shopper searches in 21 Etsy categories. Doing Print on Demand? From the left side menu, you can see the Top 100 keywords in eight POD categories.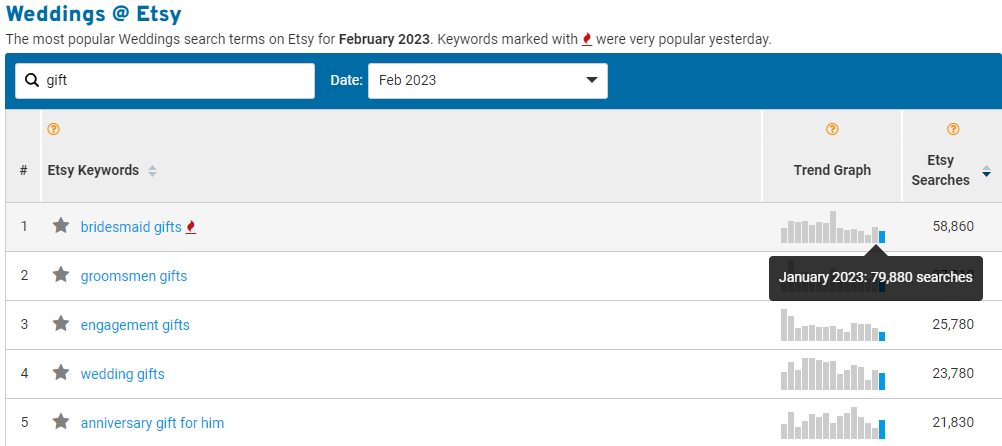 Once you've selected a category from the side menu, use the filters at the top of the table to search within that category. Above are results in the Etsy Weddings category for the search term "gift" in February 2023. The 15-month Trend Graph beside each keyword helps you spot seasonal trends. Hovering your cursor over the bars on the graph will reveal a pop-up showing the exact number of searches for each month. Click on the star beside any search term to add it to your Keyword Lists for further research.
Getting a piece of this niche
Together, Trend Buzz and Monthly Trends are useful tools for updating your listings' Search Engine Optimization (SEO). But have you thought to use them for product research? Take a few minutes once a week to relax, have a beverage, and skim these lists of shopper searches. There is so much scope in the broad category of Weddings! It's difficult to think what sort of Etsy shop does not have a way to get in on this market! Here are just two ways.
Offer bundles of like items
Often, those searching for wedding items on Etsy are looking for small gifts as mementos. Whether for bridesmaids, groomsmen or guests, shoppers want multiples of them. Do you sell smaller, inexpensive, giftable products?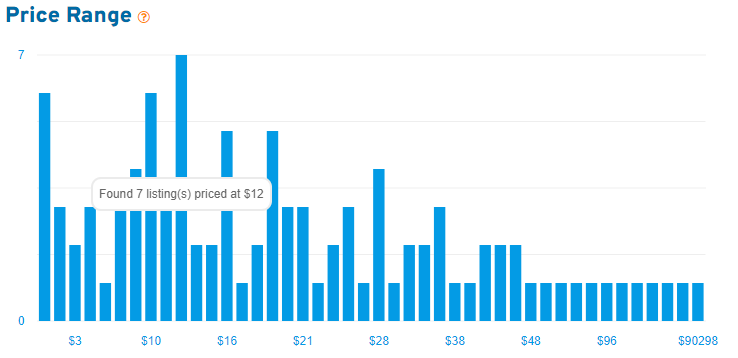 As shown here, the most popular price point in the top 100 search results on Etsy for the keyword "bridesmaid gifts" is $12. And that search term is currently ranked No 2 in the Weddings category. No. 3? That's "keychain." Can you crank out a dozen identical keychains for a lower price than $12 each and still make a tidy profit? If so, try offering them as a bundle for a discounted price. This can be done simply by adding a "bundle" option as a variation on the listing. Your customers will appreciate the opportunity to score a deal when they make a bulk purchase!
Tip: if you are fast and neat at gift wrapping, consider adding that as an option for an upcharge! Set your gift-wrapping fee by going to Settings on your Etsy dashboard and then selecting Options. You can even upload a photo of a gift-wrapped order here for shoppers to see.
Offer personalization
Customized and personalized items are as hot as ever on Etsy, and nowhere more so than for Weddings! Check out the Top 100 customer searches in the Weddings category for the past month. Brides-to-be are searching for everything from custom tumblers for bridesmaids to personalized flasks for groomsmen. Totes, sweatshirts, robes, patches, vow books, neon signs, shot glasses, socks, keychains – on and on. To set up Personalization on a listing, here's a link to Etsy's instructions.
Weddings are back!
"There are expected to be 2.24 million weddings in the United States throughout 2023 – an increase of 62.5% since 2020." from Zippia. "20+ Trending U.S. Wedding Industry Statistics [2023]: How Big Is The Wedding Industry" Zippia.com. Mar. 14, 2023
An increase of 62.5%! Why shouldn't you get a piece of that cake, eh? Wedding prep shopping on Etsy starts climbing in January and February. Gain new customers and some extra cash during an otherwise slow season.
Let's review — try using one or more of these tips to get your listings on the radar of wedding shoppers.
Start by doing some keyword research to target this niche
Appeal to these shoppers by offering keepsake items as bundles
Upsell with the option of gift wrapping
Custom and personalized wedding items are hot!
New wedding customers you impress now could return for the second (and larger) annual peak that starts climbing in May!
RESOURCES
5 Tips to Elevate Your Etsy Business in 2023 – eRank Blog
Etsy SEO Basics – eRank Blog