Reading time: 10 minutes
Wondering how to get more Etsy sales? Use eRank! And not just because it's free. If you're an Etsy seller, then growing your sales is probably your top priority. And eRank can help with that.
Everything you do to expand your customer base and build customer loyalty will increase demand for your brand and products. To get more sales on Etsy, you can try the following strategies:
Get more customers, either in your niche or in new ones.
Induce them to spend more.
Increase your total number of transactions.
Increase frequency of purchases (get a customer to buy more often).
And finally, you need to get them to come back. This is called customer retention, and we'll have more about that in a bit.
First though: why should you want to get more sales on Etsy?
Aside from the obvious reasons like making more money, why is it so important to grow sales on Etsy? If you're a hobby seller, when you increase Etsy sales it can turn your side gig into a thriving full-time business. When you grow sales on Etsy, you have more money to spend on supplies, inventory, and marketing. And growing sales means more profit from your business which in turn enhances your lifestyle.
Do you already sell full-time? Then of course, getting more sales on Etsy can help your business to flourish in good times. And crucially, increasing your Etsy sales will help it to survive downturns. Because you are building a cushion to fall back on. And that cushion is a loyal customer base. Buyers who come back to buy again and again.
Most importantly, when you get more sales on Etsy it increases your authority. That is, as your sales increase, Etsy's search algorithm learns you're a reliable source for specific shopper searches. This is especially vital in saturated categories. There are over 75 million products on Etsy. Having authority can make the difference between being found by a shopper or getting lost in the sea of three million Etsy shops.
And the more sales you make and the more good reviews you receive, the higher your shop's quality score. Quality score is another factor in Etsy's algorithm that determines search placement ("rank"). We'll have more on that later. For now, just remember this. What you do to build customer trust, loyalty, and buzz around your brand will help grow your Etsy shop.
How to use eRank to increase Etsy sales
By now, you're probably wondering how eRank can help you get more sales on Etsy. For this, it doesn't matter whether you are brand new to Etsy, sell as a hobby or full time. You need to know what's currently trending on Etsy. For those of you on any of eRank's paid plans, we recommend using eRank's Trend Buzz report. It shows the Top 100 keywords shoppers used to search Etsy yesterday, the past week, and the past 14 days, in six countries. (You can also view the Top 100 searches for 12 other marketplaces, from Amazon to Wayfair.)
To grow sales on Etsy, do product research first!
Begin by identifying what shoppers are currently searching for.
Tip: you'll get more Etsy sales when you put product research ahead of product development. Why? Because it's far easier to give shoppers what they already want than it is to make them want what you already have.
So, spend some time in Trend Buzz exploring the hottest search terms. See if the products they describe could help grow your Etsy shop. For instance, let's say you make nursery wall art, and you are checking out eRank's Monthly Trends report. That one shows Etsy's Top 100 searches per category. And you see that giraffe baby shower decorations are trending in Paper and Party Supplies. This suggests it might be worth developing giraffe-themed nursery wall art. So, start with a deep dive into these reports. Begin gathering ideas for your own products. We'll have more about the Trend Buzz in a bit. But for now, let's talk about conversion rates.
What are conversion rates?
On Etsy, it's about converting visitors to your shop and listings into paying customers. The process of improving your conversion rate is called "conversion rate optimization."
Tip: Want the easiest way to convert visitors into customers? Put your product in front of the people who already are ready and eager to buy it.
And how do you do that? Well, you can drive your own traffic to your shop and listings. To do this, you could use promotions. Have it featured in a blog post or social media or giveaways. Or through direct links from your social media activity. For example, pin your Etsy listings on Pinterest, or post about them on Instagram.
Just keep in mind that however prodigious your effort, unless you're a top YouTuber or TikTok influencer, most shoppers discover listings via Etsy search. Which means you'll likely capture much of your traffic through search engine optimization (SEO). And relevant keywords are the foundation of SEO. (Remember: by keywords, we mean the words that a shopper enters in Etsy's search bar to find what they want to buy.)
On Etsy there are 69 million shoppers typing keywords into search. You only need to attract the shoppers who want exactly what you're selling. And the way to help these shoppers find your products? It is by using the exact keywords that they're using.
The right keywords will increase your Etsy sales
Search engines exist to match a search query with a search page. There are lots of shops to compete with on Etsy. But here's a tip. The countless hours you'd otherwise need to spend on product research and keyword research? You can skip all that by simply learning from what your competitors are doing. Are you on eRank's free plan? Use the Keyword Tool. It performs a detailed analysis of the top 100 listings found in Etsy search results for whatever keyword you specify. The Keyword Tool will show you:
The most popular tags used by Etsy sellers;
How often the keywords in those tags are searched for on Etsy;
Common price points for products that share those tags;
And lots of other data to help you select keywords and optimize your listings.
How to use eRank to gauge Timing, Popularity, Market Share
Another factor to consider is the timing of your listings. Timing can refer to several marketing factors. Seasonality refers to when it's best to list ahead of an upcoming season or holiday. For instance, check out this Keyword Tool line graph for the search christmas wreath.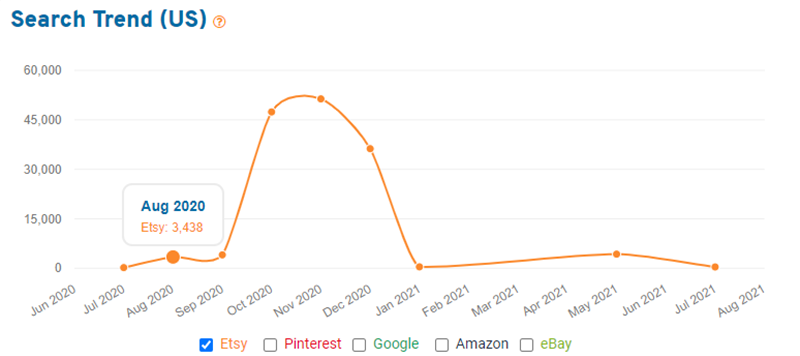 The Keyword Tool's Search Trend graph shows us 15 months of data so that we can easily spot seasonality. Based on this data, we'd recommend deploying this keyword at least one month in advance of the trend beginning its climb. Doing so gives Etsy's algorithm time to "index" – that is, to notice and place your product.
Another vital factor to consider is keyword popularity. Trend Buzz and its companion report, Monthly Trends, were created to help sellers stay on the leading edge of shopping trends. With these reports, you can discover what keywords are trending. Updated daily, we flag yesterday's most popular search terms with a little red flame icon.
Trend Buzz shows you the Top 100 keywords on Etsy and 12 other marketplaces. For Etsy, Amazon, eBay, Facebook, Pinterest, Target, Walmart, and Wayfair, you can view the data for yesterday, or the past week, or the past 14 days.
With the Monthly Trends report, you can browse any Etsy category to see stats on its Top 100 keywords. Use the Date drop-down menu to view the data for any of the past 15 months, and the Filter box to search for a particular keyword.
For every keyword, you'll see a 15-month trend graph of historical data. These help you spot whether that keyword is rising or falling in popularity. Just hover over any of the bars on the Trend Graphs to see a pop-up identifying the month and its data.
On either report, click any keyword to see an in-depth Keyword Explorer analysis of that specific term. You'll see data related to search volume (demand), clicks, Etsy competition, market share, related keywords, Google searches, and more.
Pricing to grow your Etsy shop
Pricing is an area in which we really need to question our assumptions. (And eRank has tools for that, too!) First, do some research into pricing. Beginners and hobby sellers are so prone to underpricing their own handmade products. You may be tempted to offer the lowest price, or to fiercely compete on pricing with the top sellers in your niche.
Counterintuitive as it may sound, doing so may lead instead to fewer sales in the long run. Growing sales does not mean simply selling the most items. It's easier (and far more cost-effective) to sell a single $100 item than it is to sell 100 one-dollar items.
We do not endorse lowering prices to sell more items. Nor that hobby sellers price just to cover the cost of materials.
Because when it comes to handcrafted items, buyers are influenced by price in a way that may surprise you. They perceive lower-priced items to be of lesser quality.
Luckily, eRank has some tools to help you make these calculations. The ROI Calculator helps you evaluate the performance of your Etsy ads campaigns. The Profit Calculator helps to estimate your Etsy fees and profit. Enter the price of the item along with labor, material, shipping cost. There are fields for Etsy renewal fees, ads, and any coupons. The Profit Calculator produces an estimate of the Etsy fees you will have to pay and the profit that you can expect to make. Use this tool to make pricing choices based on solid data, not emotion.
The Compare Listings feature allows you to see any four listings side by side to view a range of metrics, including price. As well, eRank has pricing widgets embedded in tools. One favorite is the Price Range bar chart in the Keyword Tool. Use it to learn what the most popular price ranges are for a given keyword.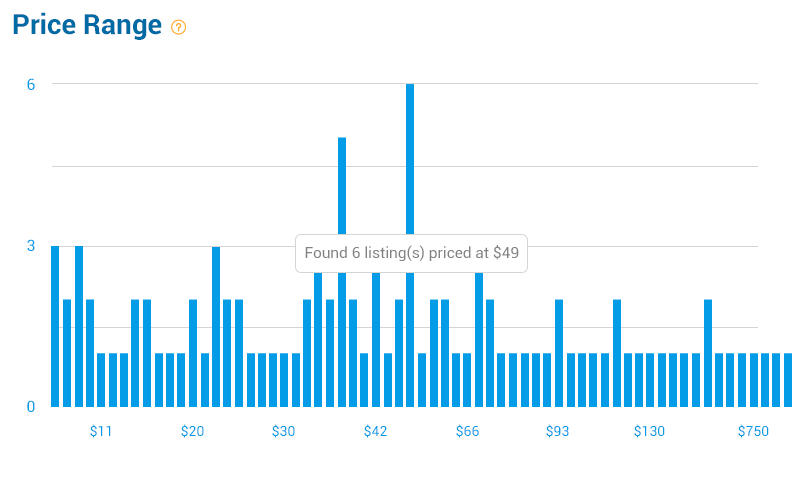 Mouse over the bars to see how many products are currently listed on Etsy at that price point for this keyword. (We entered "8th anniversary gift.")
A good strategy to test is offering items at a variety of price points. This can broaden your customer base. Someone may love what you make but can't manage the $750 statement jacket just now. If you also offer a scarf in the same style, colors, or materials, you might make the sale. And maybe that customer will be back for the jacket in future.
Customers grow your Etsy shop
The most important people in your business are the customers. Remember that we mentioned Etsy's Quality Scores? Etsy assigns these scores to both individual listings and to your shop. And these scores matter! Because they factor into Etsy's search algorithm and influence how high your product will rank in a shopper search.
To show items that buyers are likely to purchase, Etsy's search algorithm considers how well the individual items tend to do in search. Etsy calls this listing quality. For instance, if a shopper clicks, favorites, or purchases an item after seeing it in search results, that action contributes positively to the listing's quality score. And the higher the score, the higher your chances of ranking higher in search. And the higher you rank, the more likely it is that a shopper will find you. Therefore, "ranking" (also known as search placement) on Etsy is important.
What else helps your search ranking?
Etsy tells us that shops with lots of 5-star reviews, a comprehensive About page, and a completed set of shop policies will do better in search. Conversely, cases and reviews with fewer than three stars will detract from your shop's score and impact search rank.
"Acquiring a new customer can be five times as expensive as retaining an existing one."*

Coleman, Alison: How to Win New Customers Without Losing Your Established Clients, Forbes.com, 09/05/2021
This is why providing great customer service is key when it comes to nurturing a healthy and profitable Etsy shop. Try offering little touches that major retailers don't. Perhaps a handwritten thank-you note or complimentary gift wrap. Ship a day sooner than the customer expects. These small kindnesses can make all the difference. As we say at eRank, "From little things big things grow."
RESOURCES
We also have this blog post in video form on eRank's YouTube channel.
For more in-depth tutorials on Etsy SEO, keyword research and competitor research using eRank, be sure to check out our Beginner's Guide. There you'll find more trainings just like this one.
* Forbes magazine has actually mentioned this stat in at least four articles since 2016. As cited above, here's the most recent article, by Senior Contributor Alison Coleman, How To Win New Customers Without Losing Your Established Clients, published 09/05/2021.