Google Analytics (GA) can give you exceptional insights into the keywords shoppers used to find your listings. In many ways, Google Analytics will do a better job than the reports you get on Etsy!
Imagine how neat it would be to see what keywords were working for your shop last Christmas, or the one before that. Set up Google Analytics now. A year from now, you will be thanking yourself!
In this post, we're going to show you the right way configure Google Analytics for your Etsy shop so you get the most out of it.
Step 1: How to create a Google Analytics account
If you already have a GA account, you can skip straight to Step 2!
To create a GA account, you need to go here: https://www.google.com/analytics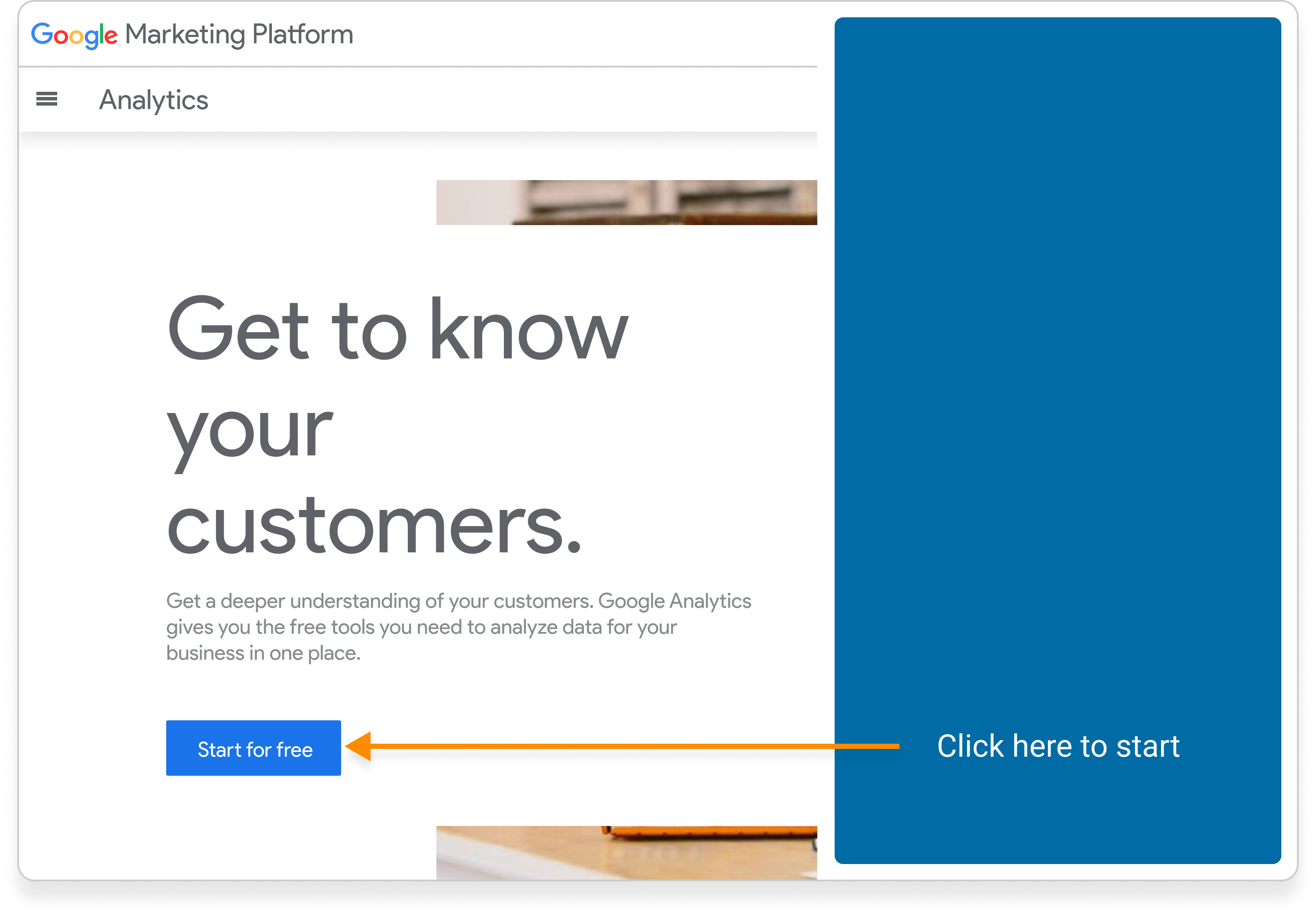 When you're ready, click on the blue Start for free button. Next, you will be asked to either sign in or create an account.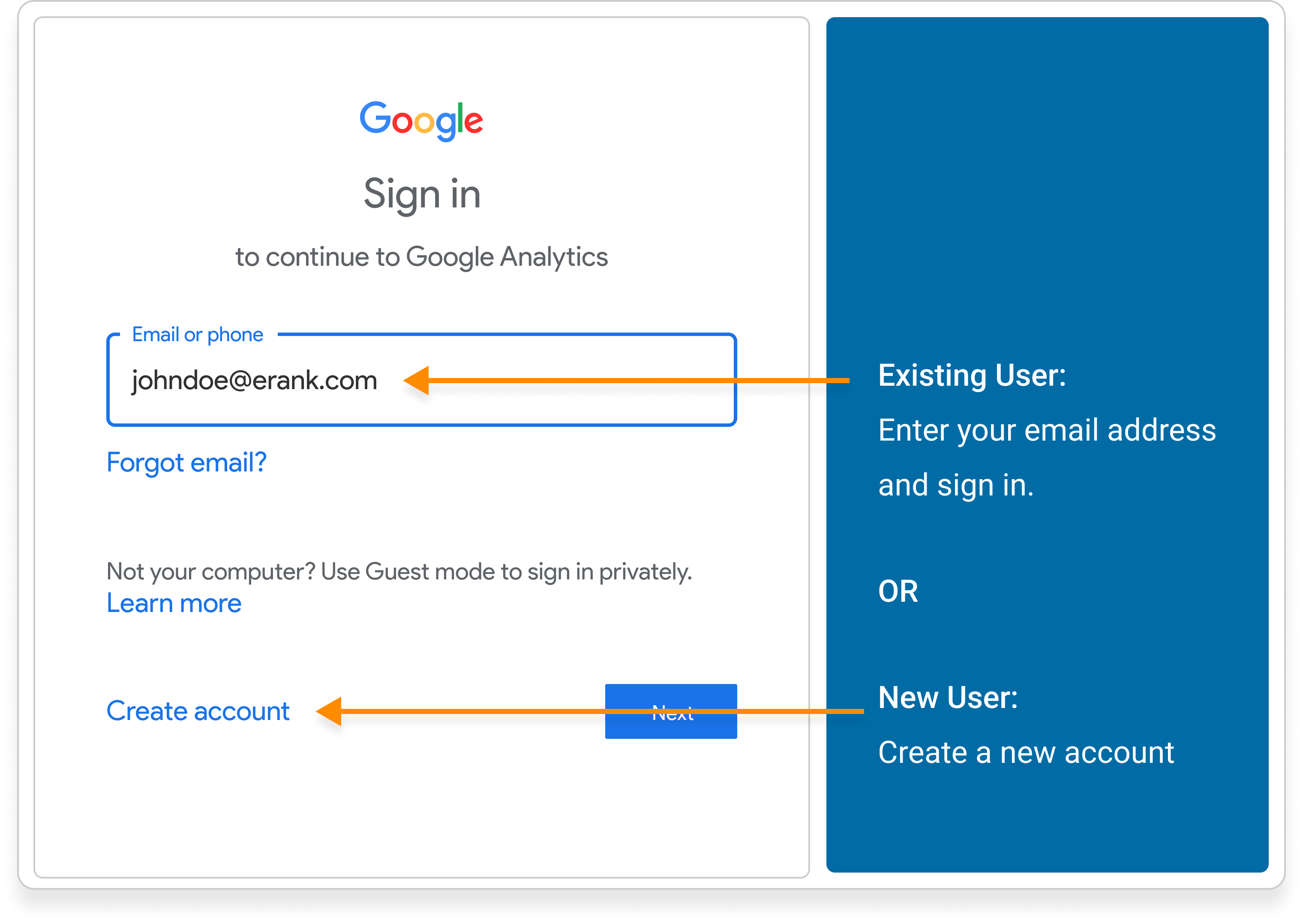 If you already have a Google Analytics account, you can skip to our Step 2: How to configure Google Analytics the correct way, below.
You will need to enter your Business Name. Note that you will enter your Etsy shop name a few screens later. So, for "My Business Name" it can be the same. Or, you could make it "Shop Name + Etsy" if you use the same shop name on other online marketplaces. That way, you could make separate GA accounts for those. No worries: you can always change this business name later, so use whatever makes sense to you now.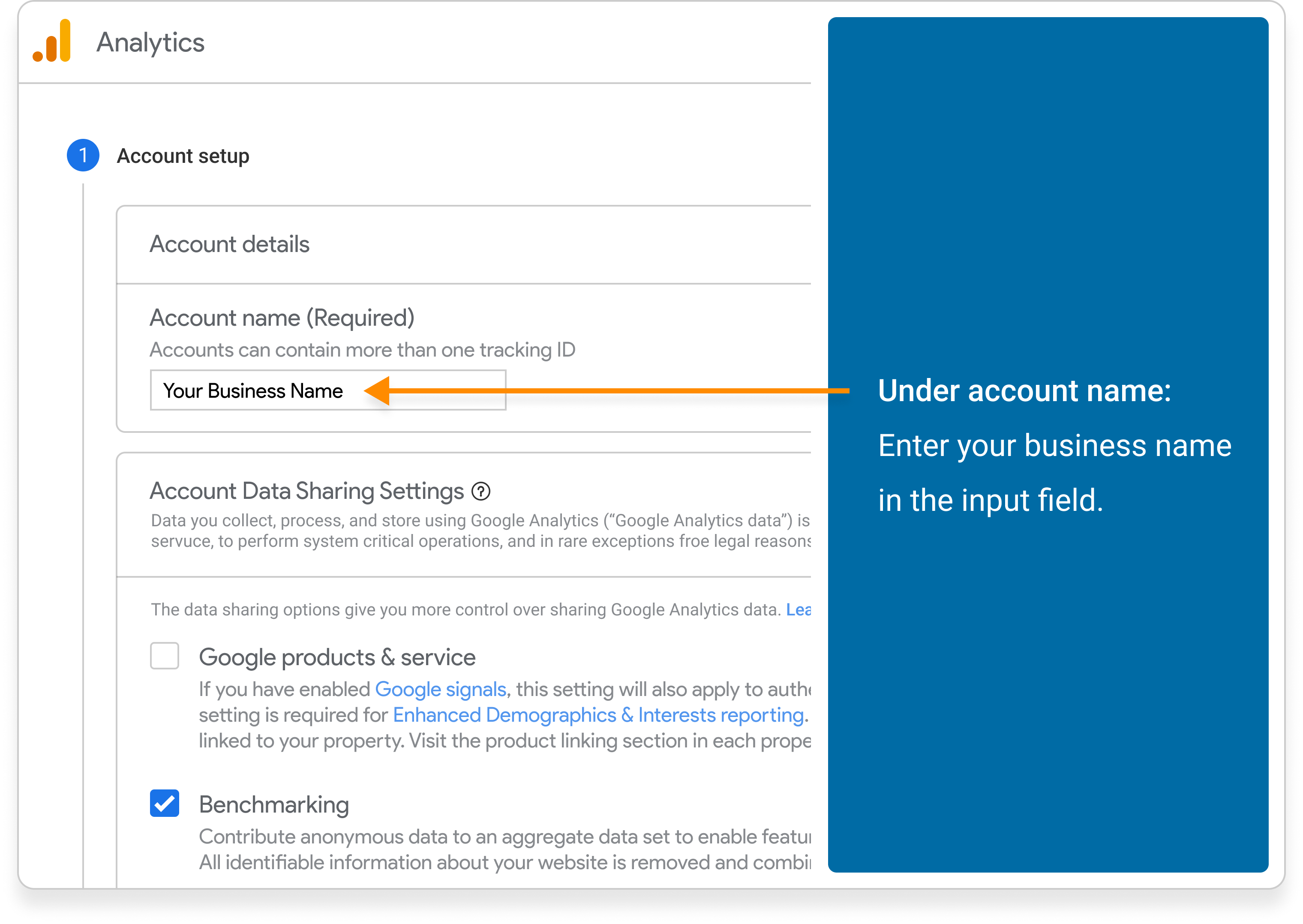 Next, you should review the Account Data Sharing Settings. Note that these choices are all optional. We recommend you share what you feel comfortable sharing.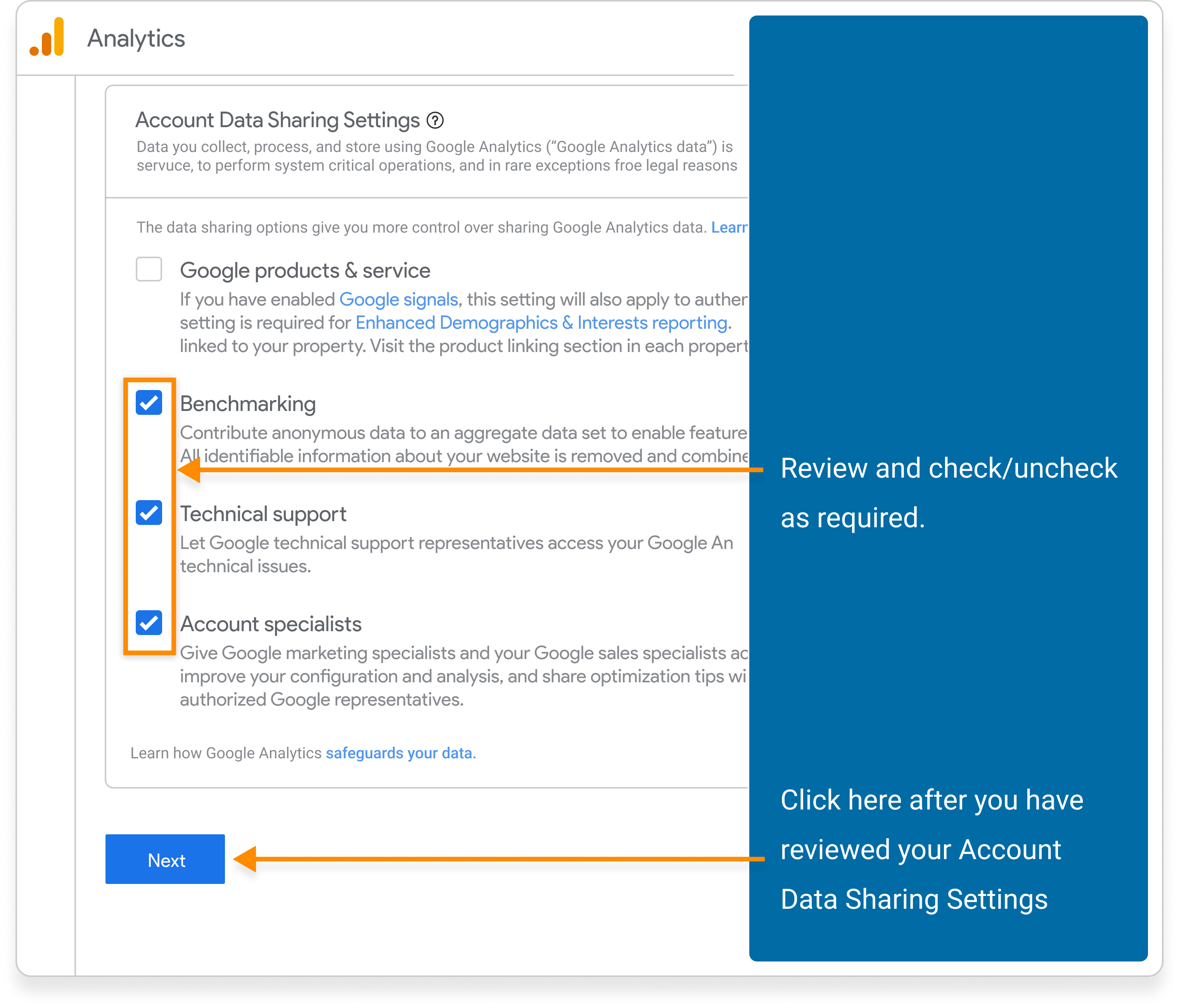 Now you can enter your shop name, time zone, and currency. IMPORTANT: You must click on the light blue "Show advanced options" button (lower left, below) to set up GA correctly. Be sure not to skip over that!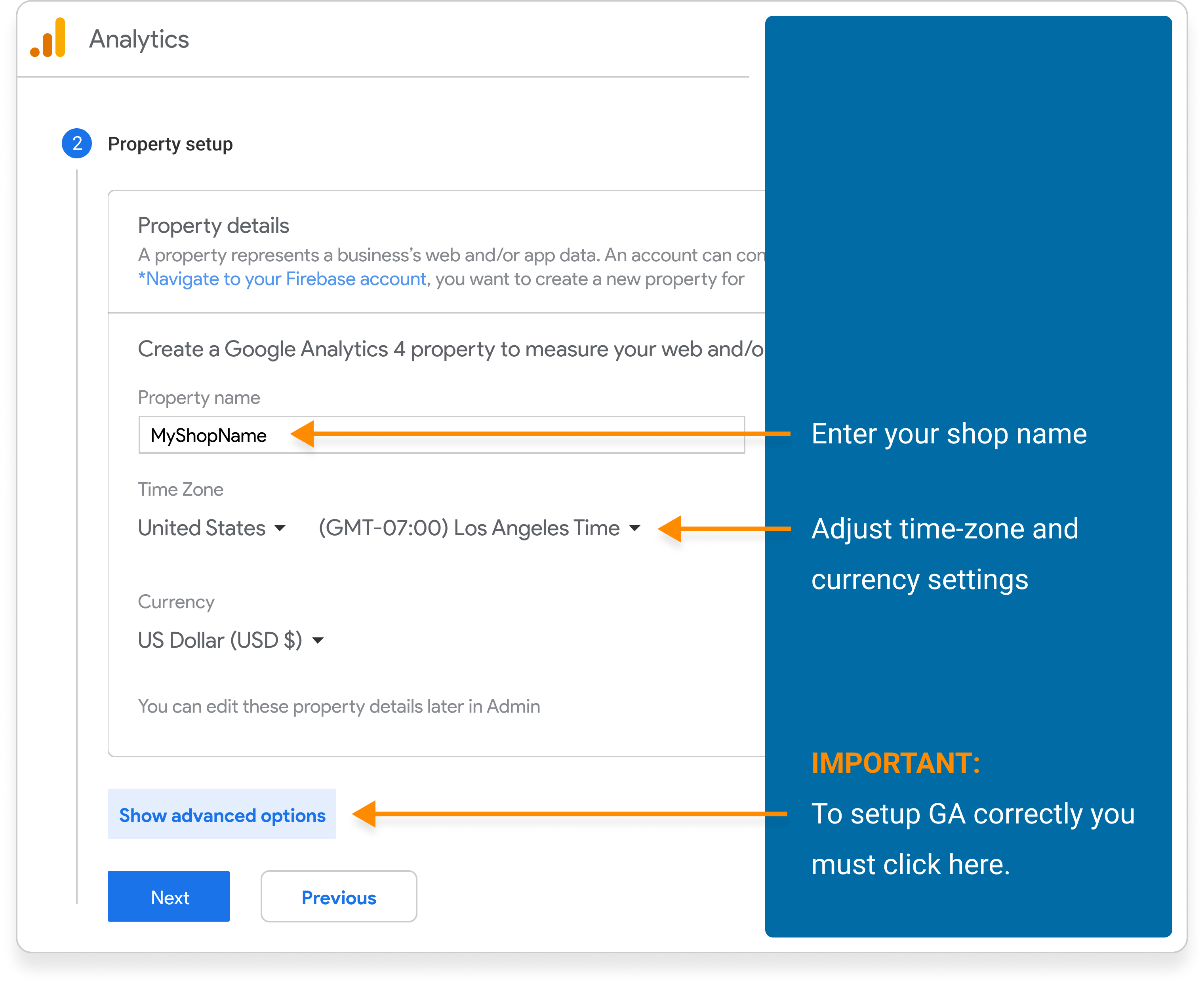 On the next screen, you need to slide the blue slider button to Create a Universal Analytics property, then enter "www.etsy.com" into the Website URL box.
Finally, select Create a Universal Analytics property only. You should see something like this: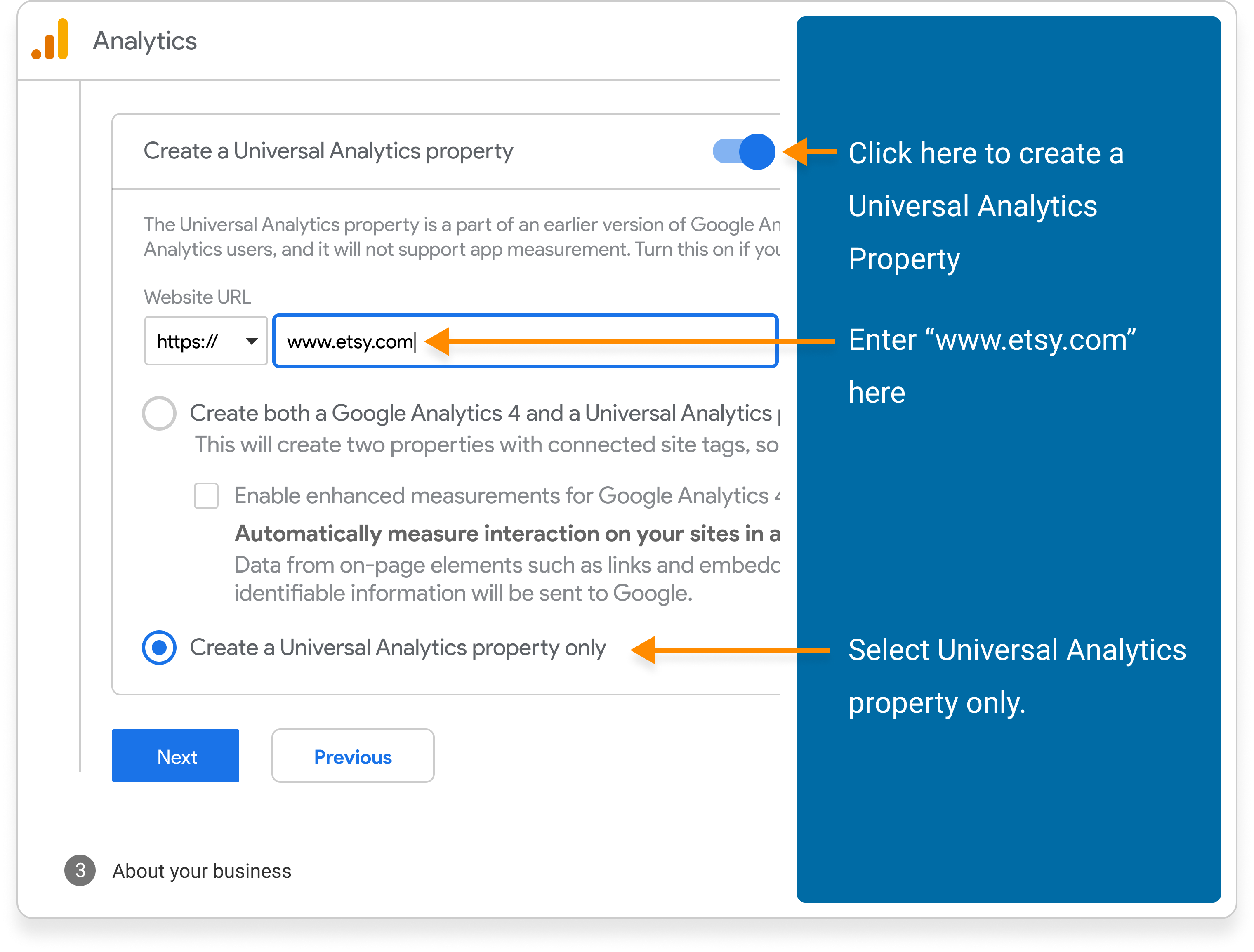 After clicking the dark blue Next button, Google will ask you for a little more information about your business. Include whatever you think is relevant, or leave it blank.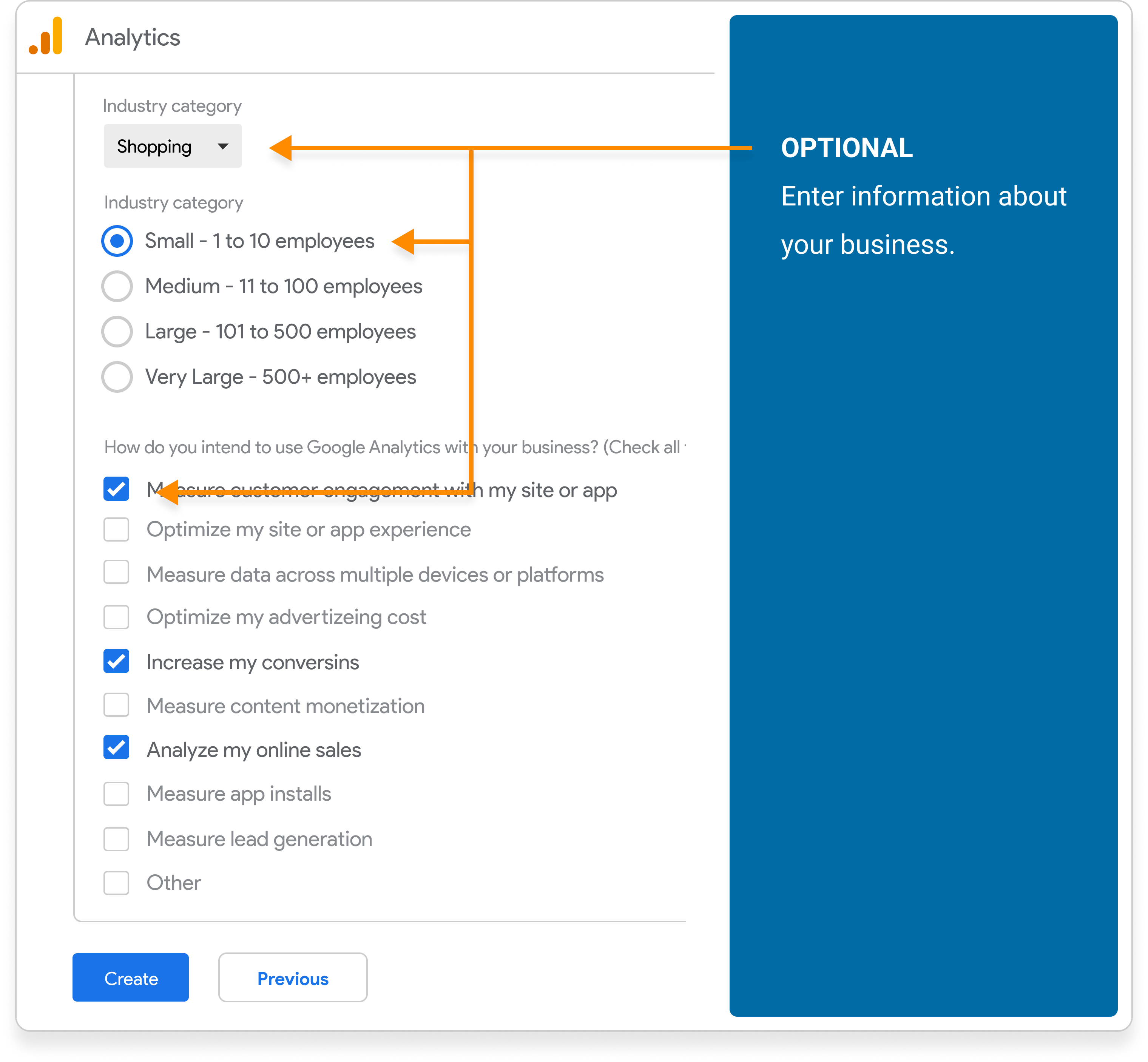 Now click the dark blue Create button.
At this point, carefully read the legal terms to which Google will ask you to agree.
The next screen you will see contains your unique Tracking ID. It looks like this: UA-123456789-1. You should write this down as you will need to use it in a few minutes.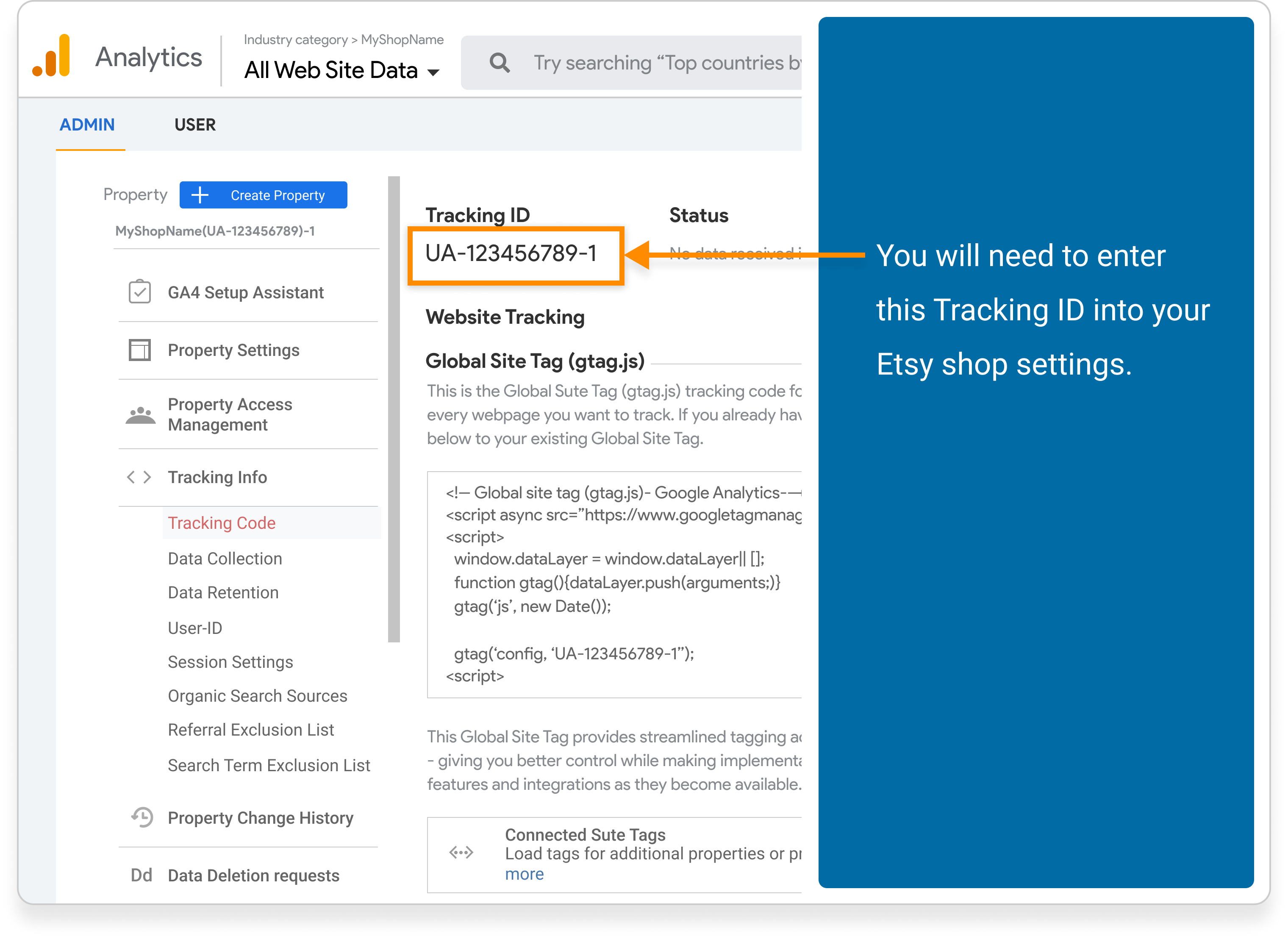 IMPORTANT: You should never share your Tracking ID with your other shops or websites. 
If you have multiple shops, you should click the dark blue "Create Property" button (left side menu) and get a separate Tracking ID for your other shop(s).
Step 2: How to configure Google Analytics the correct way
Now that you have created your Google Analytics account, it is time to configure it.
As mentioned above, most people don't configure Google Analytics correctly. Yep, even Etsy skipped this vital step in the Seller Handbook!
While you have GA open in your browser, you must configure it correctly in order to get rich keyword reporting for your shop.
Important! DO NOT SKIP THESE STEPS:
1. Click on the settings icon in the bottom left corner.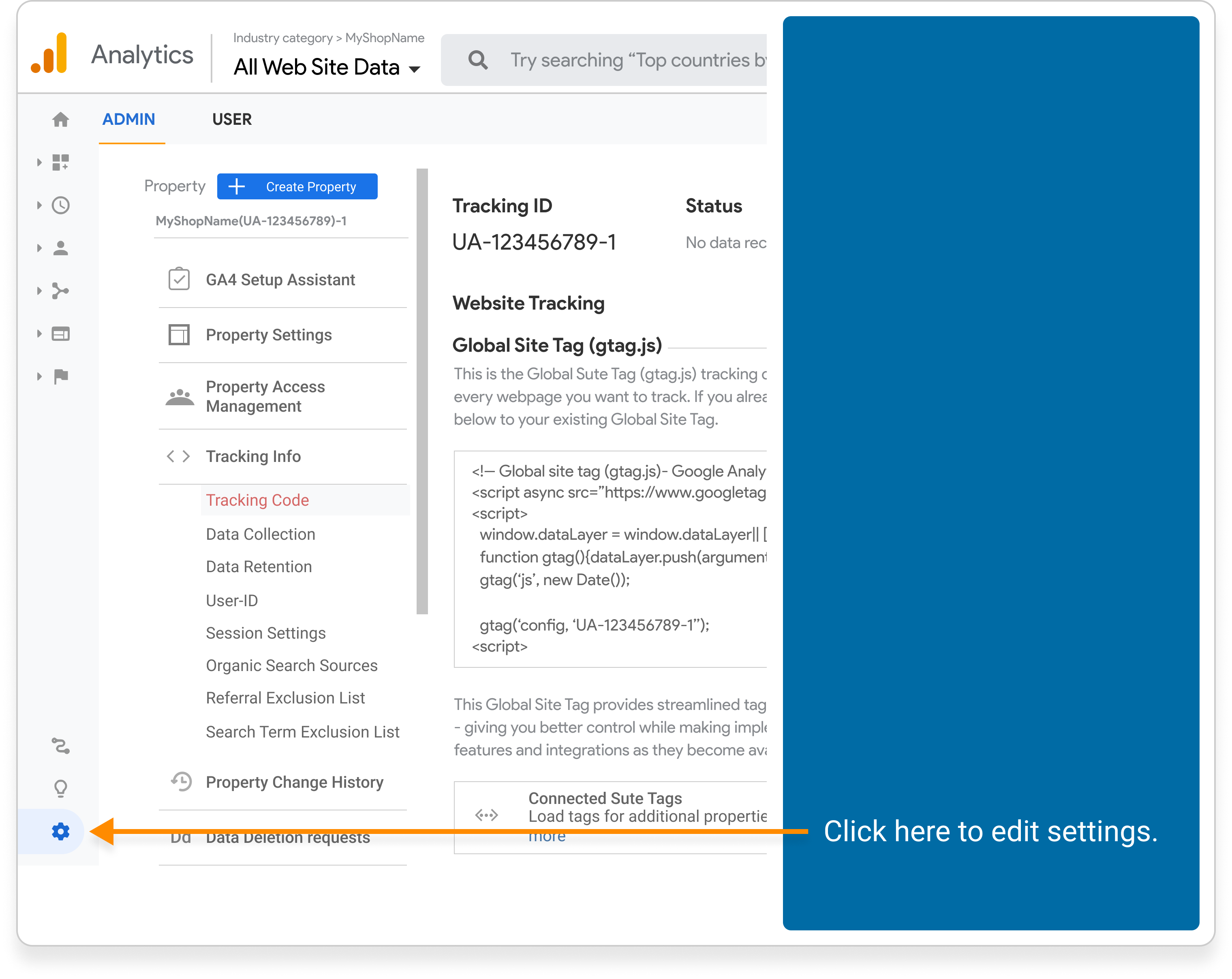 2. Click on the View Settings option in the right column.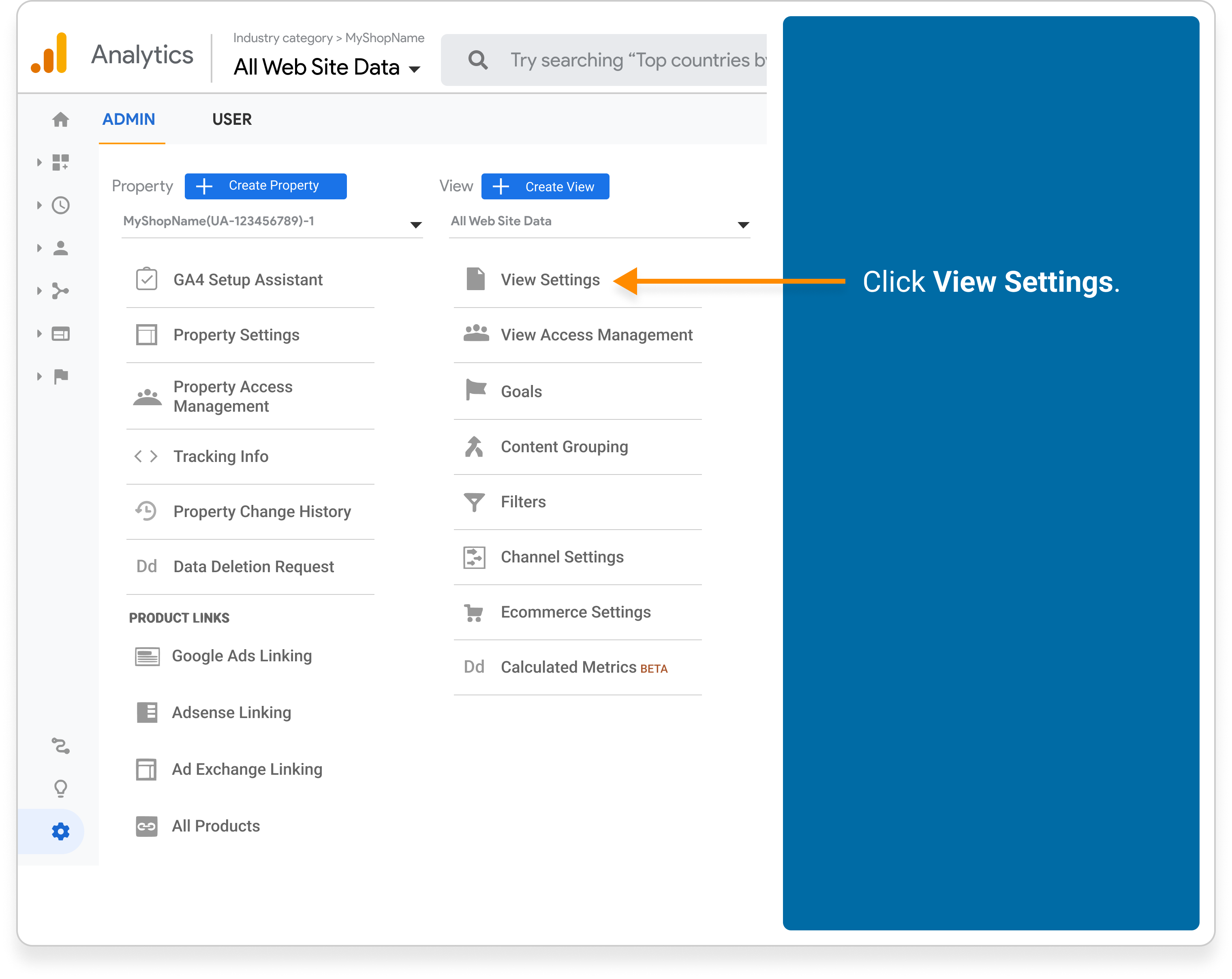 3. Enable Site search Tracking.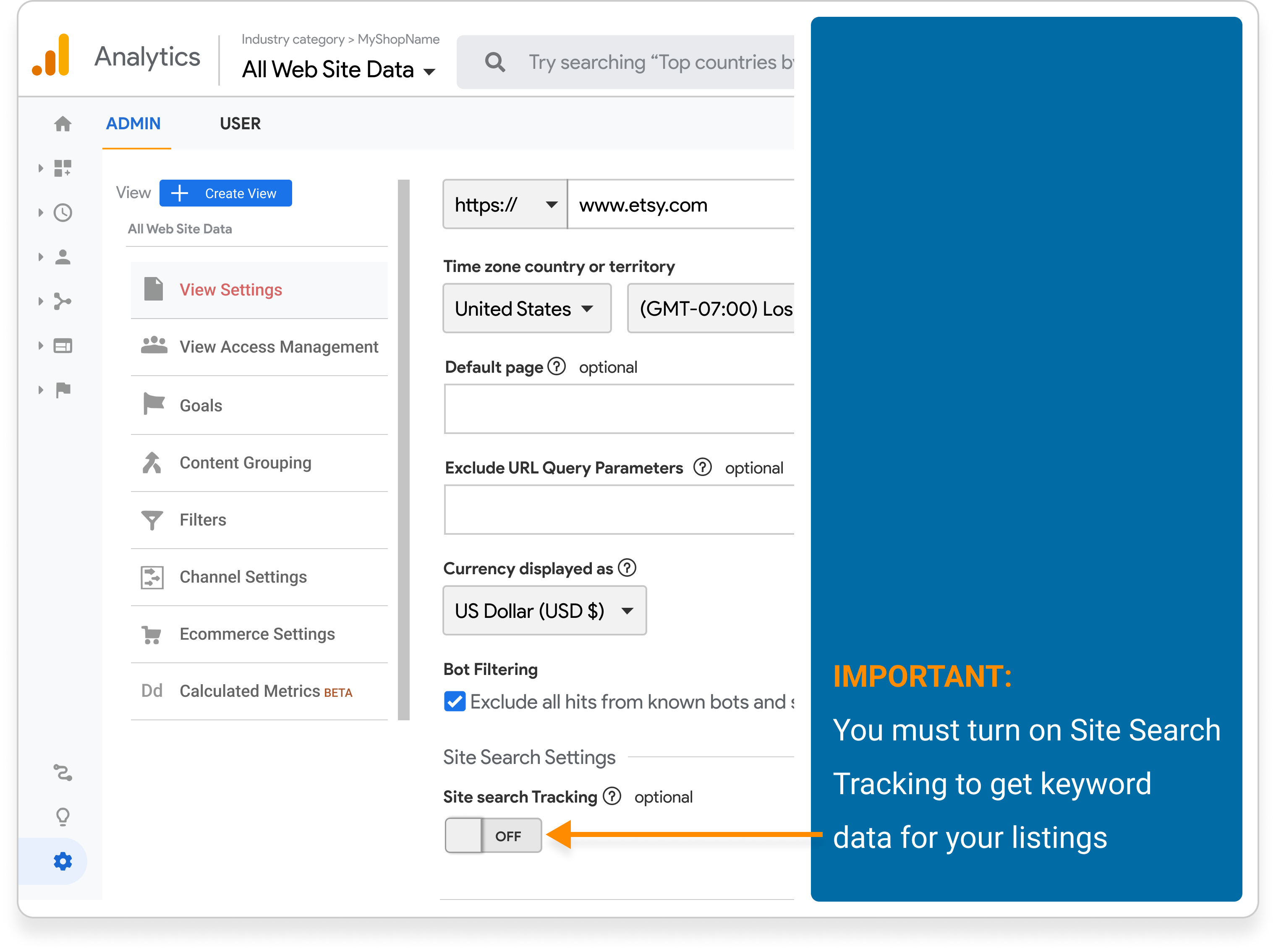 4. Lastly, and most importantly, in the "Query parameter" box, make sure you enter ga_search_query. This helps Google Analytics to identify the keywords that shoppers use to find your listings.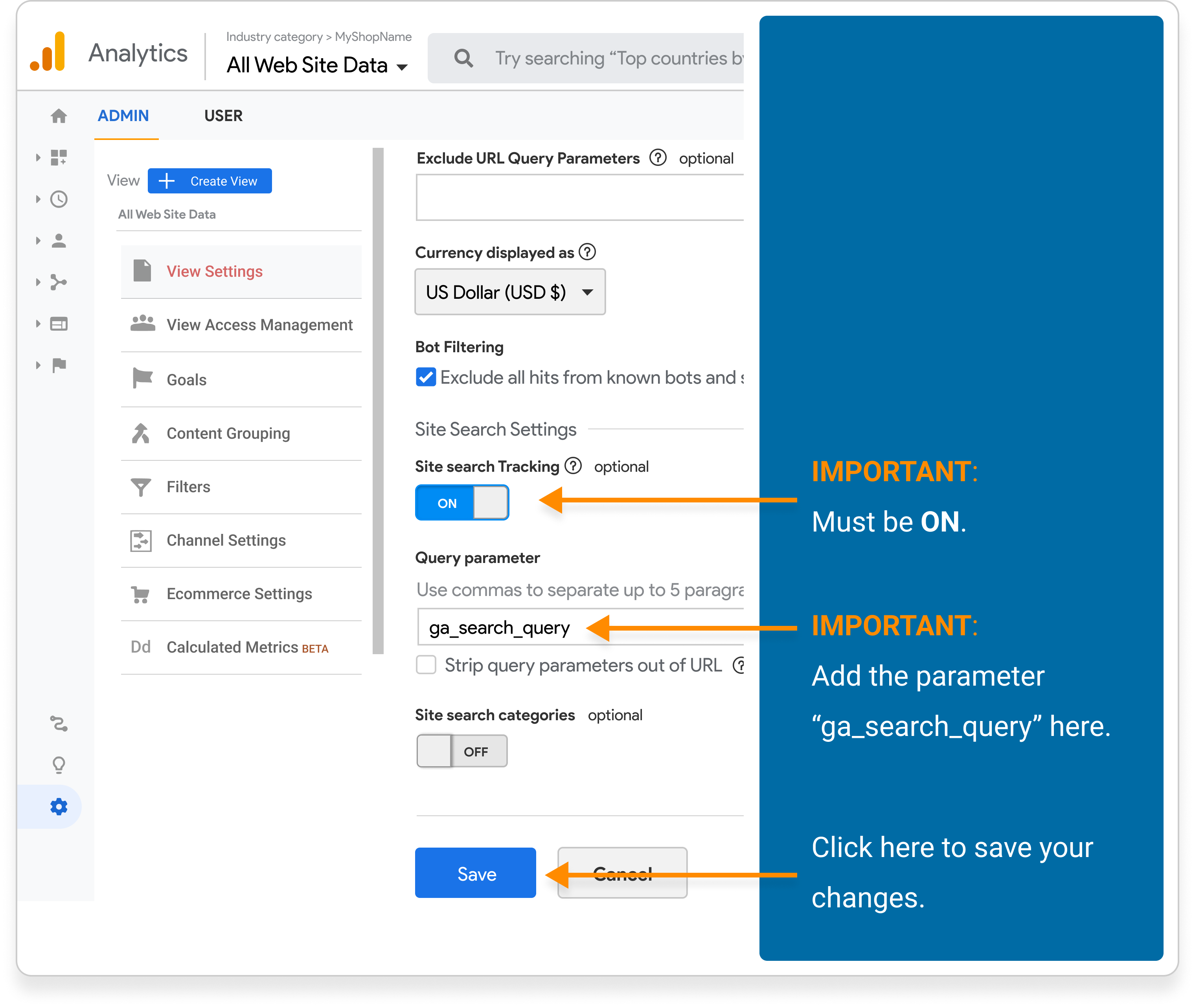 Now that your Google Analytics account is configured correctly, you can proceed to adding your Tracking ID to your Etsy shop settings.
Step 3: How to add your Google Analytics Tracking ID to your Etsy shop
This is the easy part!
Go to your Etsy Shop Manager, click on Settings, then Options, then the Web Analytics tab.
Or, you can click on this shortcut:  https://www.etsy.com/your/shops/me/analytics
In the Web Property ID box, enter your Google Analytics Tracking ID (it will look something like this: UA-123456789-1).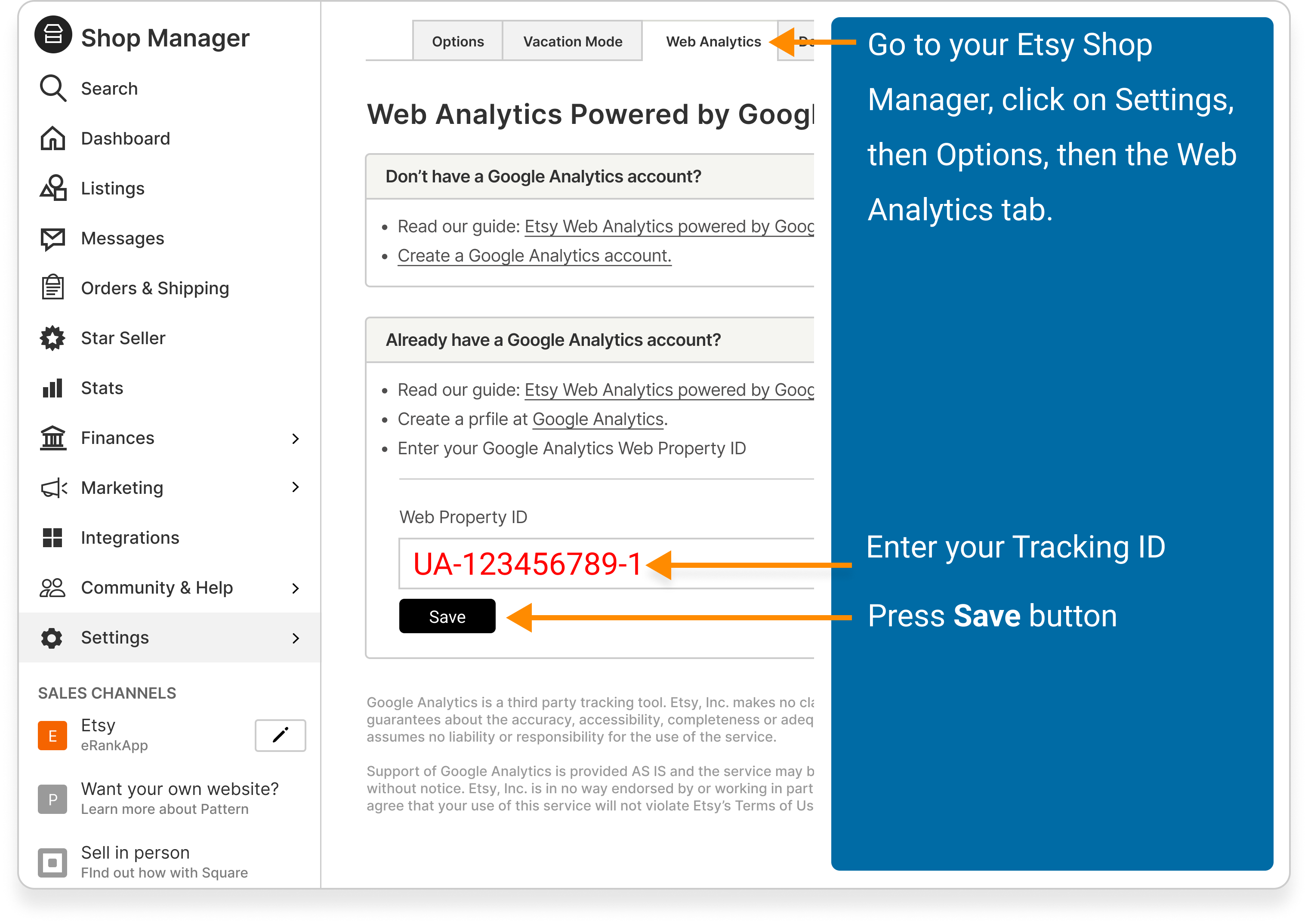 Click that black Save button and yay, you're done!
Testing
To test whether Google Analytics is tracking the people looking at listings in your Etsy shop, do the following:
1. Click on the Home icon in GA.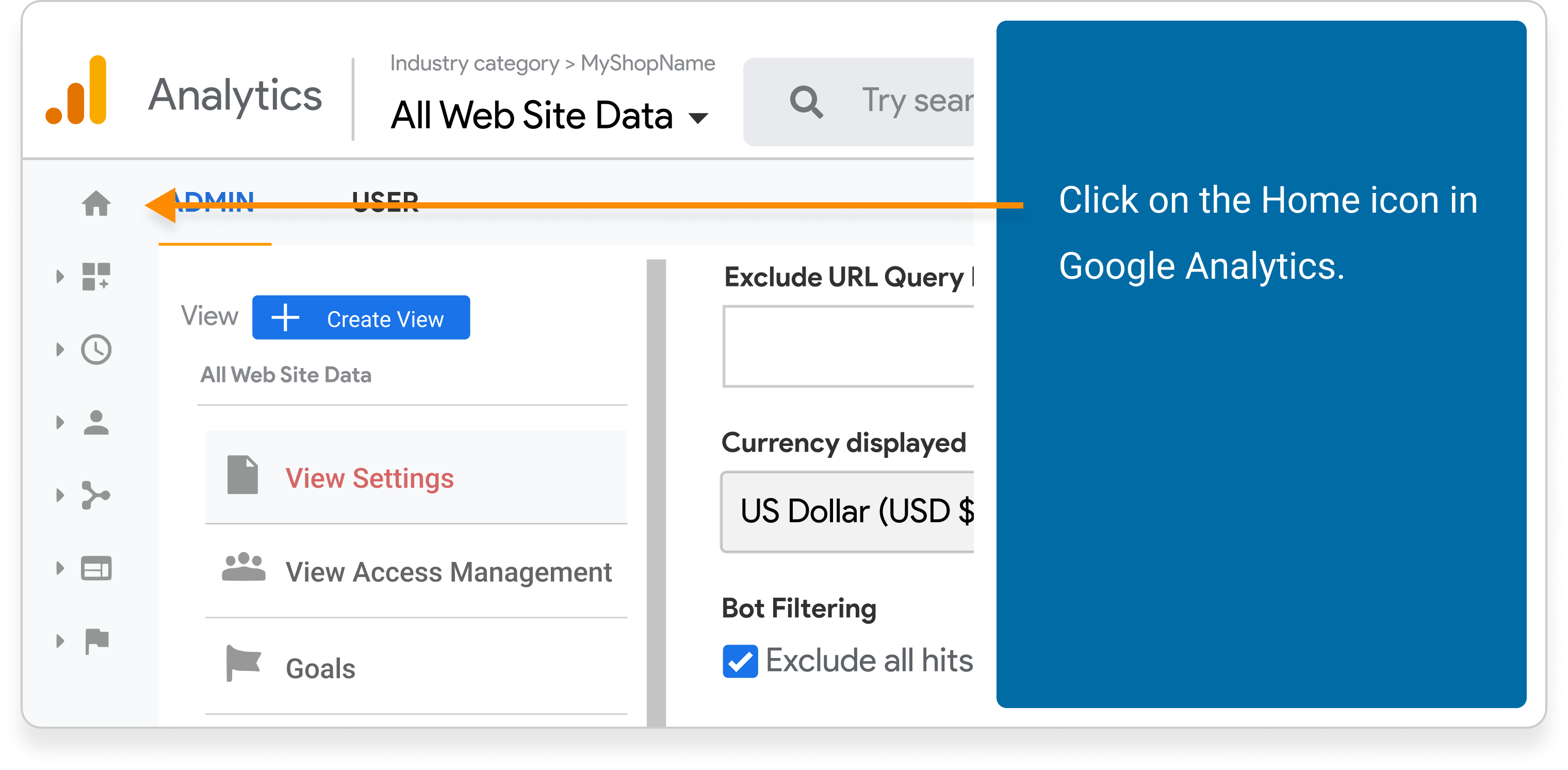 2. Open a new tab in your browser and go to your Etsy shop. Click on one or two of your listings.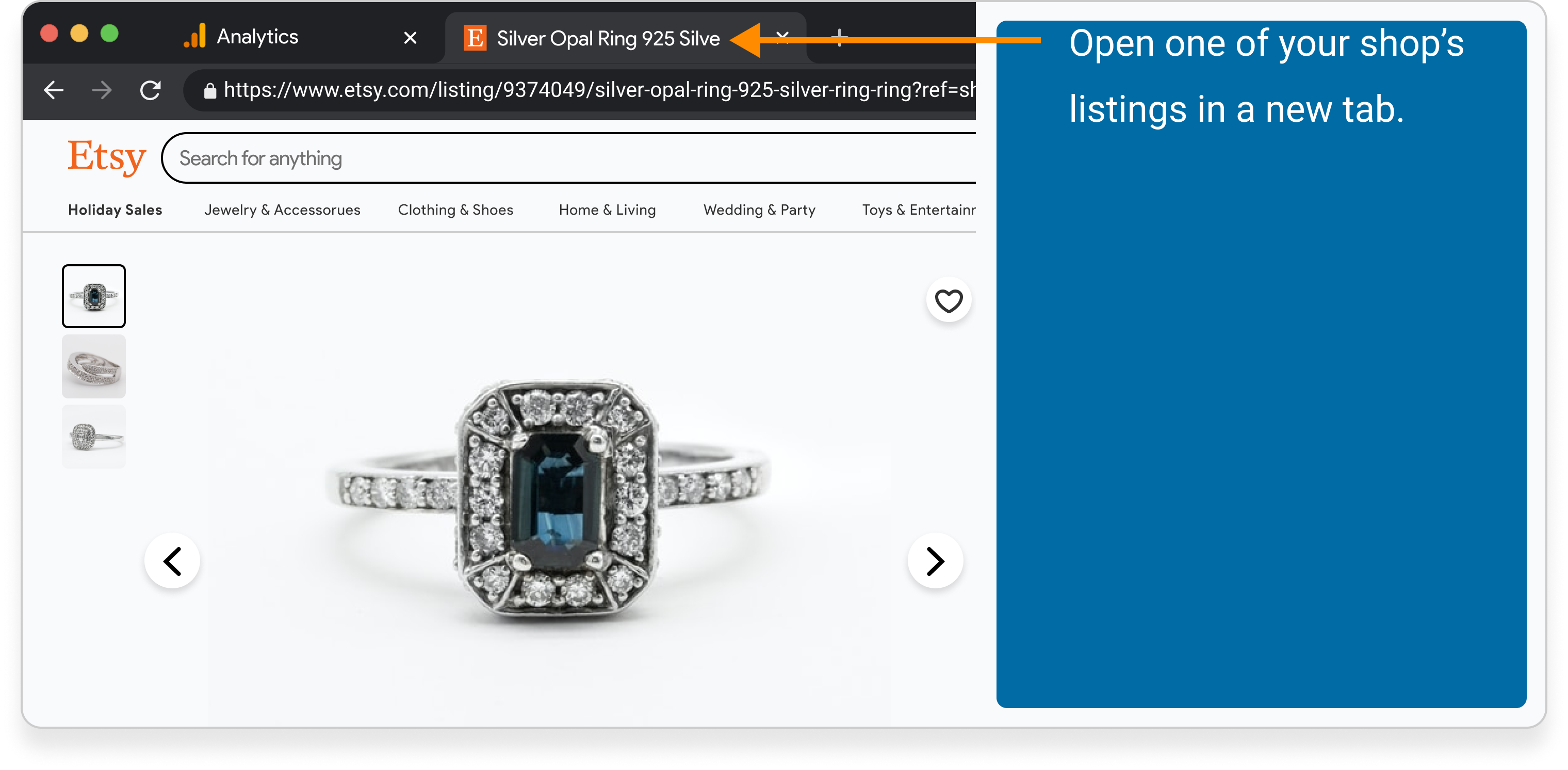 3. Go back to the Google Analytics tab. After a few seconds about 5 minutes, if you see a big "1" in the blue Active Users section then your test has worked and GA is now set up correctly for you.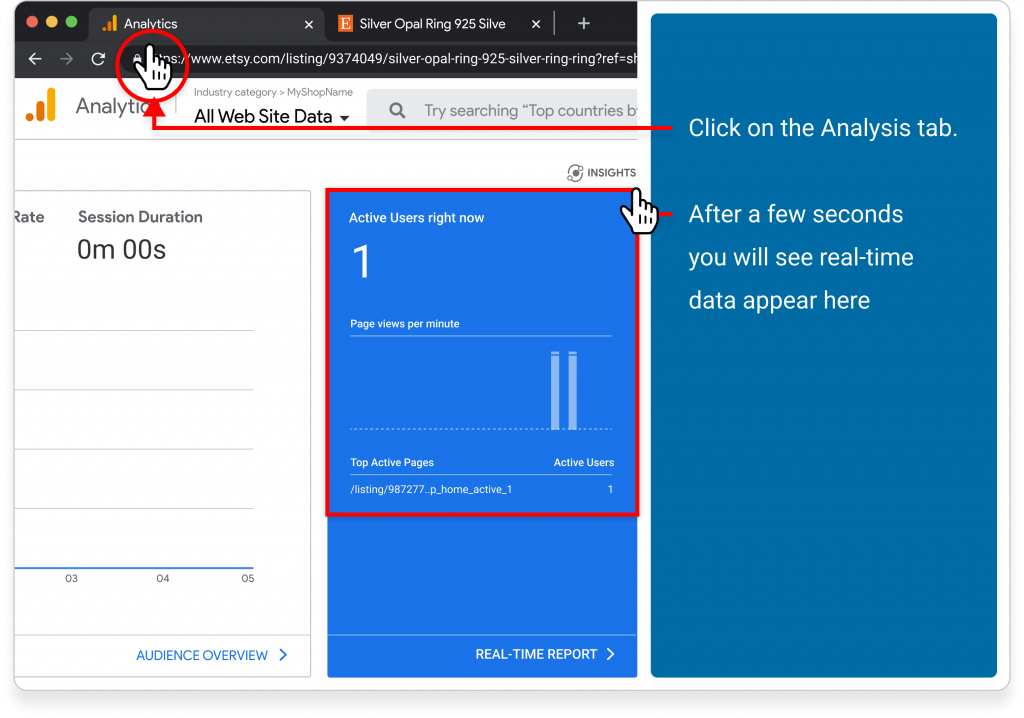 Keyword Reports
All sellers who take Etsy SEO seriously want to know what keywords are bringing buyers to each of their listings. To see the keyword reports, do the following:
Open the Behavior menu.
Open the Site Search submenu.
Click on the Overview menu item.
Below is an example of the kind of information you will see. Don't worry if you have no data yet. Just come back again after a day or two.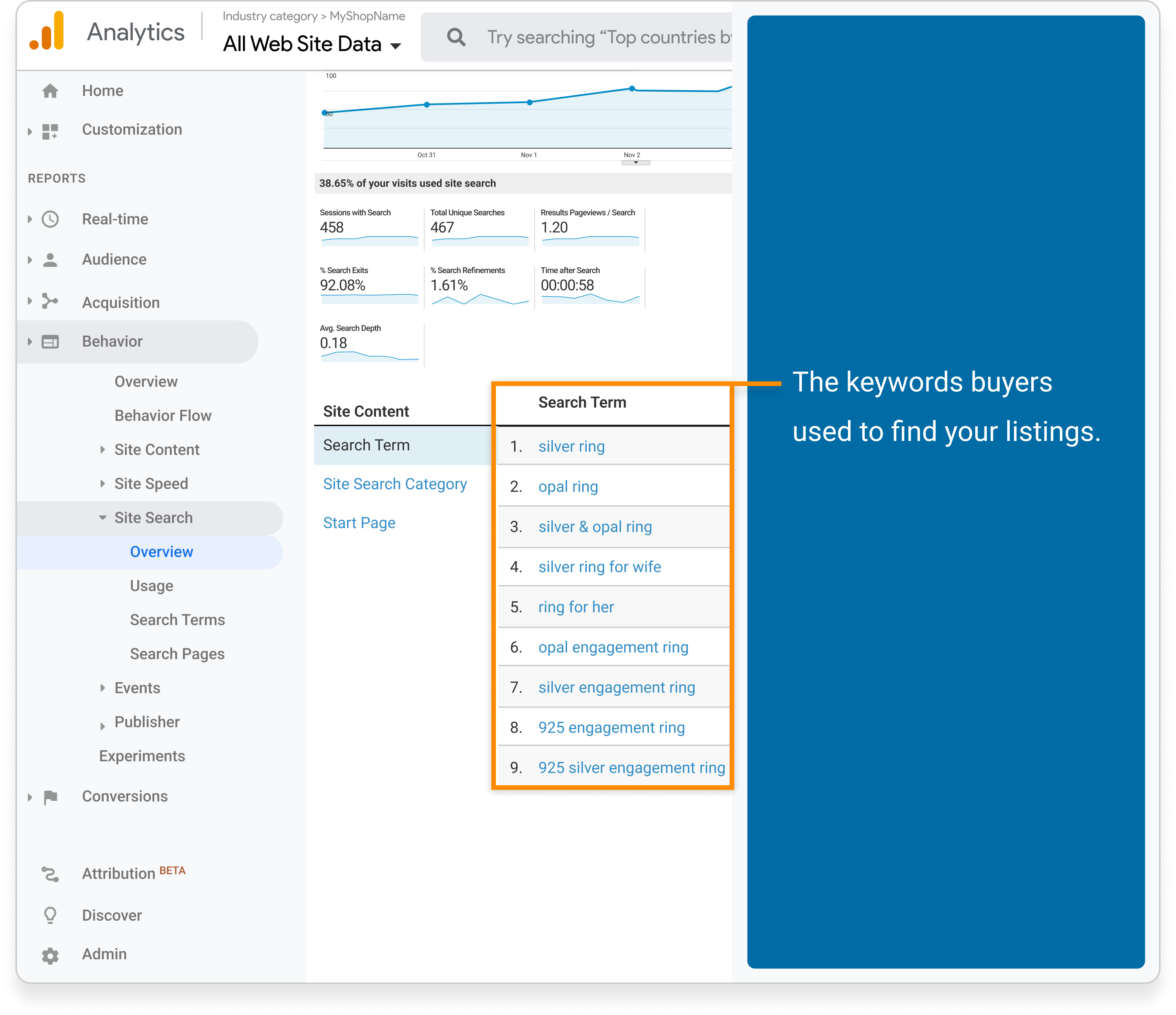 Google Analytics cannot retroactively fetch your keyword data. Google Analytics only starts tracking your visitors from the day you set it up. 
In the screen above, you will see the most popular search terms for the past week. After you have been running Google Analytics tracking for a while, you will be able to change the time frame.
Still confused about using Google Analytics?
You can now connect your Google Analytics account to eRank and get easy access to your most important Traffic Stats. Learn how to Connect Google Analytics to eRank.
Available Translations
En français – https://help.erank.com/blog-fr/comment-configurer-google-analytics-pour-votre-boutique-etsy/