Publication date: July 27th, 2023
Reading time: 6 minutes
Want to increase your Etsy sales? Halloween is HUGE on Etsy! For both the #MakeHalloween365 fans, and for those who only celebrate it once a year. By adding Halloween-related items to your product line, you can attract a wider range of shoppers. And that in turn should help you sell more on Etsy. So today, let's talk about how to get you a piece of that Halloween market!
First step: identify trends (learn what's in demand)
To break into that sweet, sweet Halloween market, first identify what trends in September and October. eRank's Monthly Trends tool is perfect for this.

As shown above, you can choose to view results by date. Here, we selected October 2022. And of course, the keyword "halloween" was the top Etsy search overall in October. But when we moused over that keyword's Trend Graph, we learned September 2022's search volume was even higher. Close to half million searches – and that illustrates why you should jump on this train!
Next, let's look at what this same report shows us when we select the Halloween category from the side menu.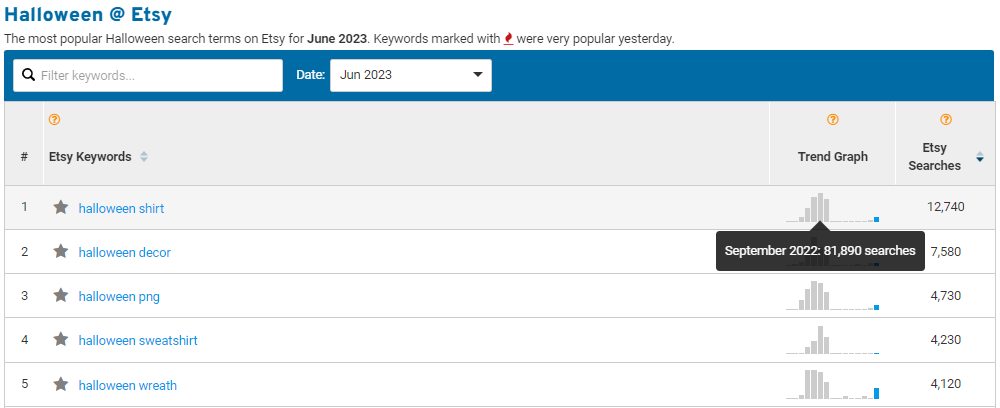 We chose to view June 2023 (the most recent full month of data at the time of this writing). And even we data geeks here at eRank were surprised! Already, there were 12,740 searches for the keyword "halloween shirt." And the pop-up shows us that at its 15-mo peak, September 2022, this keyword was used in 81,890 Etsy shopper searches. That's a whopping 542% increase!
Block Quote: eRank's Monthly Trends tool is perfect for discovering what products are trending and when
Start a keyword list
Next, we reverted our Monthly Trends report back to the Etsy-ALL category, filtered by "halloween" and Sep 2022 for month. We found twelve searches in the Etsy Top 100. The top one was the broad keyword, "halloween." Three searches were for apparel, and two more were costumes. Three were related to decor and decorations. Two were jewelry. And one was digital: halloween svg.
So, if you want to increase your Etsy sales, listing Halloween items in any of those categories would be smart. Create a Halloween Keyword List and start saving searches in any of the categories in which you sell. (Your Keyword List will keep the data updated for you.)
Wherever else you are on the web, be on the alert for emerging Halloween trends and ideas for new products. Remember: if your goal is to increase sales, it's much easier to start by identifying a product shoppers want, and then make that. And it's much harder to make shoppers want what you've got if it's not in demand. So, if you want to sell more on Etsy, begin by researching what's in demand.
Brainstorm new product ideas
Keyword research helps you identify demand. Once you've got a list of keywords going, the next step is product research. Will your existing product categories work for Halloween gear? Or do you want to expand into adjacent niches? Brainstorm ideas that complement your existing brand aesthetic while adding a spooky new twist.
Let's say you already make earrings. Last September, "halloween earrings" had 35,800 searches on Etsy. Or do you do Print On Demand? "Halloween sweatshirt" had 92,900 searches!
"Halloween adult costume" had 67,870 searches. You don't need to offer an entire costume! Maybe identify what the top characters will be this year, and make just the headpiece, belt, or cloak.
But be mindful of intellectual property. While you're brainstorming, consider whether you can list your item without using a character's or game name. Even your product image alone can infringe. If any fandom member would readily recognize your item as being from that world, best not to list it! There is plenty else to sell.
Think about Halloween themes. They range from gothic to kawaii. You want to identify what's in demand, but also try to spot gaps in the market. Say, eco-friendly options. Be sure to research keywords while brainstorming to see what searches your product could rank for. This brainstorming process will help you generate a list of potential product ideas to explore further.
Next, research and source supplies
If your expanded product line requires sourcing new materials or suppliers, invest time early on in finding reliable sources. Seek out suppliers who align with your values and provide quality materials. Be sure they can meet your production needs and maintain consistency. Factor adequate time to acquire and test any new materials well ahead of peak Halloween shopping season.
Test the market
Before fully committing to new product ideas, it's best to test the market to gauge customer interest and demand. Can you create a limited run of the new products? Offer them off-Etsy as pre-orders to assess their popularity? Engage with your existing customer base and social media followers to gather feedback and validate your ideas.
Consider collaborating with other Etsy sellers
Know any Etsy sellers who offer complementary products? Partnering with a seller in a related niche gets you cross-promotion, joint marketing campaigns, and expanded customer reach. And by combining forces, you can offer unique bundles. For example, your Halloween-themed mug with their set of matching coasters. Or, say you make headgear that would work for a Viking costume. You could collaborate with a seller who makes Viking-style wigs and beards.
Create bundles and gift sets
Speaking of bundles, bundling related Halloween products together creates added value for customers. Gift sets can also be appealing, such as a curated box of Halloween-themed candles, bath bombs, and soaps. Bundles and gifts sets make it convenient for customers to purchase multiple items at once from you. That enhances their Etsy shopping experience while increasing your sales. Win-win!
Explore seasonal packaging and personalization
Display your Halloween spirit by incorporating seasonal packaging. Use Halloween-themed designs, colors, or labels to enhance the visual appeal of your products. A simple way to sell more on Etsy? Personalization! Consider offering custom engraving, monogramming, or adding a handwritten note to create a memorable unboxing experience.
Leverage social media and influencers
Finally, promote your expanded product line and festive packaging! Use social media platforms like Instagram, Pinterest, and TikTok. Create engaging content that showcases your new offerings. Consider whether reaching out to influencers and bloggers in the Halloween niche could work for you. Influencers can help increase brand visibility, attract new customers, and generate buzz around your products.
The gist of all this is simple, really. By expanding your Etsy product line into the Halloween niche, you absolutely can increase your Etsy sales! Because 1) Halloween is huge on Etsy. And 2) Tapping into new markets brings new customers.
By "tapping into a new market," we're referring to this process we've just outlined here. That is, identifying then going after a new target market. Because every new market you target can expand your customer base. Offer them something unique. Do your best to ensure it's a good experience. And they may very well come back year round!
RESOURCES:
eRank Monthtly Trends
https://help.erank.com/features/monthly-trends/
eRank Keyword Lists
https://help.erank.com/features/keyword-list/