Published on: January 5, 2023
Reading time: 6 minutes
Now that the new year is here, many of us are setting new goals for our shops. It's a great time to brainstorm ways to grow your business and expand your sales.
If you are a seasoned Etsy seller and wish to reach new customers, you may want to consider building a storefront on another selling platform. However, it will take some research to determine which platform is ideal for your products.
We are here to make that process a bit easier for you! Today, we will explore some useful tools that can assist you in finding the perfect alternative platform(s) for your brand. This is the first post of a two-part series. In this series, we will compare 5 different selling platforms – Etsy (as a baseline), Amazon, Poshmark, eBay, and Facebook Marketplace – and detail the pros and cons of each. Today, we will look at Etsy and one of its biggest competitors, Amazon.
Tools to help you expand your brand
eRank's new Sites features are the perfect tools for starting your research. Here are two Sites features worth checking out:
Marketplace Popularity: use this feature to view the relative popularity of various marketplaces. Compare the popularity of different selling platforms in different parts of the world and find the one that will work best for your brand. Click any marketplace to open our Site Info tool and learn more about that platform.

Compare Sites: use this feature to compare traffic statistics of different marketplaces. View historical rankings, popularity metrics, and traffic sources. Save lists of sites of interest to continue monitoring. This feature makes it easy to view how Etsy's stats measure up to other selling platforms'.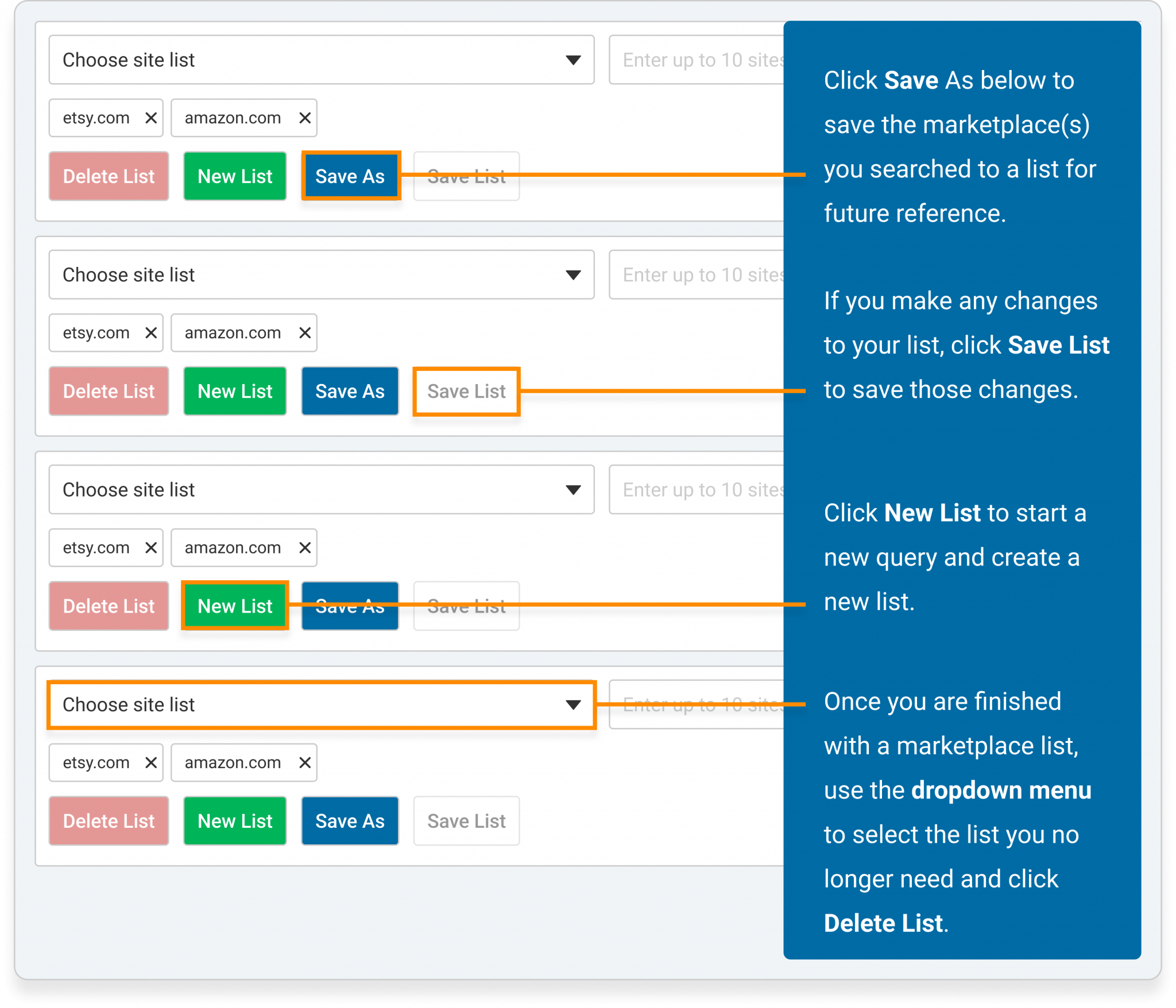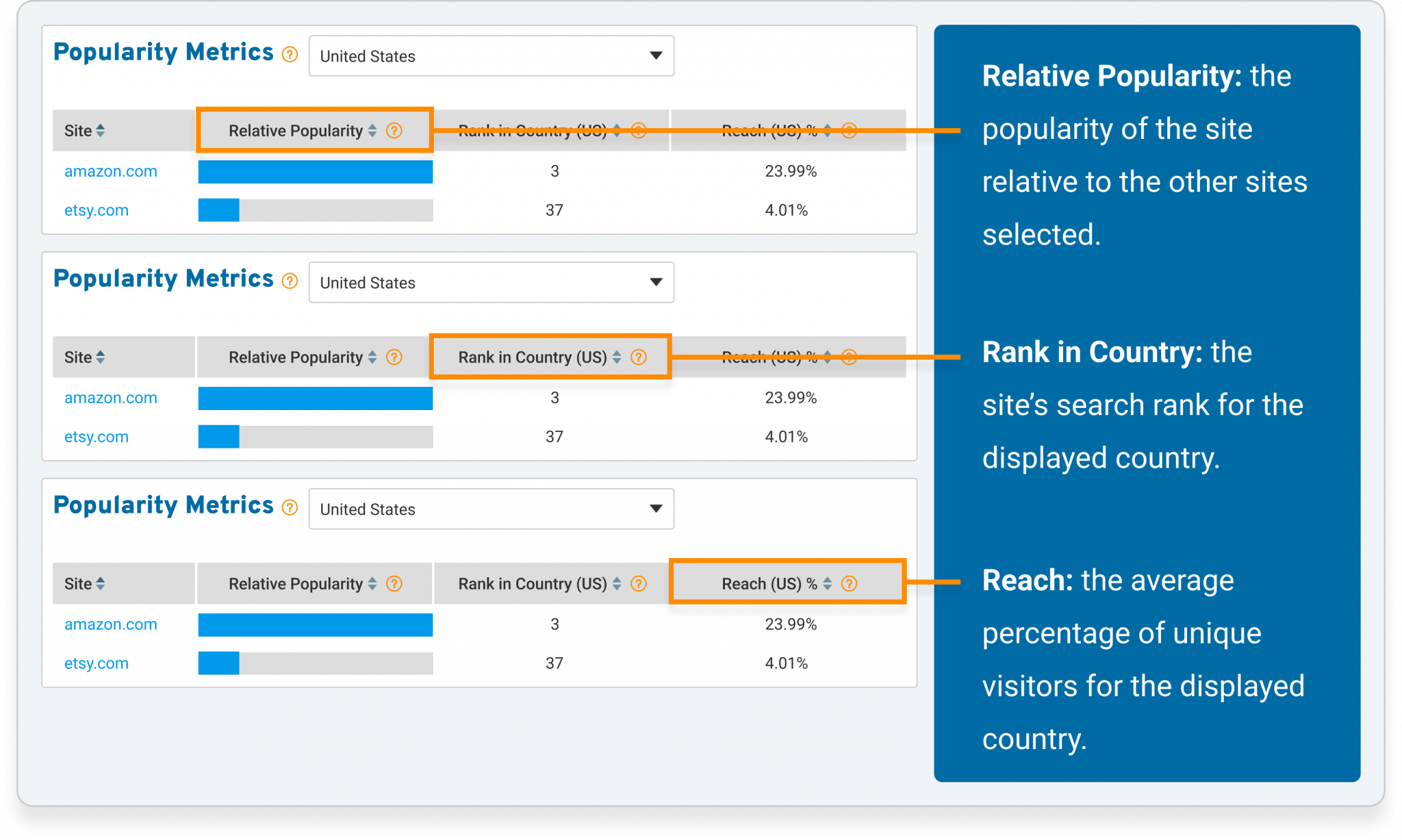 Etsy
Etsy, the platform we all know and love. Established in 2005, Etsy is the most popular marketplace for handmade goods. Known for its relatively low seller fees, Etsy is the ideal place to start if you've just started your handmade business. Building your shop is free (although you can subscribe to Etsy Plus for $10 USD a month if you wish and receive access to some perks, including a customized web address), which makes it easy for beginners to set up shop and start making sales.
Unfortunately, marketplaces with low or no barriers to entry, such as Etsy, do not come without their downfalls. With so many sellers on the platform, you may open shop only to find that your brand's niche has already been saturated. This can make it very difficult to get your shop's listings to the front page in search results. You can try giving your listings a boost with Etsy's pay-per-click ads, but your return on investment will vary throughout the year.
Another potential disadvantage of Etsy is that, while seller fees may be relatively low compared to fees on other selling platforms, the fee structure may be difficult to understand at first. For each item you sell, you will pay 6.5% of its revenue to Etsy as a "transaction fee." In addition to this, you will be charged a $0.20 USD "listing fee" for each item you list in your shop. That fee recurs each time a listing is sold, or when you renew it (unsold listings expire after four months). Finally, you will be charged a "payment processing fee" for each item purchased by a customer through Etsy Payments. This sum of this fee depends on the location of your bank account. For example, sellers with bank accounts located in the United States will be charged a payment processing fee of 3%, plus an additional $0.25 USD, for each item purchased through Etsy Payments.
Etsy is a great starting point if you sell handmade goods. However, if you want to continue growing your business, there is a good chance that you will need to branch out to additional platforms in the future.
Amazon
Amazon is one of the world's most popular online marketplaces. Naturally, this is very advantageous for sellers on the platform. Shipping to over 100 countries and regions, Amazon gives sellers the capability to build a customer base across the globe. Designated merchandise categories, such as Handmade and Merch on Demand, let you target specific demographics.
Jay De Souza, business coach and owner of Aged to Perfection, has been self-employed for over a decade and currently sells age-themed "birthday shirts" via Amazon Merch on Demand. While De Souza says that his shop can't really be considered a "passive" stream of income, since he needs to upload new designs every few months to continue driving traffic, it is definitely "way more passive than Etsy." Since many Etsy sellers find that they need to log into their shop and work on a daily basis, an additional storefront that only requires attention every few months may prove to be a worthwhile source of income.
With Amazon Merch on Demand, your customers won't have to wait as long as they would if their items were being shipped from a standard print-on-demand production partner. "(Amazon Merch on Demand) even ships Prime – That's something you can't even begin to come close to with POD," De Souza says. Amazon Prime offers two-day and even next-day delivery to many customers.
There are no selling fees (or "referral fees," as Amazon calls them) with Amazon Merch on Demand, since sellers are paid royalties. However, other sellers will be charged a referral fee for every item sold. This fee is usually between 8 and 15% of that product's revenue, but depends on how the product is categorized.
Unfortunately, Amazon's wide reach also makes it prone to niche saturation. This can make the platform unappealing to those who sell products that belong to more popular niches. To combat this, De Souza's primary "golden rule" on this platform is to "niche down now. If you try to sell…something to everyone, you'll end up selling nothing to anyone unless you list thousands of items and dump just as much money into advertising." When you cater your items to a specific niche, you're able to garner a strong customer base that is passionate about what you have to offer.
Amazon is also a trap for those who are prone to making impulsive purchases. What does this mean for you, the seller? Expect the majority of your customers to make their purchasing decisions based solely on your listings' photos. They will more than likely skip reading the body of the listing. Therefore, it's important to put as much information as possible in your images (you can add up to 9 images to each listing). This may not be ideal if you sell products that require the user to read detailed instructions before they can successfully use them.
Amazon might work for you if you sell simple, user-friendly products. Still, getting your listings to the front page in search results will likely be challenging.
Conclusion
Selling on other platforms, in addition to Etsy, is a great idea if you're trying to grow your business. By creating a presence for your brand in a variety of marketplaces, you can build a wider customer base. This can help you rake in those sales. If you are considering using Amazon to create an additional stream of income, we hope this information is helpful to you. In the next post, we will compare Poshmark, eBay, and Facebook Marketplace. These platforms may be more ideal for those who wish to create an additional stream of income selling second-hand or vintage goods.
Happy New Year from eRank!
RESOURCES
How to Prepare Your Etsy Shop for 2023 – eRank Blog
Analytics for Top Websites – eRank Blog