Reading time: 5 minutes
If you're an international seller on Etsy, can eRank work for you too? An understandable question, especially if you have seen eRank data like that shown below. Its stats for average searches, clicks, and CTR (click through rate) are all based on shoppers in the US. Have you ever wondered why? And whether you can get data for your own country? Is US data relevant for Etsy sellers outside the US? And if so, how can you use it?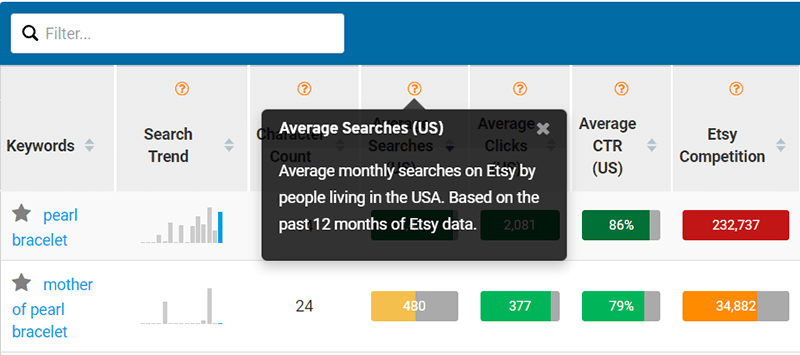 Let's start with why some data is drawn exclusively from US shopper behavior. The reason is simple. It's because Etsy has so many more buyers in the States than in the rest of the world. Therefore, there's just more data for the United States. And where there are larger amounts of data, eRank can provide you with more accurate and meaningful results.
What about customer data from international Etsy sellers' own countries?
We've got good news for you! Etsy continues to grow worldwide. Especially with its advertising campaigns in countries such as the UK and Germany. This means it's getting more data all the time, which enables eRank to supply you with more accurate data. And we're committed to adding more data to help Etsy sellers outside the US as soon as we can! Currently, here are two places to look on eRank for data from non-US countries.
Trending on Etsy
This Dashboard feature shows you the top keywords that buyers have been typing into Etsy search in the past week in the US, UK, Canada, Australia, Germany, and France. They are right now the largest markets Etsy serves.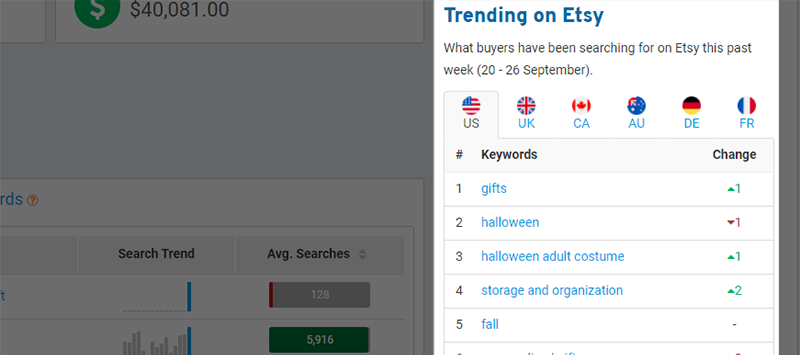 Keyword Tool
In the Keyword Tool, you will see this pie chart. It shows the countries where eRank found buyers searching for a given keyword (in this case, bracelet).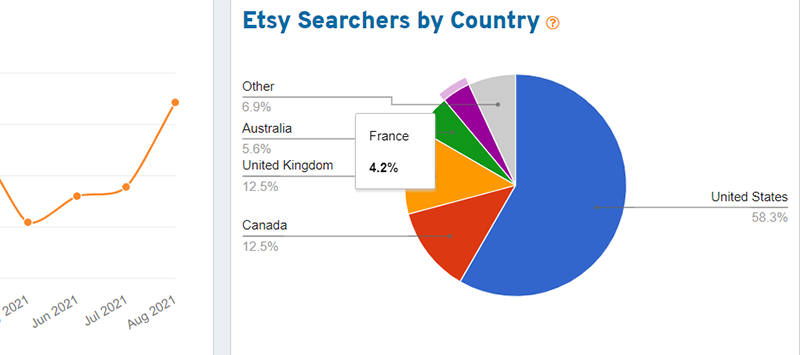 Countries you might see appear here: Australia, Canada, France, Germany, Greece, Ireland, Italy, The Netherlands, New Zealand, Poland, Spain, Sweden, UK, US and more, depending on the search term.
So, is the rest of this data useful to international Etsy sellers?
Yes, we believe so. Most of us here at eRank are Etsy sellers ourselves, and some of us are international sellers just like you. We've been able to use eRank to grow our shops for years – even before eRank had data from other countries. How? Because in much of the world, style trends cross borders. Especially fashion trends, but many others, too.
This is because designers and buyers are communicating across the world. Trends from slime to cottagecore traveled the globe. And Etsy itself features trending styles in mail-outs, blogs, and social media. This helps sellers all over the world spot similar trends in their own countries.
How can Etsy sellers outside the US use this data?
For any of eRank's keyword tools, the results are just suggestions. They are starting places for you to begin experimenting with your listings. You need to use common sense, experience, and your past results to find and test potential keywords. The keywords you find are a great starting place, but you also have considerable local knowledge! For example, autumn or fall? Jumper or sweater or pullover? If the American term is trending, you could perhaps try the local version and see if that works for your customers.
Do consider synonyms and regional phrases. If shoppers use regional spellings like jewellery in their search, we'll still show them listings tagged "Jewelry." However, we don't account for some regional phrases. For example, if you sell flip flops and a lot of your customers are in Australia searching for "thong sandals," you should add "thong sandals" to your tags.

From the Etsy Seller Handbook article, "Keywords 101: Everything You Need to Know
And also, the same holidays might be elsewhere on the calendar depending on your country. This can give you a head start! For instance, Mother's Day is celebrated on different dates in parts of the world. In the UK, it's much earlier than the US. So, you could look at the Search Trend graph results for "mothers days" in Keyword Explorer.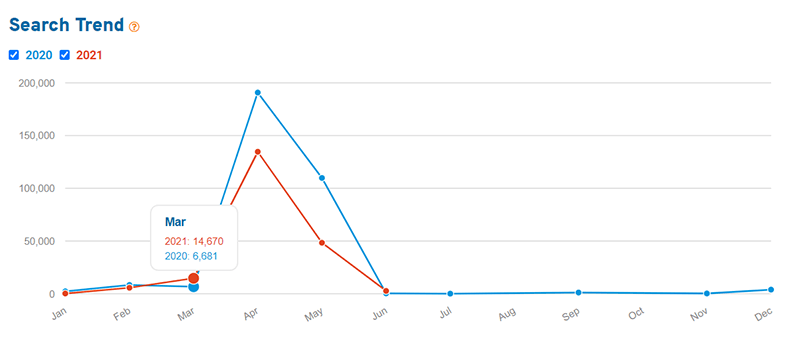 In America, Mother's Day is celebrated on the second Sunday in May. Figure out how much in advance of the date that customers first begin searching. As the pop-up above indicates, that's in March. Then extrapolate back to the earlier date in the UK. There, Mother's Day is always three weeks before Easter Sunday, so start adding Mother's Day items at least two months before. That way, you can get ahead of the trend for UK purchases. Hopefully, this will result in a good number of sales in the UK. And thereby, your shop will already be ranking for the keyword "mother's day" by the time it comes around in the US!
Given that Etsy is so much bigger in the US, consider selling to the US as well. For that, finding out the mixture of keywords that are going to work for US customers is helpful. For instance, if you're in the UK and selling a wooly jumper, have "wool sweater" in one of your tags, too.
Now, some inspiration from your fellow international Etsy Sellers
Here is eRank's Top Sellers report. Ranked by sales volume, this displays Etsy's Top 100 shops. On the left are the shops that have sold the all-time most items on Etsy. On the right, those that sold the most yesterday (at the time of this writing). Two shops from Turkey and one from Great Britain are in the all-time Top 10; one from Korea ranks 14th, and one from Canada is 17th. For most sales yesterday, shops from Turkey, Great Britain, Canada, and Ukraine all made the Top 21. Congrats all around!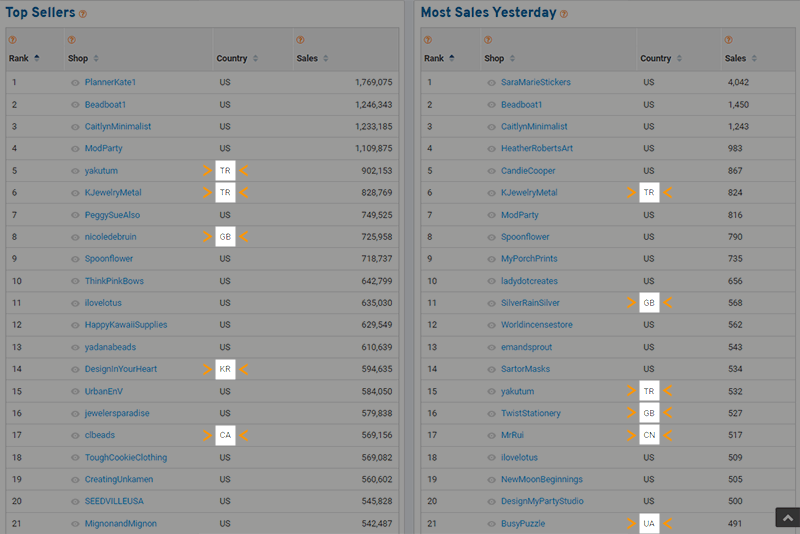 You can filter this data by category, or by year they opened, or by country. And for some extra motivation, you can also choose to see where your shop ranks.
Hope this helps! Like to connect with your fellow international Etsy sellers? You'll find many in eRank's private Facebook community. Feel free to join us there to ask questions, compare notes, and get support. Every Thursday we have a live Q&A, but questions are welcomed any time.
RESOURCES
The content of this article is also available as a video on eRank's YouTube channel. Watch it here: Can You Use eRank for Etsy If You Don't Live in the US?
Etsy Seller Handbook article, "6 Ways Etsy is Helping Sellers Outside the US Grow This Christmas Season"
Etsy Seller Handbook article, "Keywords 101: Everything You Need To Know"
Here are the eRank tools and features mentioned in this article. Click to read about what they offer