Wondering what the top shopper searches were on eBay in October 2023? We data geeks at eRank are here to take the guesswork out of your eBay SEO. We'll show you the most popular search terms with eBay shoppers. Then we'll analyze what these trending keywords tell us about what's selling best on eBay now.
Reading time: 12 minutes
Tip: See what the most searched keywords on eBay were yesterday (or last week, or for the past thirty days), as well as on dozens of other marketplaces like Etsy, Amazon, and Google Shopping.
And if you'd rather have this content in video form, here it is on eRank's YouTube channel!
October's Top 20 eBay keywords 
ps5
iphone
pokemon
laptop
iphone 14 pro max
iphone 12
iphone 13
macbook
nintendo switch
iphone 11
macbook pro
steam deck
ipad
rtx 3080
iphone 13 pro max
ps4
xbox series x
gaming pc
iphone 15 pro max
lego
This is only our second Monthly Trend Report for eBay. So, we don't know what a typical turnover rate in its Monthly Top 20 is yet. By turnover, we mean keywords rising to the top that didn't make the previous month's Top 20. We like to start with these because we see what's rising fastest. And also, it indicates how stable shopper searches are.
On Etsy, a turnover of nine or more is higher than normal. Lots more shoppers looking for lots more of what they weren't as much the month before. And fewer than five new searches indicates an oddly sluggish turnover. (We saw that for the first time during the pandemic.) 
But that's Etsy. Until proven otherwise, we presume what's typical turnover for eBay will be different. This month, there are only two searches that weren't among last month's Top 20. In fact, four searches even retained their exact rank. On Etsy, that would be unprecedented. On eBay though? Who knows; we'll keep you posted!
The two climbers are 18th-ranked "gaming pc," up from #22 in September. And 19th-ranked "iphone 15 pro max," up from #30. What dropped out of this month's Top 20 to make room for those? Ranked 15th in September, "xbox series s" has slid to #37. And 18th-ranked "iphone 14 pro" only dropped a couple of slots; it's in 21st-place now. No big deal.
Speaking of big deals though … 
We mentioned here last month that Amazon had three searches in its Top 20 related to the just-launched iPhone 15. Because eBay's Top 20 had none. Just for fun, here's how their respective search volumes for "iphone 15 pro max" compare after a month. Amazon is the black line; eBay's the red.

The fact that on Amazon, searches for iphone 15 pro max are already dropping is a bit … unexpected? But telling! Do hot trends typically churn that fast on Amazon? We'll see.
Meanwhile, over on eBay this search is still climbing. Back in September, five iphone 15 searches made the Top 1000. In rank order, they were:  #30 iphone 15 pro max; #103 iphone 15; #186 iphone 15 pro max case; #195 iphone 15 pro; #912 iphone 15 pro case. Now, a month past launch, eBay's iphone 15 searches have all risen to the Top 500, led by "iphone 15 pro max" ranking 19th overall.
But check out eBay's keyword stats in the bar chart up there on the left. Fewer than half the "iphone 15 pro max" searches have gotten clicks. While over on Amazon, Click Through Rate is 94%.
All of which goes to support our sense that the very latest and hottest products do better on Amazon. If you're quick! And we'll be talking more about eBay click-through rates here shortly. But first, let's see what else is doing well on eBay.
Pokemon and Lego
As we pointed out last month, only two eBay searches in September's Top 20 were not electronics-related. They were "lego" and "pokemon." The same is true this month, with "pokemon" ranking even higher, from 7th hopping up to 3rd place. Great Scott: 181,790 searches in just one month is a lot! And from what we can see, Pokemon is a staple among eBay's top searches. Have a look.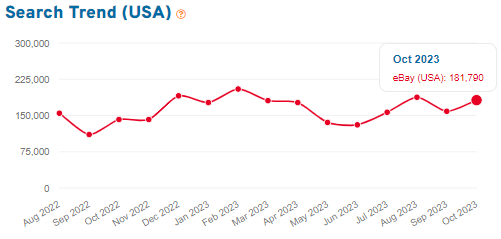 Pokemon's currently up Year on Year by 40,000 searches. Sixteen searches with the word "pokemon" made October's Top 1000. And several in the Related Searches table in Keyword Tool are currently peaking: pokemon collection, pokemon firered, pokemon japanese.
Lego appears to be similar in terms of comparatively stable popularity.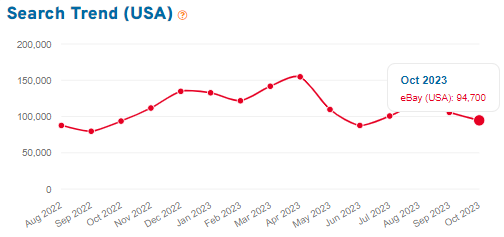 What else is popping on eBay's Top 100 list
Next, we just scrolled through the rest of eBay's Top 100 to see what might catch our eye.
The first to do so was "lot" at #36. That keyword could not be broader, could it? Nevertheless, it's useful to analyze. It tells us that, um, LOTS of people on eBay are shopping for lots. Actually, make that singular. The data for the plural "lots" is very up and down. Conversely, for lot singular? Have a look.

Just as stable as pokemon and lego over the past 15 months. But even more notable are its keyword stats up there on the bar chart: all green! As mentioned here earlier, there's something different about eBay we've been noticing. Many more top keywords have lower click-through rates.
What's up with eBay's lower click-through rates?
Here at eRank, we are most practiced at reviewing Etsy keyword data. So, this difference with eBay's really stands out. Not sure yet what would account for it. But it's clear: typically, far fewer eBay shoppers click on listings in their search results.
That's not true of "lot" though. It's actually got more clicks than searches. So interesting! Because it might shed light on why so many other searches don't. Maybe more eBay buyers know enough about what they want that they can scroll past half the results? And maybe this is not as often the case with "lot." Because the shopper can't tell as much from just the thumbnail and title. They need to click more "lot" listings in order to see what each includes.
For example, let's compare lot's data (last screenshot above) with lego's (below). As mentioned, "lego" is a regular in eBay's Top 20. Yet check out lego's keyword stats here on the left.

Despite its popularity with eBay shoppers, at 49% "lego" averages half as many clicks per search. Whereas "lot" has 103%. We'll be keeping an eye on this CTR puzzle. And if you've got a theory, we'd love to hear it! But meanwhile, let's move on, shall we?
Vintage
We know lots of shoppers come to eBay seeking vintage finds. "Vintage" ranks at #51 in eBay's Top 1000 searches this month. Yet, "vintage" is another with a low click-through rate (34%!). However, CTRs change once vintage searches get specific. In the Related Searches table in Keyword Tool, many there have excellent click-through.
Here are just a few with CTRs that exceed 100%. This past month alone, "crayola vintage" had 1,528 searches and 2,242 clicks. "Vintage cowboy" had 1,078 searches and 1,423 clicks. "Pyrex vintage" had 2,447 searches and 2,461 clicks.
And by the way, check out the battle between Etsy and eBay for "vintage jewelry." Etsy's is the orange line, eBay's the red.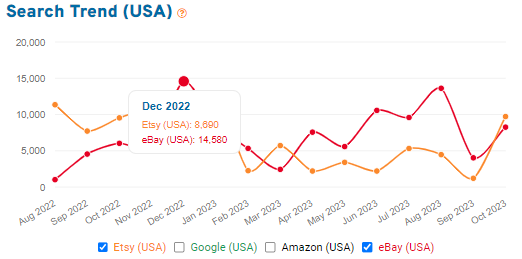 Etsy's ahead a little now, as it was last October and by more. But eBay soared way above in December with 14,580 searches to Etsy's 8,690. Will it this year? We'll add "vintage jewelry" to our eBay watch list.
Camera 
Unlike vintage jewelry, there's no contest between Etsy and eBay for this shopper search.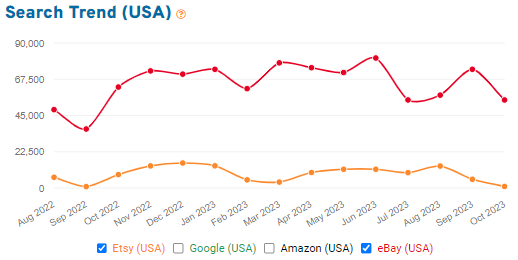 This past month, Etsy had 1,010 camera searches to eBay's 54,660: that's an increase of 5,312%! Also, Etsy has just one search with the word camera in its Top 1000. It's "camera strap," and it ranks all the way down at #935. On eBay, there are four, including two in their Top 100. Here they are, in rank order.
#65 camera
#80 digital camera
#764 security camera
#916 film camera
Star Wars
Another where eBay shines is "star wars."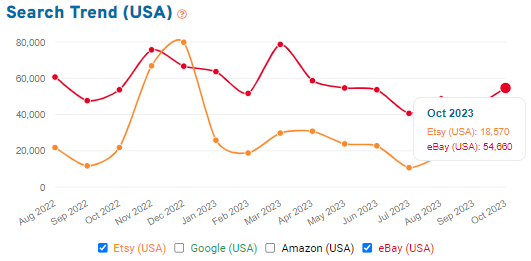 In October, Etsy had 18,570 shopper searches to eBay's 54,660. And "star wars" ranks #225 on Etsy's Top 1000, the only entry. On eBay, it's at #70. And "lego star wars" ranks #161.
Watch 
And here's another keyword that does much better on eBay.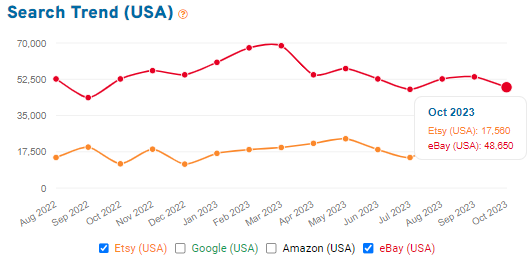 "Watch" ranks #252 this month on Etsy. On eBay, it's at #84 with 48,650 searches to Etsy's 17,560. Etsy's only got two watch-related searches in its Top 1000; the second is "apple watch band" at #617. Meanwhile, on eBay? There are 22 watch-related searches, three of them in its Top 100 alone.
Here's a quick roll call in rank order, beginning with 33rd-ranked "apple watch." Apple watch ultra, watch, apple watch series 7, rolex mens watch, pixel watch 2, apple watch series 8, cartier watch, seiko watch, smart watch, mens watches, watches for men, apple watch se, swatch, apple watch ultra 2, google pixel watch 2, pocket watch, apple watch series 6, breitling watch, pixel watch, omega watch, galaxy watch 3. (By the way, "rolex" on its own ranks #30.)
But you can see what ranks in eBay's Top 100 for the past 30 days any time. Just pop into Trend Buzz. Therefore, we'll do a speed run through more of eBay's Top 1000 searches for anything surprising.
Standouts in the rest of eBay's October Top 1000
Let's start with an eBay search conspicuous by its absence: Halloween! As mentioned in our Etsy trend report, Halloween is huge on Etsy. Pretty much year round! As early as July, "halloween" is in Etsy's Top 10 searches. By October it ranked 3rd overall with 29 related searches. As for eBay? Halloween ranked 64th, with just two related entries, #367 "halloween decorations" and "vintage halloween" at #664.
And Christmas? Christmas ranked 5th overall on Etsy this past month, with 30 more related searches. On eBay? The highest-ranked was "Christmas" at #191, followed distantly by "christmas decorations" at #843 and "christmas tree" down at #896.
Another surprising difference between Etsy and eBay? The comparative dearth of clothing searches on eBay. "Shirt" for instance. On eBay, only two shirt-related searches made its Top 1000, the first at #120: shirt. The other one is "vintage t shirt" at #203. And that includes sweatshirts! Whereas over on Etsy, there are 45, led by 17th-ranked "t shirt."
Funko pops and other collectibles 
Conversely, on eBay contemporary collectibles like #105 funko pop are hot. And of course, since funko pops were introduced in 2010, none are old enough yet to sell on Etsy. Yes, Etsy shoppers do search for them. Just not nearly as many as on eBay. Have a look.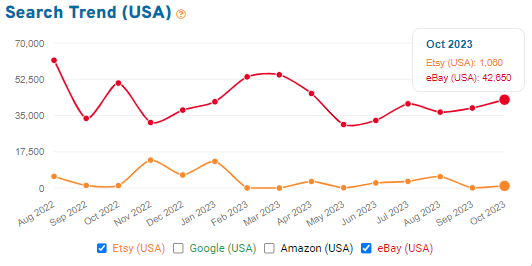 This past month, search volume on Etsy for "funko pop" was 1,060. On eBay? Way more: 42,650. In fact, that's 3,924% more! And next in rank for contemporary collectibles, there's #121 "van gogh pikachu" and #127 "pikachu van gogh." And at #398, "pikachu with grey felt hat" (which is the Van Gogh). Over on Etsy? There were no Pikachu searches by any name.
Next, there's "pokemon emerald" at #182 and "pokemon van gogh" at #195. We've already remarked upon Pokemon's popularity on eBay. Starting with the 3rd-ranked "pokemon," there are fifteen more related searches. (Pokemon only made one appearance on Etsy's Top 1000 list.)
The classic lighter Zippo didn't make Etsy's Top 1000 at all. On eBay, "zippo" ranks #262. After 90 years, there's definitely a collectible market out there for these. But eBay gets way more traffic for them. Zippo got 27,630 searches on eBay in October. On Etsy, only 10.
Obviously, we could go on and on … 
It's fascinating, spotting all the differences between what's popular with shoppers on these three marketplaces. But we respect your time, especially at this time of year! Best of luck with making loads of sales, everyone!
When you're rested, we'd love to hear your take on these or any other trends you've spotted. If you're already selling on eBay, we'd love to hear about that, too. You're welcome to join us in eRank's private Facebook group. With over 24,000 members from around the world, someone friendly is always around! And if you've got questions, requests or suggestions for us, check out eRank's weekly Q&As live on YouTube.
RESOURCES: You can see eBay's Top 100 keywords for the past 30 days, last week or yesterday in eRank's Trend Buzz. Use Keyword Tool to see 15 months of historical search data to gauge recent trends and spot what's new. Get related keywords, click data, and compare several platforms at once to learn where shoppers are for what you sell. Together, these tools are the best way to track what's hot (and what's not) on eBay.
And here are our monthly trend reports for Etsy and Amazon.