Reading time: 7 minutes
With the holiday shopping season fast approaching, it's not too late to do some keyword research by seeing what was trending last fall. This can give you an idea of how to position your current offerings, or even give you some inspiration for new products to add to your shop before buyers start doing their holiday shopping. Let's look at what keywords were trending during November 2021 to see what shoppers were looking for last holiday shopping season.
Below are the Top 10 most popular keywords on Etsy US for November 2021. Each keyword is linked to its results in eRank's Keyword Tool so you can jump right in and start doing your own research as you work through this blog post.
First, compare search volume. Note that these keywords were from the end of November last year. So, there will be time for this year's to climb.
Also, keep in mind that all top-trending keywords are liable to have high competition. Therefore, on their own, they won't lead to traffic. Instead, pair these keywords with long-tail keywords. Or use them as a basis for further research, or as inspiration to jump into new products.
Ranking above all other searches in November 2021, it's clear that last year, a lot of shoppers were looking for gifts for the women in their lives. With gifts for wives, friends, sisters, daughters and more, there are a lot of ways to leverage this traffic. While the keyword gifts for her by itself is highly competitive, it still may be beneficial to your relevant products. For example, let's say you were selling tabletop gaming gifts targeted at women. If you had tabletop gaming and gifts for her in your listing, then people using the term tabletop gaming gifts for her could see your products in their search results.
As with gifts for her, this search volume indicates that lots of people were shopping for that special guy in their lives. At 2,116,920 searches, it was a close second in rank to gifts for her. Just like the previous keyword, competition for this keyword is very high. But you can still make use of it by combining it with a more niche, long-tail term.
Etsy has been the destination for awhile now for buyers wanting personalization. Whether it be adding the name of the gift recipient, or their favorite quote, or perhaps a picture of their pet, the possibilities are endless. Finding ways to offer personalization options for your products can help increase your sales, especially during the holiday season.
This is of course the plural form of the above keyword. While Etsy can recognize that the plural and singular versions of a word refer to the same thing in an otherwise-identical search term, eRank's data is based on customer searches. Therefore, you will encounter these otherwise-identical terms in eRank's data.
We data geeks find it interesting to see how many more shoppers use one form over the other. In this case, shoppers typed personalized gift into Etsy's search bar 70.7% more frequently than personalized gifts. Just as often, the plural form of a keyword outperforms the singular. We recommend that when the plural is just an added "s," you optimize for the plural form; that way, the singular form of the keyword will be included.
Jewelry is a staple in the world of gift-giving. Even if your shop doesn't offer jewelry, you can still take advantage of this top keyword. One of many ways: let's say you sell keepsake boxes. You could use jewelry keepsake box as a tag. This would allow you to get in on that top-trending keyword, plus get the benefit of giving it a bit of a niche spin.
A broad keyword like gifts can serve as a starting place for finding more niche keywords to supercharge your listings. Click this subhead and scroll down to the Keyword Ideas chart and select Popular Tags. You will see that many aren't gifts but rather, are for the giving of gifts. Gift tags, gift wrap, and gift box are all ranking high again this year. Therefore, if what you sell is not itself giftable but could be helpful to busy gift givers, you can get in on it.
Historically, shoppers are known to come to Etsy to find those perfect holiday decorations for their homes. Holiday decor actually starts trending in early August with all things Halloween, and runs right through to New Year's Eve party decorations.
After two years of pandemic-limited gatherings, people are likely to be hosting more get-togethers this year and will want to decorate in a festive way. Does your shop offer any holiday décor? Is there a way to tie it into your niche? What about decor-related items people give as gifts? We see searches for holiday-themed wall art and seasonal wreaths, and niche items like "First Home" Christmas tree ornaments. These are things you may want to consider to take advantage of this traffic.

Now, this is interesting! In last year's Monthly Trend Reports written ahead of the holidays, we actually remarked upon this keyword, gifts for kids. Because we hadn't seen it in the Top 1000 Keywords at all in previous years. And now look: after last December, it just as quickly sank. From Nov. 2021's 534,340 searches to Oct. 2022's 1,190 is a 99.7% decrease: wow! If you used this keyword last year and your item isn't performing as it did then, consider replacing it. (Just keep in mind eRank's Golden Rule: Never change a listing that is selling well!)
Just as with our 7th-ranked keyword holiday decor, this search term's popularity reflects how much people enjoy decorating their living space. And why, likewise, home décor is often considered when giving gifts. Home décor encompasses an extraordinarily broad range of styles and trends. So, consider how your product offering or niche could leverage this popular keyword.
Here, it's the singular version that ranks lower than its plural counterpart. Last year in November, gift had 26% less search volume than gifts. In any case, if you use gifts, you've got both covered.
Dig a little deeper
While it's true that these broad keywords don't offer too much inspiration on their own, to research products and long-tail keywords you can click any of these keywords now and compare results with what customers were looking for last year, and over the intervening  months.
Let's head over to eRank's "Buzzing on Etsy" Monthly Trends tool and select November 2021 from the dropdown. (Find this and Trend Buzz under the Trends tab on eRank's Main Menu.)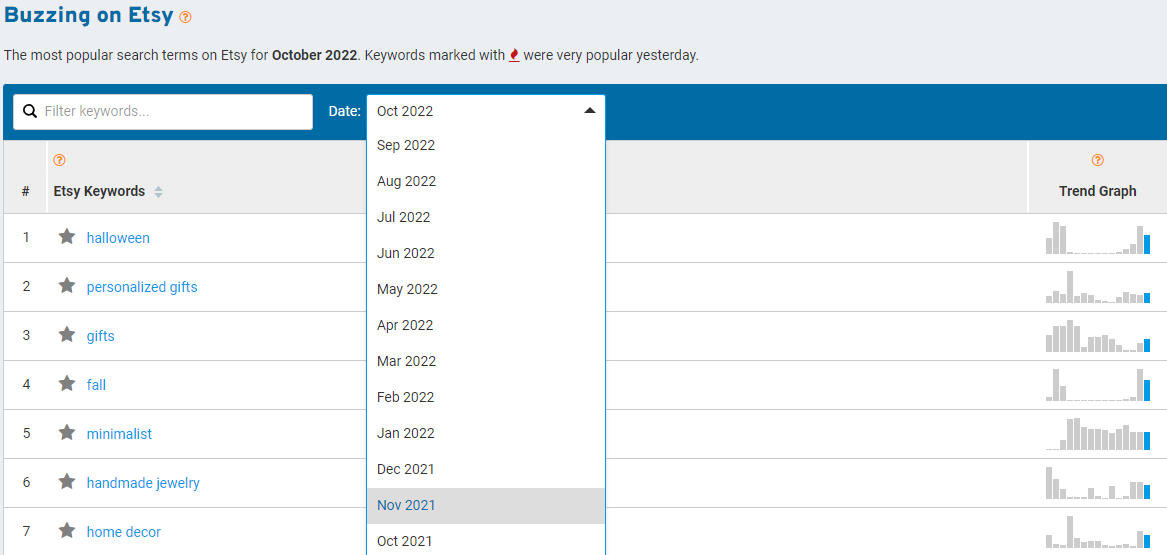 Clicking on any of the keywords will open a new window with Keyword Tool results for that time frame. There, you will see all sorts of data for the selected keyword. Scroll down the page to the Keyword Ideas chart. You can choose to see Popular Tags or Related Searches, or both!
This is where you can really dig in and discover with greater specificity what Etsy shoppers have been looking for and how much and when. It's ideal hunting grounds for identifying more targeted keywords relevant to your products.
Get started now
While the position of some of these November 2021 Top 10 keywords may move around (and as we've seen in one instance, even drop by 99%!), it's a pretty good bet that we will see most of them as top trends again this year. And despite those daunting Etsy Competition stats, remember that there is still value in using them when relevant. Because buyers will be using them as part of their more-specific search terms related to your niche. You probably won't rank for jewelry, but you may be able to rank for fantasy themed jewelry box for kids since it's much more specific.
And while you're researching your holiday strategy, you will also discover what other products are trending. Get inspired! Create a new Keyword List of them for growing your Etsy shop.
Do you have any keyword ideas or tips to share? Let everyone know over in the eRank Facebook group.