Publication date: April 27, 2023
Reading time: 8 minutes
Etsy buyers begin teacher-gift shopping earlier than you might think! Back in January, the search "teacher gifts" already ranked #558 in Etsy's Top 1000 Shopper Keywords. In the US, Teacher Appreciation Week is celebrated the second week of May. Typically, students make cards and parents buy small gifts to express their appreciation. Do you offer items that might work for this niche? Let's look at what's trending!
Tracking trends: teacher appreciation gift
The keyword phrase "teacher appreciation gift" typically starts trending in March. In April, it will increase significantly in popularity.

As you can see on the Search Trend line chart, search volume is higher this March. Last March, there were 3,550 searches. This year in March? There were over 9,700! Up 174%! And that's just for that one very specific, long-tail search. Add an "s" to gifts and look at what you get.

A year ago in March, the plural "teacher appreciation gifts" only had 120 searches. This March: wow! That spike represents over 3,700 searches, and a Month on Month increase of 2,983%! Since Etsy treats these two keywords as the same, combined search volume was around 13,400. Those numbers would easily put "teacher appreciation gift/s" in the Top 1000 Etsy Searches for that month. And again: that's a long-tail search!
Teacher gifts
Next, let's look at the broader keyword "teacher gifts." As we mentioned, it was already ranking in Etsy's Top 1000 shopper searches in January.

And look where that 15mo peak is! That is the end of November! So, mark your shop calendars, folks. Get your teacher gift items listed and/or update your tags and titles to catch that wave! Because it represents over 53,800 searches. Despite competing in the holiday shopping season, it ranked #106 in Etsy's Top 1000!
Now for some target marketing tips!
Here are some tips to help you market those thoughtful teacher gifts.
Ask students and parents in your community for suggestions. Ask teachers what they'd like! And make sure it's a gift for themselves. (Otherwise, you know how selfless teachers are. They're liable to ask for classroom supplies for their students!)
If you don't have kids, you can still do a bit of local sleuthing. Then go online: ask your shop's social media followers. See what kinds of gifts they've given teachers in recent years. Maybe one of their suggestions will fit your brand's niche. Consider finding an open Facebook group or Reddit sub for teachers. Ask them what they'd like as a gift for Teacher Appreciation Week.
We just published an article on how to do target marketing for Father's Day gift buying. Its tips apply equally to capturing that teacher gift market too. Read it here.
Next, attract teacher-gift buyers to your Etsy shop!
Our analysis of teacher-gift shopper searches on Etsy showed that customers are likely to appreciate these amenities.
Teacher Appreciation gift messaging
A gift note to the recipient is always a thoughtful touch. Consider including with your product a blank gift card your customer can use to write the teacher a personal note. Or, offer the option to allow your customer to add a gift message to their order. Enable this by clicking the Settings tab on your Shop Dashboard. Select "Options," then scroll down to the "Offer gift message" section and select "Enabled."

You can print gift messages on the optional packing slips Etsy provides with every order. Or use your own decorative cardstock. Thoughtful touches like these can be the decisive factor in making the sale!
Product personalization and customization
Personalized items – mugs, tumblers, stationery, sweatshirts, T-shirts – are trending teacher-appreciation gifts. Do you sell giftable items to which you can add personalization options? What about customizations of made-to-order products? That is, a way for the customer to select their preference from a range of choices. For instance, are you able to offer a choice of fonts for the lettering? How about different color and fabric options? Even simple variations give shoppers the feeling they are getting something bespoke. And that added value allows you to raise your price: win-win!
Speaking of colors, eRank's Trend Buzz is trialing a new feature. Click on the Colors tab to view the top-trending colors in US shopper searches on Etsy for the past 30 days.

There were 22 colors listed, ranked in popularity from most to least. As you can see, you can also view shopper-search data related to products, recipients, styles, and materials. These should prove useful to you in deciding what variations to offer.
Offer gift wrapping
Most parents of school-age children lead especially busy lives. Selling gifts pre-wrapped is another way to secure a sale over a competitor! So, think about what you might offer, presentation-wise. Aim to catch a shopper's eye with gift wrap that has a springtime teacher theme. Then prepare a sample and add a photo of it to your teacher-gift listings. (For details on how to add gift services like gift-wrapping and messaging to your listings, Etsy has a Seller Handbook article here.)
Update your listings' SEO for teacher-gift buyers
Next, you'll want to update your titles and tags to attract these shoppers. In our Monthly Trends report, eRank shows you the Top 100 most-searched keywords for any of the past 15 months. Here you can see what teacher-related keywords have been trending in over 18 categories on Etsy. (And another eight categories of Print On Demand products.) In the screenshot below, we selected "All" on the left under Categories to see Etsy's Top 100 searches overall.
Using the "Date" filter, you can view the Top 100 shopper search terms for any given one of the past 15 months. For teacher-gift shoppers, start with March and April 2022, and then do March 2023. Then enter "teacher" in the "Filter keywords" box to see just shopper search terms containing that word.
For each shopper search shown, you'll see its rank and its own 15-mo trend graph of historical data. Mouse over those bars; you'll see a pop-up as shown (below, left). Those are helpful for spotting when that particular term was popular. This one shows that there were 3,550 searches in March 2022 for "teacher appreciation gift." To the left under Etsy Searches, you see that just 30 days later, there were 42,850 in April.

Clicking on any keyword takes you to its results in eRank's Keyword Tool, where you can do further research. Click the grey star beside the keyword to add it to one of your Keyword Lists.
And finally, consider selling teachers' gifts internationally!
As we mentioned at the start, Teacher Appreciation Day in the US is (yikes!) right around the corner. But it is celebrated on other dates around the world. In the UK, June 21 is National Thank a Teacher Day. In Canada and France, they show appreciation for their teachers throughout the month of June. And Australia celebrates it on October 5 ­– the same date as World Teachers' Day. Selling in this niche internationally offers you other times through the year when these gifts sell well.
To illustrate, below are results using the same term, teacher gifts, in the other five top Etsy countries (and new: the EU!) eRank tracks in Keyword Tool.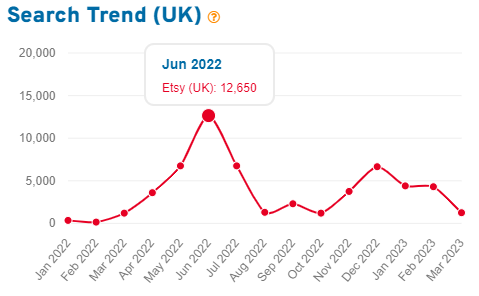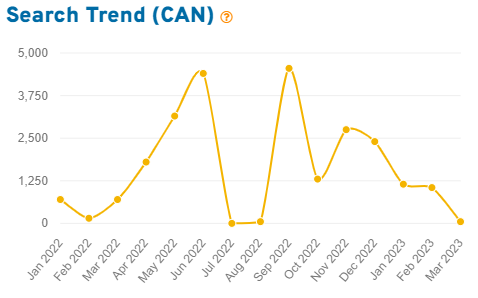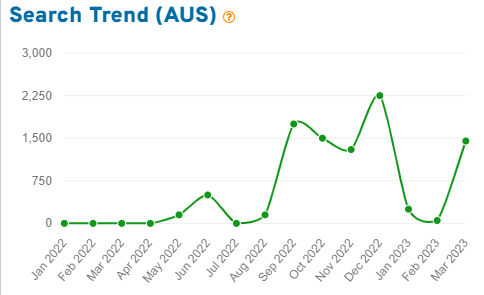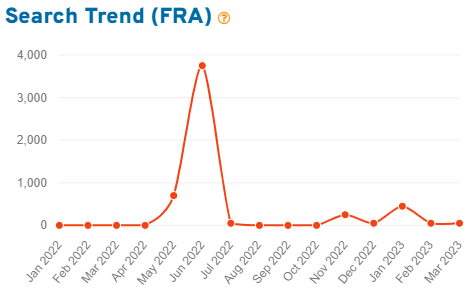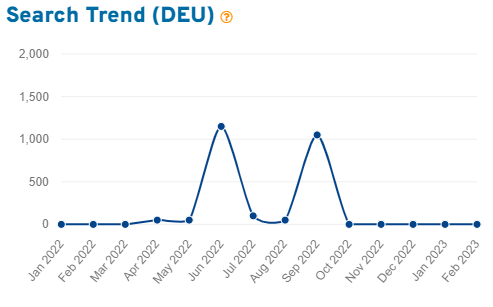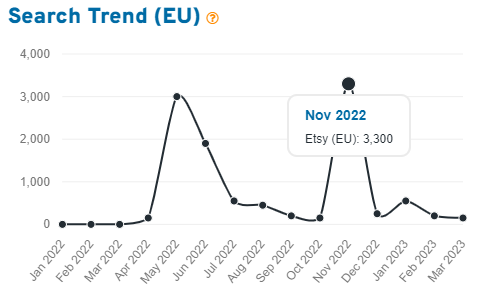 On Wikipedia, you can find a list by country of the dates celebrating teachers.
Teachers dedicate their careers to improving the lives of others. We hope these tips help you create unique thank-you gifts they will enjoy. And attract new buyers to your Etsy shop!
RESOURCES
This article was based on one written for our French-speaking members; you can read it here.
A recent article we did on target marketing for Father's Day gift shoppers that you can apply to this niche, too
And another on how to find out what's trending for graduation gift buyers
For Etsy shop / SEO beginners, here's an eRank article on Etsy SEO Basics